Asian-American actress Awkwafina makes Golden Globes history
Actress-rapper Awkwafina took home the Golden Globe for best actress in a comedy or musical film for her touching turn in the culture-clash drama "The Farewell," becoming the first winner of Asian descent in any lead actress film category.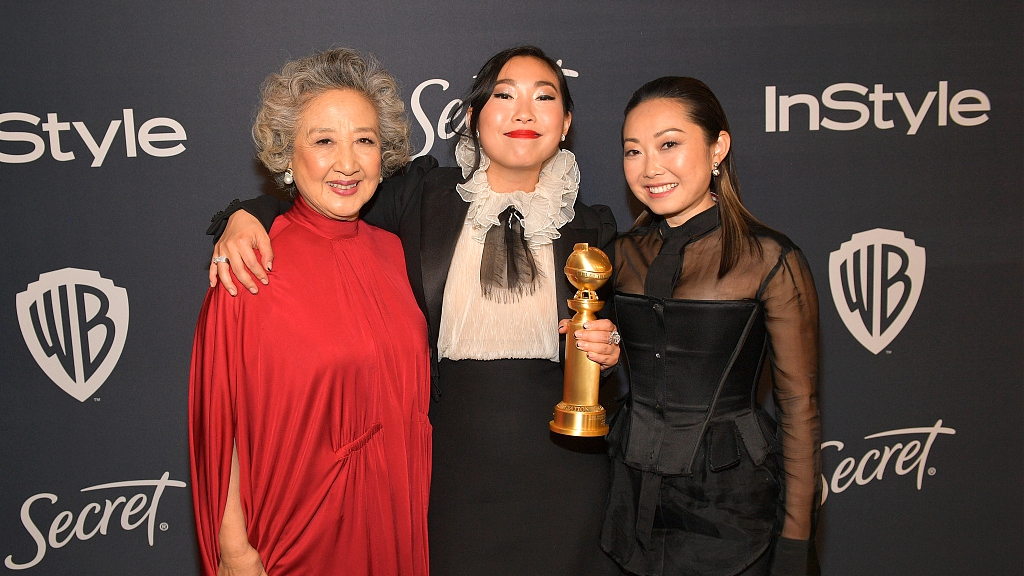 Zhao Shuzhen(L1), Awkwafina and Lulu Wang attend the 77th Golden Globe Awards Post-Party at The Beverly Hilton Hotel on January 05, 2020 in Beverly Hills, California. (Photos: CGTN)
Chinese-American movie "The Farewell" has won awards at Atlanta Film Festival, Los Angeles Asian Pacific Film Festival and Sundance Film Festival before, and the director Lulu Wang was named as one of 10 "Directors to Watch" by Variety in 2019.
The movie is based on director Wang's real-life story. The leading role Billi is modeled after Wang who was born in Beijing and immigrated to Florida.
Awkwafina, winner of Best Performance by an Actress in a Motion Picture - Musical or Comedy for "The Farewell," attends the Golden Globe After Party at The Beverly Hilton Hotel on January 05, 2020.
Actress Awkwafina, also known as Nora Lum, has played roles in the comedy films "Ocean's 8" and "Crazy Rich Asians." She was born in New York with a Chinese-American father and a South Korean mother.
Before her, Sandra Oh is the first Asian woman to win two Golden Globes, which ended a drought of female nominees of Asian descent that lasted almost half a century.
In her acceptance speech, Awkwafina thanked the actress Zhao Shuzhen in Chinese, who played her grandmother at "The Farewell." And said the director Wang gave her "the chance of a lifetime."