What concerns do Chinese students in UK have under new PM?
Global Times
1565913837000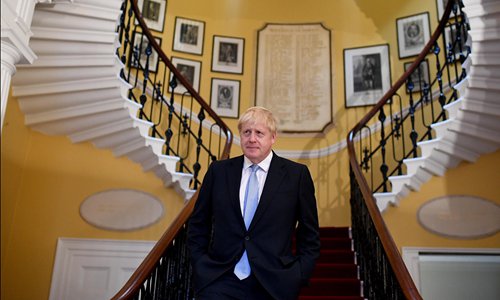 Boris Johnson, the new Prime Minister of the UK, leaves Admiralty House, London, for Buckingham Palace to see the Queen before heading to 10 Downing Street on July 24. (Photo: VCG)
After being elected leader of the UK's ruling Conservative Party on July 23, new prime minister Boris Johnson has insisted that the country will leave the EU on October 31, with or without a deal.
This change in leadership has led to heated discussions among Chinese students in the country over how their study and lives will be affected by the way Johnson deals with Brexit.
US President Donald Trump has heaped praise on Johnson, describing him as "Britain's Trump" during a speech to hundreds of teenage fans in Washington, the US, according to the Guardian.
Unstable life
Liu Xin, 21, is from South China's Guangdong Province and will study for her MA in Creative Culture and Industries at King's College London (KCL) in September. She told the Global Times that the thing that has affected her the most about the new PM and his Brexit policy is the declining strength of the pound.
"The declining rate helps me save lots of money, which makes me very happy. I exchanged quite a large sum at the exchange rate of 8.3 yuan to the pound in the early days of August," Liu said.
However, the drop is not good news for Peng, 23, who is working on a language course in preparation for his masters in structural and fire safety engineering at the University of Edinburgh.
"I bought sterling in May at an exchange rate of 8.75, and it has dropped below 8.5 these days. I have the feeling of losing money," Peng said.
What concerns Peng even more is that Scotland may hold another independence referendum if the UK leaves Europe on October 31, as Johnson insists it will. "I'm worried about security," he said.
Xing Wei'ao, 24, a PhD candidate in History at the University of Cambridge who has been in the UK for two years, assumes that Brexit will have a direct negative impact on his study and life.
"UK imports many commodities from EU countries, and Brexit may lead to higher prices. In addition, the depreciation of the pound will increase the cost of living," Xing said.
EU countries are popular places for Chinese students studying in UK to travel and study. Xing is concerned that Brexit will shorten the validity period of the Schengen visa or even lead to an increase in its review period.
"In addition, the number of EU students studying in the UK could be reduced, adversely affecting academic exchanges and diversity," Xing said.
Chen Xujian, 22, who is studying law at KCL, told the Global Times that many parents of overseas students are happy that their children are studying in the UK where the political environment is relatively stable, and far away from the influence of the China-US trade war and the chaos in Hong Kong.
"If there is no progress in Brexit, or it leads to demonstrations or splits in political parties in the future, the political environment is likely to become unstable, thus affecting the choices of Chinese students," Chen said.
New policy
On March 22, 2011, when Theresa May was Home Secretary, she announced the cancellation of the post-study work visa, which had allowed overseas students to work for two years after graduation in UK, according to the website of the British government.
Chen said, "Working opportunities for international students studying in the UK are almost at their lowest since May cancelled the PSW visa earlier."
However, Boris Johnson has said he plans to scrap the 2,000 cap on Tier 1 exceptional talent visas in a bid to attract the "brightest and best" to Britain, according to the Telegraph.
"Although I will probably return to China to work, I believe the job opportunities for overseas students will increase greatly after graduation," Chen said.
Xing assumes that Johnson's latest immigration plan shows positive prospects for the immigration policy during his tenure.
Currently, Xing's only concern is that its priority on scientists and engineers may result in fewer opportunities for foreign scholars of humanities and social sciences pursuing an academic or academic-related career in the UK, even temporarily.
In practical terms, Xing thinks that this proposal requires systematic and clarified definitions of the "brightest and best."
That is, the criteria should not roughly be dependent on the educational backgrounds or academic publications of applicants.
"Another potential controversy is to what extent preference will be given to those with British degrees," Xing said.
Although Johnson has been called Britain's Trump, Chen believes that apart from their similar public image and atypical political campaigns, the two are quite different.
"Boris, for all his atypical political behavior, has far more political experience than Trump," Chen said.