Keep Chinese simplified, schools told
Ministry downplays fears characters could impede heritage preservation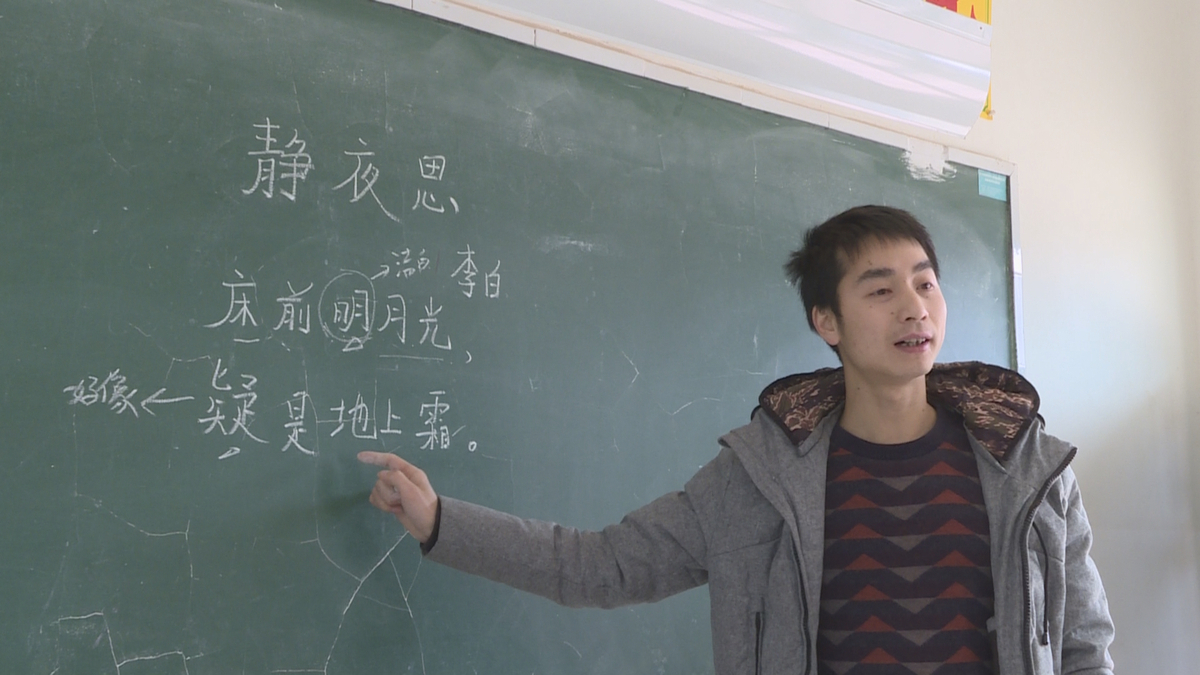 A teacher at a remote mountain village school in Shizhu county, Chongqing, teaches a Chinese ancient poem in class. (Photo by Ma Yuan/provided to chinadaily.com.cn)
Schools should use standard, simplified Chinese in teaching, based on relevant laws, the Ministry of Education said recently, playing down concerns that the use of simplified Chinese is detrimental to preserving cultural heritage.
In response to a proposal made this year by a member of the National Committee of the Chinese People's Political Consultative Conference, the ministry said students can also learn about traditional Chinese when they learn about Chinese classic writings and Chinese calligraphy at school.
Over the course of history, Chinese characters have undergone constant simplification. Current simplified Chinese was adopted after much research and selection and has strong public support, the ministry said.
Changes to Chinese script are not confined to the modern era, and people who understand traditional Chinese may not necessarily understand classic writings without proper training, it said.
The State Council, China's Cabinet, issued a list of simplified Chinese characters in 1956 and began to promote them for use in printing to increase literacy. Simplified Chinese characters were created mainly by decreasing the number of strokes and replacing complicated components of characters with simpler shapes.
The Chinese mainland uses simplified Chinese, as do Singapore and Malaysia, while Hong Kong, Macao, Taiwan and other overseas Chinese communities use traditional Chinese.
During the annual sessions of the National People's Congress and the CPPCC National Committee in March, CPPCC National Committee member Han Fangming, vice-chairman of the foreign affairs committee of the CPPCC National Committee, proposed that primary and middle schools should teach students to understand traditional Chinese and write traditional Chinese characters in calligraphy class.
Simplified Chinese has harmed the aesthetic beauty of traditional Chinese and is not conducive to preserving the meaning of Chinese characters and cultural heritage, Han said.
It is not the first time the topic has been brought up during the two sessions, the annual meetings of the national legislature and the top political advisory body.
Wu Shimin, a former NPC deputy and former deputy director of the National Ethnic Affairs Commission, proposed that the mainland should adopt the use of traditional Chinese to preserve traditional culture during the two sessions in 2014.
Feng Xiaogang, a CPPCC National Committee member and famous movie director, proposed during the two sessions in 2018 that some traditional Chinese characters with cultural meaning should be adopted on the mainland and included in textbooks used by primary and middle school students.
Cheng Kai-ming, former vice-president of the University of Hong Kong and a member of the China Education 30 Forum, said despite the disparity and mutually unintelligible regional languages and dialects within the nation, communication was possible throughout different dynasties and remain so because everyone has used the same writing system.
"Traditional characters say more about the history of the words, while simplified characters are easier to understand," he said.
People should not have to choose between using simplified or traditional characters. Mainland students can use simplified Chinese in writing and also learn to understand traditional Chinese, while students in Hong Kong can also learn how to read simplified Chinese while using traditional Chinese in writing, he said.
Wang Ning, a professor at Beijing Normal University, said simplified Chinese has dominated the written form of Chinese used on the mainland and the proposition to revive traditional Chinese characters was impractical and too costly.
Many simplified Chinese users can, with some effort and practice, understand traditional Chinese and vice versa, she said, adding that many young people learn traditional Chinese from watching the subtitles of TV shows and movies made in Hong Kong and Taiwan.