Senior physicians work hard to prevent virus spread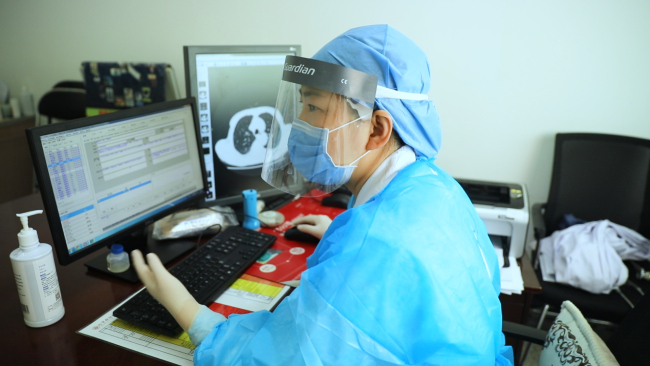 Wang Jing receives patients on April 28, 2020 in the West Branch of the Affiliated Beijing Chaoyang Hospital of the Capital Medical University. (Photo: China Plus)
"We are the doctors, we are meant to cure and save people when we wear our white coats," said Wang Jing, a respiratory physician who works in the West Branch of the Affiliated Beijing Chaoyang Hospital of the Capital Medical University.
During the epidemic, the hospital has faced many challenges. To treat COVID-19 patients in a timely manner and protect others in the hospital, they created an expert team to help confirm patients suspected of being infected. Wang Jing is the leader of this team.
Wang said that they have been really worried about missing any COVID-19 patient. This is because for these diagnosed patients, early diagnosis and treatment can prevent them from reaching the life-threatening final stages. Therefore, the five team members must have many consultations, placing them under psychological and physical pressure.
Under this strain, support from their family and colleagues is important. Wang's birthday was in February and her colleagues and patients prepared flowers and cakes for her. "This was a particularly poignant and unforgettable birthday for me, and I will never forget it," Wang Jing said. She added that the doctors often received care packages from patients or strangers.
Liu Yugeng, another team member, has worked hard over past three months. Liu is an emergency medicine doctor at the hospital and admitted feverish patients during the epidemic. To protect his family and focus on treatment, he did not return home for two months from mid-February to early-April.
There were seven confirmed COVID-19 patients in his hospital, but he has not been as nervous as other people. His composure has rubbed off onto other colleagues in the department, helping to relieve the team's pressure.