Hutong life stands test of time in Beijing
Ancient areas major attractions for visitors
High-rises dominate the skyline along Chang'an Avenue and Wangfujing Street in downtown Beijing.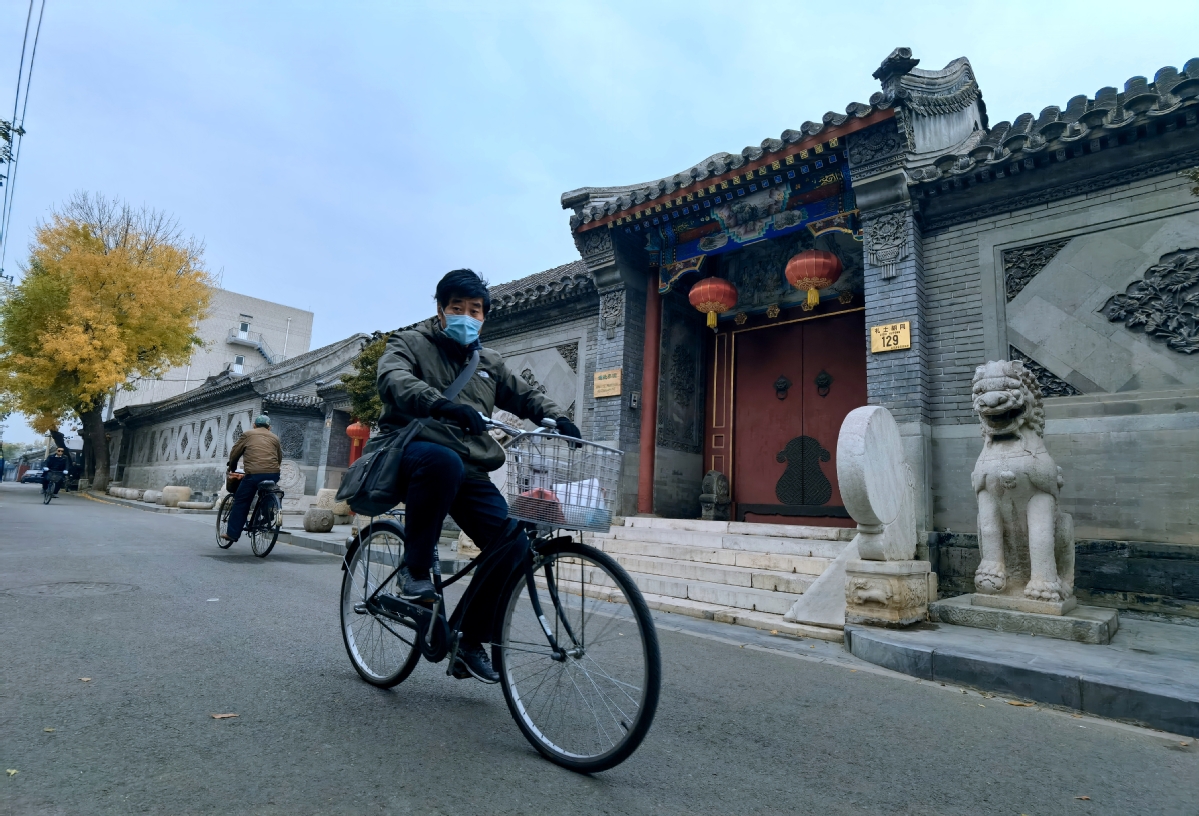 During the day, a stream of traffic flows along the avenue, while in Wangfujing, crowds of eager shoppers flock to numerous stores lining the pedestrian thoroughfare.
However, to the northeast of Chang'an Avenue the atmosphere is totally different, with the area home to a maze of hutong, or alleyways, and traditional gray-walled courtyards. Numerous bicycle and tricycle riders ring their bells as they make their way through the neighborhood.
The area, which covers about 1.25 square kilometers and has a population of more than 36,700, is part of the Chaoyangmen subdistrict area in Dongcheng district. Home to some of the best-known hutong in the capital, including Shijia Hutong, it brings a sense of tranquility and traditional life to an otherwise bustling city.
Situated about 200 meters north of Jinbao Street and Wangfujing, Shijia Hutong stretches for about 1 kilometer from Dongsi Nandajie in the west to Chaoyangmen Nanxiaojie in the east. It boasts some 80 courtyards, or siheyuan, with scores of residents.
A new project titled Chaoyangmen Walk, launched recently by the Chaoyangmen Subdistrict Office, the Shijia Hutong Museum and the Beijing Municipal Institute of City Planning & Design, offers guidance to visitors exploring hutong life on foot.
To avoid disturbing residents, a map is provided, showing four routes through the hutong area, along with a list of courtyards open to the public.
Liu Jingyi, 30, deputy director of the Shijia Hutong Museum, said: "Hutong areas are major draws for visitors looking for an authentic taste of the old city. We want to bring people to these areas so that they get a feeling for them."
A Beijing native, Liu graduated from North China University of Technology in the city, where she majored in urban planning.
She furthered her studies in the United Kingdom, obtaining a master's in urban planning and development from the University of Reading in 2014. The following year, Liu started work at the Beijing Municipal Institute of City Planning& Design.
Sitting on a stone bench in the afternoon sun in the courtyard of Shijia Hutong No 24, she said: "Autumn is a great time to explore hutong areas. I've worked in this one for four years and I'm still enchanted by the neighborhood."
The hutong occupies an area of about 1,000 square meters and is home to the Shijia Hutong Museum, where Liu began working in 2016.
The museum, which opened in November 2014 with funding and support from the Prince's Charities Foundation (China) and the Chaoyangmen authorities, is the first facility in Beijing established specifically to preserve hutong history.
Exhibits are presented with Chinese and English descriptions, showcasing the history and development of Shijia Hutong, along with stories from residents and celebrities.
The hutong has been home to a number of well-known figures, including writers Chen Xiying (1896-1970) and Ling Shuhua (1900-90), who lived in the courtyard of Shijia Hutong No 24.
Lost stories
Another courtyard, Shijia Hutong No 51, is better known as the former residence of prominent scholar and politician Zhang Shizhao (1881-1973). After he died, the courtyard was home to his daughter Zhang Hanzhi (1935-2008), late Chairman Mao Zedong's English-language tutor. Zhang's husband, Qiao Guanhua (1913-83), served as foreign minister.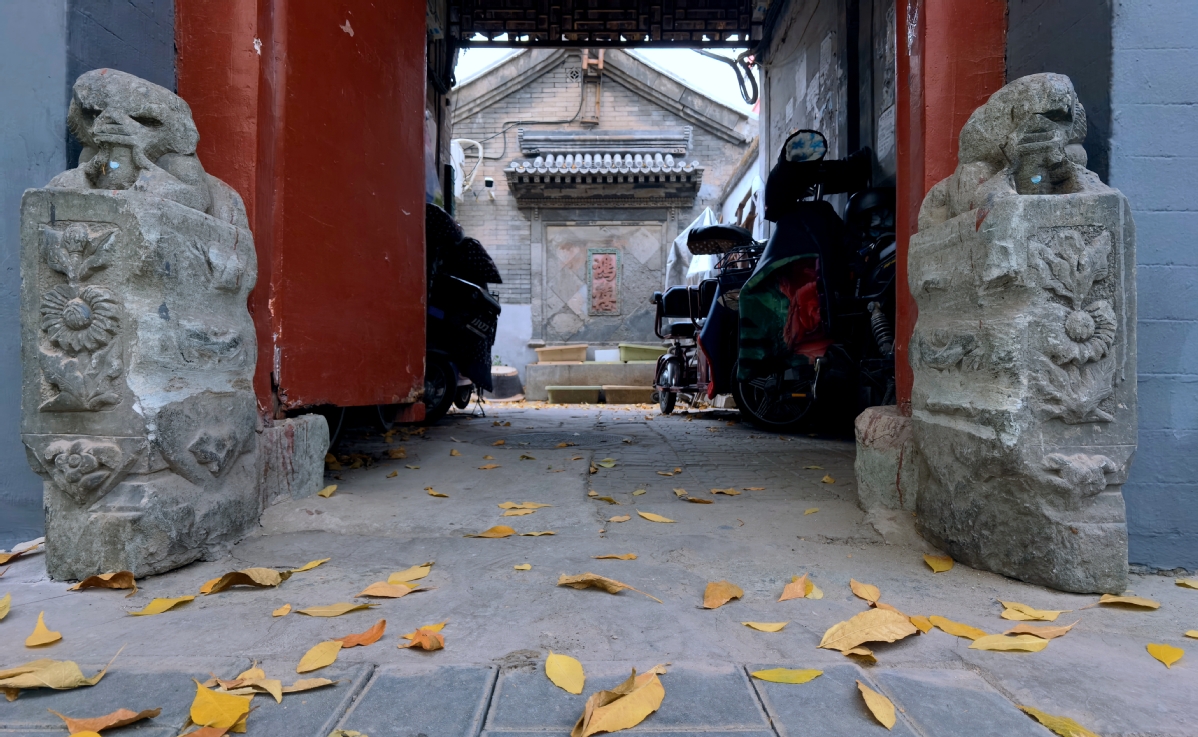 Over the years, many stories about Shijia Hutong have been lost, but the source of its name is a subject for keen debate.
According to the museum, the name dates to the Shi family in the Ming Dynasty (1368-1644). Other claims state that it can be traced to Shi Kefa (1601-45), a well-known official.
Two eucalyptus trees planted more than four decades ago in the courtyard, where the Shijia Hutong Kindergarten was based from 1958 to 2002, stand immediately inside the museum's north entrance.
A total of 50 doorways to traditional courtyards are on display at the museum. According to Liu, the deputy director, they indicate a homeowner's position, such as government official, businessman or intellectual.
Other displays highlight the numerous residents of Shijia Hutong, both individuals and organizations, including a foreigner, Count Ahlefeldt, who established the Danish legation in Shijia Hutong in 1920.
One of the museum's most distinctive features is "Sounds of the Hutong," situated to the rear of the display area.
Entering what appears to be a small recording studio, visitors experience the sounds of traditional hutong life, including birds tweeting from trees or cages and the distinctive cries of street snack sellers and knife sharpeners.
Beijing's downtown hutong were mostly constructed in the 13th century, when the city became the imperial capital during the Yuan Dynasty (1271-1368).
Shu Yi, former curator of the National Museum of Modern Chinese Literature and son of the novelist Lao She, is a firm advocate of preserving Beijing's ancient buildings.
"The city would lose its charm as an ancient capital if there were only modern buildings. It's fortunate that some precious heritage, such as hutong and siheyuan, is being preserved, regardless of how we develop," he said.
A tablet at the Shijia Hutong Museum bears an inscription written by Shu. In 2018, he described his hutong life in a book titled The Story of Hutong. This work features articles by 46 celebrities, including historian Ji Xianlin (1911-2009), novelist Shi Tiesheng (1951-2010) and writer Bi Shumin, who was born in 1952.
The Beijing City Master Plan (2004-20) includes the concept of protecting the city's hutong areas and courtyard architecture, focusing in particular on the effective preservation of original layout and style.
In China's urban planning, courtyards are among the main considerations for architectural conservation, as they remain an important cultural vehicle. According to the website of the Beijing Municipal Institute of City Planning & Design, 1,320 hutong in the city have been recorded and protected.
Vibrant hutong areas, including Dashilar, Nanluoguxiang and Wudaoying, attract thousands of visitors in Beijing.
These narrow, tree-lined streets of single-story, gray-brick buildings are home to bars, upmarket craft outlets, coffee shops and restaurants. However, in the Chaoyangmen area, Shijia Hutong, Yanyue Hutong and Lishi Hutong are not so commercial.
Liu said her team has devoted its efforts to protecting and renovating courtyards and hutong areas through projects such as the Micro Garden Series (2015-19).
This initiative, launched with the Beijing Municipal Institute of City Planning &Design and the Central Academy of Fine Arts, combines participatory planning, water conservation and vertical greenery to aid the overall improvement of a community.
The Our Courtyards project, which ran from 2014 to 2017 and included renovation work on toilets and power supplies, helped people from seven multi-family courtyards improve their living conditions.
Liu said residents in hutong areas have set up tiny, differently shaped garden plots on corners or in areas shared by a number of families. These plots are cheap to run.
The Our Courtyards project also aimed to act as a "residential design experiment" for the hutong community. It examined the possibility of landscape architecture being introduced gradually to urban regeneration in densely populated old areas of Beijing.
"There are still many people living in hutong areas and we want to preserve the sense of identity and character," Liu said.
Interviews held
Zhang Yiran, a 25-year-old Beijing native, was born and raised in Shijia Hutong. In 2013, when the Shijia Hutong Museum was being planned and he was a freshman majoring in history at Capital Normal University, Zhang started to interview residents of the hutong to learn more about the area.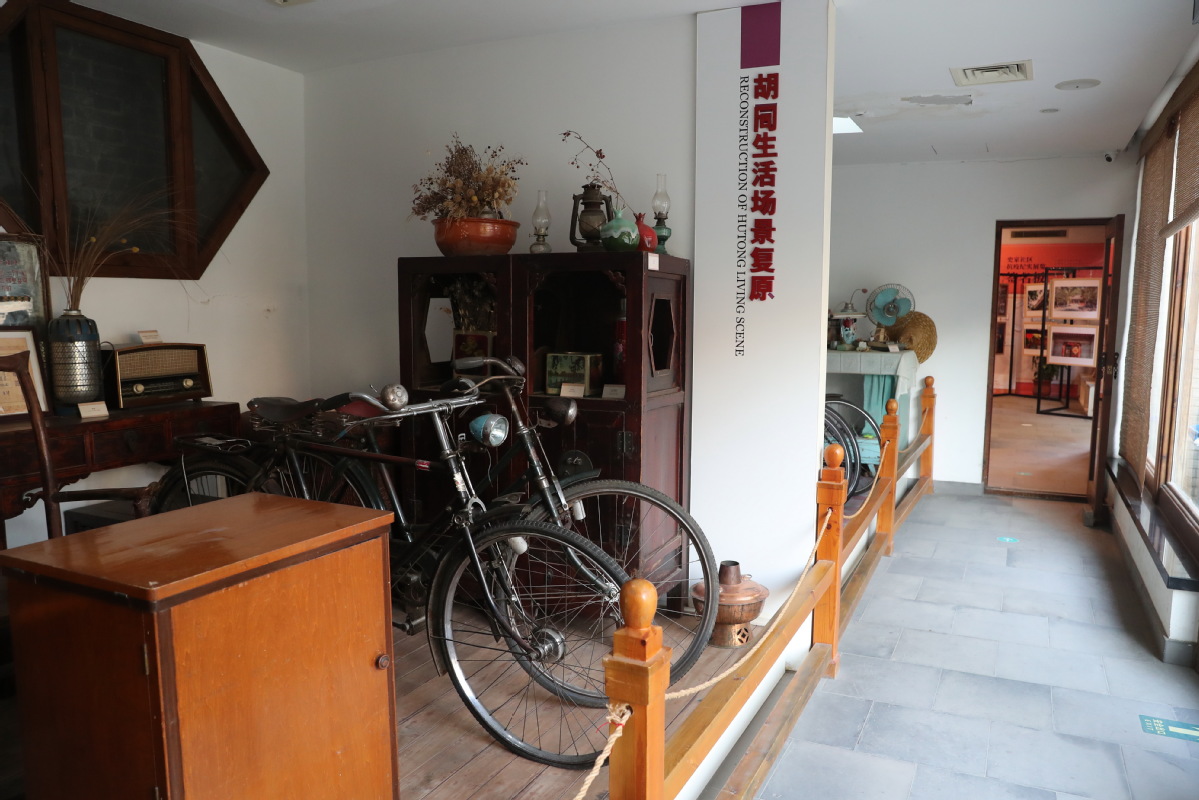 One of his interviewees was actress Jin Yaqin (1925-2016), who told Zhang many stories about the Beijing People's Art Theater, which was established in 1952.
Two years earlier, the North China People's Cultural Troupe was restructured as a comprehensive performing arts organization, which included opera, drama, dancing and orchestral music, and was renamed the Beijing People's Art Theater. Shijia Hutong No 56 (now No 20) became the theater workers' dormitory.
Also in 1950, Lao She wrote the classic play Dragon Beard Ditch, which set the foundations for the theater's style of realism and was later directed by the translator and dramatist Jiao Juyin.
In 1952, the Beijing People's Art Theater drama troupe merged with that from the former Central Academy of Drama to form a professional drama theater in Shijia Hutong No 56.
Jin told Zhang that members of the theater's older generation started their lifelong pursuit of art in this courtyard.
Zhang, who teaches history at Beijing No 2 Middle School in Neiwubujie Street, a 10-minute walk from Shijia Hutong, said, "The people in Shijia Hutong I spoke to are part of history and their stories are precious."
Ma Nai, a retiree in his 70s, was born and raised in Zhigan Hutong in the Chaoyangmen area. In 1996, he moved to Lishi Hutong, about a 15-minute walk from Shijia Hutong.
Looking back on his childhood, he said: "I had lots of fun growing up in the hutong. In summer, my grandfather took me to the Chaoyangmen old gate, where many people gathered to enjoy the cool air.
"What I love most about hutong life is the diversity. People of different classes live together and they share the unique culture."