Popularity of a cappella continues to grow in China
Global Times
1564703214000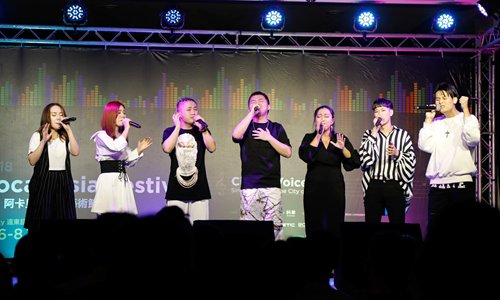 The Freewill Vocal Band performs at the annual Vocal Asia Festival in Hsinchu City, Taiwan Province, on August 16, 2018. (Photo: Courtesy of the Freewill Vocal Band)
Chang Jie, a 25-year-old producer-director at a TV station, has another identity: The entertainment manager and mezzo-soprano for the Button Vocal Band, which she founded in 2015 with friends. They practice a cappella, a form of group or solo singing without instrumental accompaniment, together when they are off work.
They were invited to perform on May 18, International Museum Day, in Changsha, capital of Central China's Hunan Province, by a local television station. The band constantly upload new works to Chinese short video platform Douyin, earning themselves more than 196,000 fans on the platform.
"We don't have a clear vision or goal about how successful our group will become one day. I think singing makes me happy and relaxed. If we can achieve something, that's wonderful, but we will not spend everything on it," Chang said.
A cappella groups like Chang's have been becoming increasingly popular over the past decade. According to Chen Wuming, CEO of the Shanghai A Cappella Center, when he first founded the organization in 2011, there were only about 50 to 60 groups in the Chinese mainland, but now there are too many to count.
Driven by passion
"I was struck and attracted by the novelty of a cappella when I first came across it in high school," said Chen Zhiyin, an undergraduate student at the Central Conservatory of Music in Beijing.
She founded an a cappella society at her university in 2015 and joined Singlesingers, an organization that holds a cappella classes for people who like the art form and provides a platform for them to meet each other. Chen noted that there are around 24 Singlesingers branches in different cities in the Chinese mainland. Zealous about a cappella, Chen is also the entertainment manager of the Freewill Vocal Band, a vocational a cappella group.
Wen Zhixian formed a band called Maximal Vocal in 2017 with people he had met at an a cappella club in Guangzhou, Guangdong Province. Although he and the other five members are busy with work and live in two cities, Guangzhou and Shenzhen, they try to practice together at least once a week.
"A cappella is so amazing, and it's just so much fun when we are singing together," Zheng Ye, the soprano for Maximal said.
"We are group singing. The leading rhythm is usually very melodious, while there might be someone whose rhythms are extraordinarily unpleasant. It's a bit torturing to practice those kinds of rhythms. However, when we sing together, it's just brilliant," Chang noted.
Promoting popularity
To arrange the first Shanghai A Cappella Festival in 2011, Chen Wuming and his team called the a cappella groups they had heard one by one to invite then, promising they would cover all transportation and accommodation costs.
Sensing the popularity of a cappella among young people, Shenzhen Satellite TV held an a cappella talent show in 2012. The Strawberry Music Festival also invited a cappella groups to perform on stage in 2012 and 2013. Chen said that the show aroused an a cappella sensation in universities, leading to many students establishing bands of their own.
"There are many Chinese who either have singing experience in choruses or are just passionate about singing. This is the foundation for the popularization of a cappella," Chen Zhiyin said.
"However, it is still music circulating among small groups of people, compared to other popular music genres," Chen further noted.
The a cappella classes Singlesingers holds are not run for profit, but to introduce the music form to more people who show an interest in it.
"It's like a mission for every a cappella group to broadcast this music. If a listener knows what I am talking about when I mention a cappella, I will feel very happy," Chang said.
Establishing an identity
In China, an a cappella group is usually made up of five to seven people so they can sing different vocal ranges or mimic the range of some musical instruments.
"The smaller the group is, the harder the process of music arrangement becomes," Chen Wuming noted.
One representative transition in the development of a cappella has been the gradual perfection of mimicking the sounds of bass and beatboxing, which enables groups to try different genres of popular music, such as jazz and country music.
"The threshold is not low when it comes to performing this art form," said Chang.
"First, you must know how to read music. Then you have to be able to maintain a tone and not be affected by others because the vocal range you are responsible for is different from the others. Third, you should hit your notes," Chang said.
Chen Wuming pointed out that some audiences see a cappella as a form of vocal percussion and forget the musical artistry that is involved in it. Chen noted that starting from adapting already existing songs, a cappella groups need to move on to injecting culturally authentic and distinctive factors into their music and establishing their own identities.