Tokyo 2020 unveils 20 official Olympic and Paralympic posters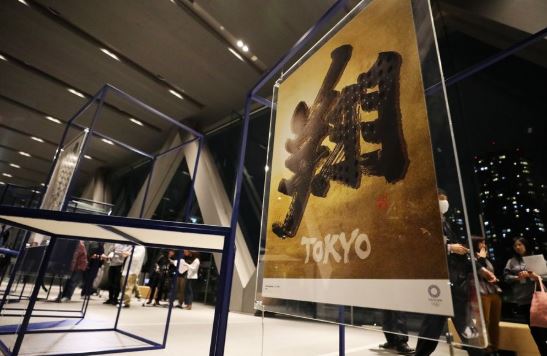 A poster for the 2020 Tokyo Olympics and Paralympics features calligraphy of Chinese character. (Photo: Xinhua)
TOKYO, Jan. 6 (Xinhua) -- Organizers of the 2020 Tokyo Olympics and Paralympics on Monday unveiled 20 official art posters, two of which feature calligraphy of Chinese characters.
Twelve posters are based on the theme of the Olympic Games and eight on the Paralympics. They will be displayed to the public at Tokyo's Museum of Contemporary Art on Tuesday and the exhibition will run until February 16.
Asao Tokolo, who designed the Tokyo 2020 emblems, has provided one poster for each of the Olympic and Paralympic games.
The two Chinese characters are "Xiang", which means "fly high" by 34-year-old Shoko Kanazawa, and "Kai", which means "open" by 49-year-old Koji Kakinuma.
"This work was produced in the hope that the commitment and enthusiasm of athletes, as well as everybody supporting the Olympic Games, will soar high above Tokyo to reach people the world over," said Kanazawa.
Kakinuma, who was a guest calligrapher at Princeton University in the United States from 2006 to 2007, said he chose "Kai" out of tens of thousands of Chinese characters.
"Your entire body and soul open completely toward the universe," he said. "That is what I call an explosion."
The posters will also be displayed across the city with the aim of promoting both the Olympics and Paralympics.