9,000-year-old settlement unearthed in Zhejiang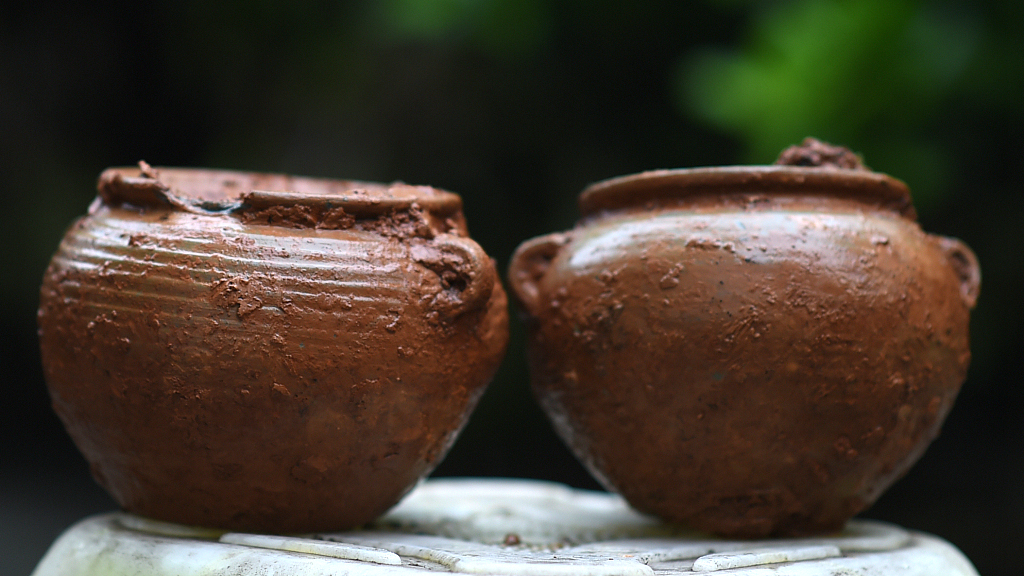 Potteries dating back 2,000 years are unearthed in Yiwu, east China's Zhejiang Province, where recently the 9,000-year-old settlement is discovered. ( Photo: VCG)
Colored potteries, tombs and a skeleton were excavated in a Neolithic settlement dating back 9,000 years, in east China's Zhejiang Province, according to local authorities.
The provincial cultural relics and archaeology institute said the ancient settlement was discovered in a Neolithic site, located in Qiaotou Village in the city of Yiwu, today known as the world's supermarket.
Excavation of the site started in 2014. So far, an area of about 2,000 square meters has been excavated.
Archaeologists said the settlement is a circular with a mound in the center surrounded by artificial trenches.
A large number of colored potteries were found in the mound, including red and white pots, plates and jars. Unbroken and smashed potteries were also unearthed in some pits.
"This place might have been a venue for sacrificial and ceremonial events of the ancient residents," said Jiang Leping, a researcher with the provincial cultural relics and archaeology institute.
Two tombs and a complete male skeleton unearthed on the site are speculated to be the earliest of their kind in Zhejiang.
Jiang said the red soil at the site is acidic, and further investigation will be conducted to find out how the skeleton could be so well preserved.
Experts said the Qiaotou site belongs to a Neolithic culture known as the Shangshan, which originated in the lower reaches of the Yangtze River, China's longest waterway.
Nearly 20 Shangshan sites have been unearthed in Zhejiang, with researchers finding evidence of wild rice cultivation in one site.