A new chapter for Chinese indie music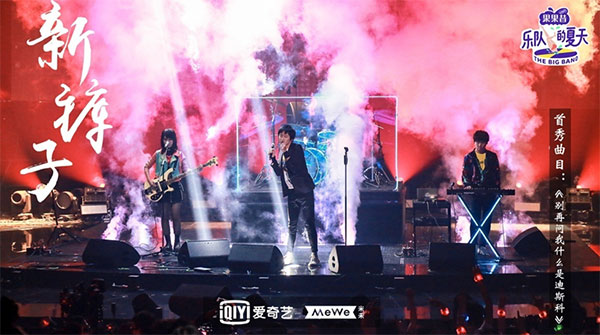 Punk rock band New Pants wins first place in 2019 reality show The Big Band, produced by streaming site iQiyi. (Photo: China Daily)
For most of China's Generation Z, this summer may be the first time they experienced rock music, while the country's middle-aged have had the chance to relive their youth with the sounds that made it special.
This is thanks to reality show The Big Band, produced by video streaming site iQiyi, which has helped bring new energy to the Chinese rock industry.
A cultural phenomenon
First aired in May, the show concluded last Saturday with a star-studded concert featuring singers like Pu Shu and Li Yuchun playing onstage together with the show's newly crowned hot five bands, including New Pants, Miserable Faith and Hedgehog.
Featuring 31 bands representing different genres such as punk, funk and reggae, the show has showcased homegrown indie musicians.
"Sisi yufan, and Jiulian zhenren! Kudos to the program producer for discovering these bands," reads a comment on Douban, a popular review site in China.
Running for two months, the show attracted massive numbers of viewers and sparked debate on social media.
On Sina Weibo, China's Twitter-equivalent, heated discussion inspired a series of trending hashtags like #Pu Shu from Manchester, #Zijian smashes his guitar, and #Help New Pants hit 1 million followers.
"The show has done solid work in every aspect. To some extent, it has certainly put domestic bands, still a love for a small group of people, in the public eye, which is really commendable in a time when everyone in showbiz is vying for attention and reputation," said Zhang Hao, guitarist of Byebye Noise, a rock band in Beijing.
On Douban, variety shows typically see their scores go down as they progress. The Big Bandhowever offered an exception – when it kicked off, the show was rated 7.4 out of 10, which gradually rose to 8.7 by the time it finished.
A career watershed
Thanks to the show's huge popularity, participating bands have also seen increased traffic to their social media pages, with many bands' followers increasing more than tenfold. Hedgehog's followers on Sina Weibo for example increased from 30,000 to over 1.14 million.
The show's top acts have seen their lives change. Most indie musicians have trouble making a living out of music, so they have day jobs to pay the bills, according to a Beijing Youth Daily survey.
Zhao Zijian, Hedgehog frontman, used to be a programmer.
"Finally, I don't need to go to work anymore," he said in a speech at a recent roundtable organized by Zhihu, a Quora-like question-and-answer website in China.
Shi Lu, Hedgehog drummer, is a single mom who doesn't have a day job but has to moonlight as a drummer in three bands to survive.
Click#15, a dark horse of the show, is a funk band comprising keyboardist Yang Ce and lead singer and bassist Ricky. The duo have confessed that their pre-show gigs draw few people and they only earned about 1,000 yuan ($142.4) a month from music.
Thanks to the show, they're now well on their way to the mainstream. Industry insiders have estimated that the band's ticket sales have increased by at least 400 percent, with tickets for their forthcoming national tour sold out.
What next for Chinese indie music?
The Big Band recently partnered with Taihe Music Group, a major Chinese record label, to launch an online campaign where people can vote for their favorite band. The campaign aims to identify talent for the show's next season and has already attracted hundreds of bands.
Some say however that the show's success doesn't bode well for all musicians in the industry, arguing that bands need sophisticated promoters rather than reality shows.
Jiulian zhenren's success for example is no coincidence – the band's promoter, Huang Liaoyuan, is a figure of some influence on China's rock scene who also discovered Second Hand Rose and Tang Dynasty in the 1990s.
Few bands will ever sign with a label or have their own promoter. Many musicians also struggle to accept and conform to commercial rules.
A-list bands like New Pants and Escape Plan command appearance fees of hundreds of thousands yuan, but most lesser known acts hardly get a chance to perform. Even if they release a record, they rarely get a significant share of royalties, said Zhang Fan, Beijing Midi School of Music founder.
The influence of a hit show can last for a relatively short period. If the whole industry looks to develop, growing a massive fan base is necessary, which calls for long-term hard work, said Shen Lihui, Modern Sky founder, China's largest indie music label.
If a show allows the public to get to know and love bands' work, making them more commercial, and musicians can get a larger share of the rewards, then a positive cycle is formed, said Wang Lei, Tencent Music general manager.
Royalties paid out by domestic music streaming services have since 2012 increased 100 times, most of which has gone to indie musicians, Wang said.