TOEFL, Chinese English language standards linked
China's Standards of English Language Ability, or CSE, the country's first standards for English proficiency, have been linked to the Test of English as a Foreign Language, which will further promote the international integration of China's foreign language assessment system, according to education authorities.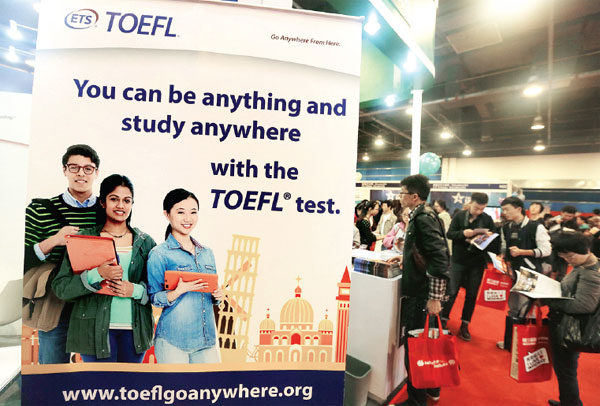 A poster for TOEFL test is displayed at the China Education Expo in Beijing. (Photo provided to China Daily)
The National Education Examinations Authority under the Ministry of Education and the Educational Testing Service, who administrates TOEFL tests, jointly released the results of a two-year research effort on aligning the standards and the tests at a news conference on Wednesday.
By linking TOEFL test scores to the CSE, for example, a minimum overall score of 37 in TOEFL is equal to CSE Level 4, with the minimum scores of 4 in listening, 7 in reading, 13 in speaking and 13 in writing.
The CSE, designed for all levels of English learners from elementary school to university, was issued by the ministry and the State Language Commission in February last year and categorizes the ability of Chinese English learners into nine proficiency levels.
The standards focus on students' ability in everyday practical language, broader communication skills and the ability to understand cultures in English-speaking nations, according to the ministry.
The successful completion of this collaborative research reflects the application value of CSE and will help Chinese schools and test takers better understand the requirements of international tests and the meaning of their scores, said Yu Han, the authority's vice-president.
"The linking is of great significance because it enhances the international influence of the country's foreign-language assessment system and promotes the international integration of educational standards," he said, adding that it will contribute to the opening up of China's foreign-language education as well.
Mohammad Kousha, general manager of the TOEFL program, said that the linking results would be of value to policy makers at educational institutions, test takers and test assessors such as schools and employers.
In January, test scores of Aptis and the International English Language Testing System, or IELTS, were linked to CSE.