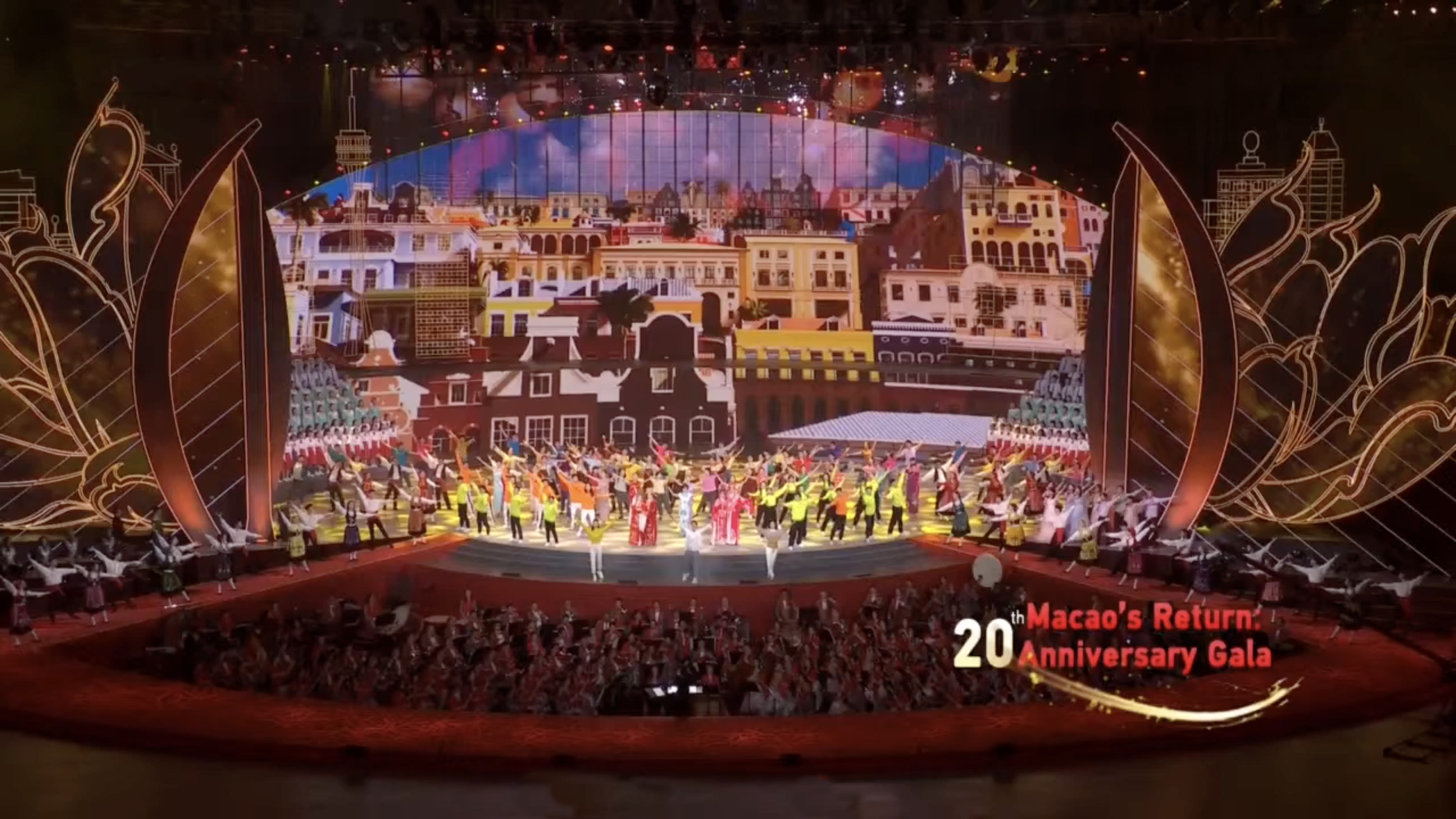 (Photo: CGTN)
A gala held Thursday to celebrate the 20th anniversary of Macao's return to China, opened with the southern Cantonese Lion Dance and the widely-popular Chinese song "My Country and I," among other performances filling the hall.
"My country most dear, you are the sea that never dries up. Your waves, clear and gentle, are like a song in my heart... My country and I can never be parted," are lyrics familiar with Chinese people at home and abroad.
The Story of Time
"The Story of Time" is a play narrated by Fok Hoi Seng and Lam Ka Chun about the story of a Chinese pilot and a young illustrator who are also dreamcatchers.
Before Macao returned to China, all the pilots of Macao's commercial airline were foreign. Lam, a Chinese flight attendant had a dream: to become a Chinese commercial airline captain.
When interviewed by the host, Lam said he quit his job and went to study abroad at his own expense. He completed a three-year-course in just one year. His dedication was then rewarded in 2008 when he became one of Macao's first Chinese commercial airline captains.

Fok is an award-winning illustrator from Macao. His works depict the culture and history of the city, as well as the progress it has had in the past 20 years. He is a winner of the prestigious 2013 Bologna Illustrators Exhibition, known as the Oscars of the illustration field.
New Look Macao
Performed by Kane Ao leong, Tong Liya, and Yin Shuo, "New Look Macao" tells the story of three young people enjoying a visit to Macao during the 20th anniversary celebration of the city's return to China, after being drawn by its diverse culture.
Audiences were able to follow tourists Tong, Yin and their tour guide into the streets of Macao to experience some of the most authentic activities in Macao culture, including digging for oysters, eating salted fish, enjoying Nanyin opera, singing in Cantonese dialect and partaking in Portuguese-style folk dance.
From the Cantonese opera "Blooming Flowers and Full Moon" to hip-hop acts, the diverse culture and unique tourist attractions of Macao were on full display during the show.
Two guests that are 63 years apart were introduced by the host during the event: 75-year-old Ho Tong Fun and 12-year-old Zheng Yuhan. They are alumni at the Premier School Affiliated to Macao's Hou Kong Middle School. Before this year's Children's Day and Double Ninth Festival, President Xi Jinping wrote letters of reply to the children at this school as well as to the elderly people at the Ngai Chon Day Care Center.
The Macao's Return Anniversary Gala featured the great changes of Macao after returning to its motherland and the solidarity of China, while coming to an end in a harmonious atmosphere.
The gala wrapped up at around 9:30 p.m. with President Xi going on stage to shake hands with the performers and sing "Ode to the Motherland." Soon the entire hall was chanting "This land, vast and beautiful, is our dear home."