Xi's Europe, LatAm trip boosts ties, steers governance on right path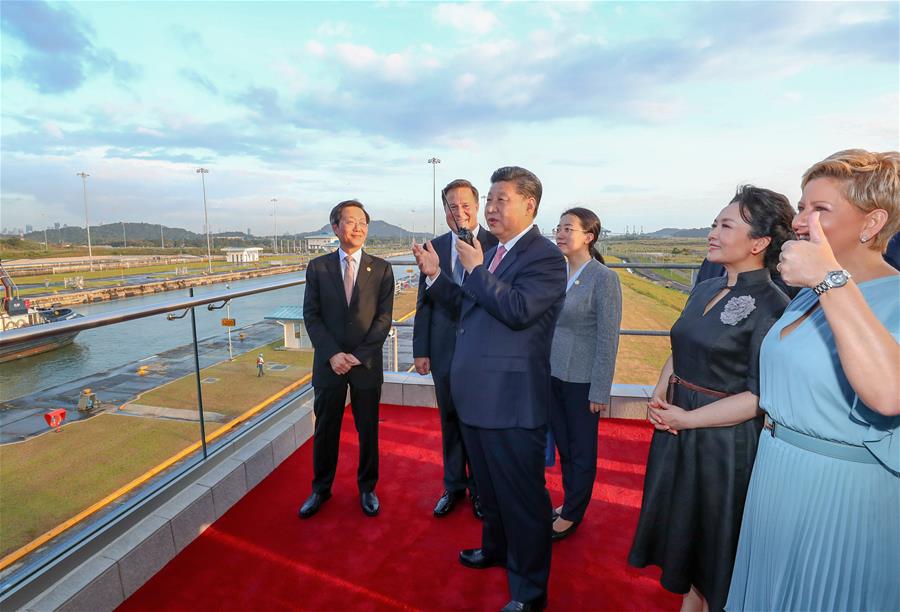 Chinese President Xi Jinping (3rd L) talks via interphone to the captain of Shipping Rose, a vessel of China Ocean Shipping Company (COSCO) which is waiting at the first locks of the Panama Canal, in Panama City, Panama, on Dec. 3, 2018. Accompanied by Panamanian President Juan Carlos Varela, Xi Jinping on Monday paid a visit to the new locks of the Panama Canal. Xi and his wife Peng Liyuan were greeted by Juan Carlos Varela and First Lady Lorena Castillo Garcia when they arrived at the waterway's new locks. (Xinhua/Xie Huanchi)
BEIJING, Dec. 6 (Xinhua) -- Chinese President Xi Jinping's latest trip to Europe and Latin America boosted China's ties with cooperation partners and steered global economic governance on the right path, Chinese State Councilor and Foreign Minister Wang Yi has said.
Wang told reporters that Xi's nine-day trip, which was concluded on Wednesday, also helped guide China's relations with other major countries on a path of long-term stable development.
From Nov. 27 to Dec. 5, Xi paid state visits to Spain, Argentina, Panama and Portugal, and attended the 13th Group of 20 (G20) summit in Buenos Aires. Xi also met with leaders of other major economies, including U.S. President Donald Trump, on the sidelines of the summit.
The trip, said Wang, helped "increase stability in the international situation at a critical time, provided a sense of direction for the international system that has been undergoing profound changes, and inject positive energy into the international community troubled by worries and anxieties."
PROMOTING G20 COOPERATION, MAJOR-COUNTRY RELATIONS
One of the highlights of Xi's trip was his attendance at the G20 summit in Buenos Aires, 10 years after the first G20 summit was convened by the world's major economies to jointly tackle common challenges.
At the closely-watched summit, Xi suggested the group steer the world economy responsibly, stay committed to openness and cooperation, and play a leading political role in nurturing favorable conditions for international trade and fighting climate change.
On the sidelines of the summit, Xi and Trump had in-depth discussions in a friendly and candid atmosphere and charted the course for the two countries to properly resolve their existing problems and push forward bilateral relations.
Xi also met with Russian President Vladimir Putin, Indian Prime Minister Narendra Modi and other world leaders for bilateral and multilateral talks, and attended an informal leaders' meeting of the emerging-economy bloc of BRICS.
Thanks to China's efforts, said Wang, the G20 summit reached consensus on major international issues and released a declaration, sending out a right, positive and stabilizing signal to the world.
EXPANDING COOPERATION WITH EUROPE
Xi's state visits to Spain and Portugal ushered in a new era in China's bilateral ties with the two countries and infused fresh vigor into China-EU relations, said Wang.
During Xi's visits, China and the two countries demonstrated their joint commitment to strengthening partnership and expanding cooperation in various fields.
Both Spain and Portugal are actively involved in the international cooperation within the framework of the Belt and Road Initiative (BRI), and China will work with them to further synergize development strategies and create new space for practical cooperation, Wang said.
Xi also reached consensus with leaders of the two European countries on consolidating the China-EU comprehensive strategic partnership and supporting multilateralism and free trade.
Noting that this year marks the 15th anniversary of the China-EU comprehensive strategic partnership, Wang said Xi's trip will further energize cooperation between China and European countries.
China and the EU's joint efforts to safeguard multilateralism and build an open world economy not only conform to both sides' interests but also benefit world stability and prosperity, Wang said.
CEMENTING CHINA-LATIN AMERICA RELATIONS
Xi's state visits to Argentina and Panama, Wang said, not only enriched China's relations with the two countries but also strengthened the overall cooperation between China and Latin America.
In Argentina, the two sides agreed to jointly usher in a new era of their comprehensive strategic partnership, and signed a joint action plan for the next five years and some 30 cooperation documents.
In Panama, which established diplomatic relations with China 18 months ago, Xi's visit further fortified the basis of bilateral ties.
The visits to the two countries were also "a reflection of the robust growing relations between China and Latin America," Wang said, adding that BRI cooperation is expanding rapidly to Latin America.
China and Argentina agreed to extend their comprehensive strategic partnership to cover BRI cooperation, and China and Panama vowed to synergize the BRI and the National Logistics Strategy of Panama 2030.
"The Latin American countries are enthusiastically embracing the Belt and Road Initiative and looking forward to closer ties and deeper shared interests with China," Wang said.
PRESENTING CHINA'S DEVELOPMENT PATH
Throughout the trip, the Chinese president also made efforts to expound China's development path and philosophy and help the rest of the world to better understand China, Wang noted.
Xi told the world that his country, which is celebrating the 40th anniversary of its reform and opening-up policy, will carry out a new round of reform and opening-up at a higher level, so as to promote its development and create more opportunities for worldwide common development.
On China's foreign policy, Xi reiterated that China will always be a builder of world peace, a contributor to global development, and a guardian of the international order.
During the trip, Professor Peng Liyuan, wife of the Chinese president, took part in a variety of activities to promote cultural and people-to-people exchanges and enhance China's friendly ties with other countries, which Wang said demonstrated China's unique soft power.
Facts have once again proved that Xi's vision of building a community with a shared future for mankind is drawing together the aspirations of people across the world for peace, development and prosperity and becoming increasingly popular, Wang said.
"President Xi's latest trip is yet another successful practice of major-country diplomacy with Chinese characteristics," he said.