Serbian president vows firm support for Belt and Road cooperation
BELGRADE, Jan. 29 (Xinhua) -- Developing an all-around cooperation with China is an important direction of Serbian diplomacy, Serbian President Aleksandar Vucic said here on Tuesday, promising firm support for the China-proposed Belt and Road Initiative (BRI).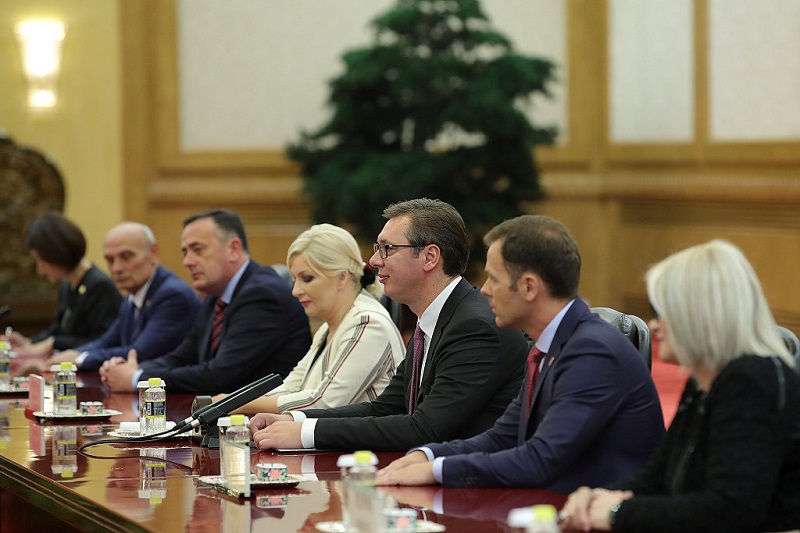 Serbia's President Aleksandar Vucic attends a meeting with China's President Xi Jinping (not pictured) at The Great Hall Of The People in Beijing, China September 18, 2018. (File photos: VCG)
Vucic made the remarks when receiving China's newly-appointed ambassador to the country Chen Bo, who handed the letter of credence to the president at the Palace of Serbia.
Serbia and China are seeing "the highest level" of bilateral cooperation in history thanks to the BRI, the president was quoted as saying in a press release issued by Vicic's cabinet after the meeting.
Vucic expressed satisfaction with the intensive political dialogue and fruitful economic cooperation between the two countries, and emphasized the importance of Chinese investments for economic growth in Serbia.
Announcing his participation in the second Belt and Road Forum on International Cooperation in April in Beijing, he reaffirmed Serbia's support for the initiative, saying it promotes peace and cooperation and shows China's respect for the equality of all countries.
Chen said that the two countries, which enjoy a tradition of friendly relations, are now making progress in pragmatic cooperation in all fields, leading to great achievements, according to a press release by the Chinese embassy.
China attaches great importance to China-Serbia relations, considering Serbia as a reliable friend and an important partner, Chen said. "Bilateral cooperation promotes the economic and social development of Serbia, and benefits the further opening-up of China as well. It features mutual benefits and win-win results" with a great potential and broad prospects
China, together with Serbia, would promote the development of their comprehensive strategic partnership under the BRI and 16+1 mechanism for cooperation between China and Central and Eastern European (CEE), Chen said.
Cover image: Serbia's Prime Minister Aleksandar Vucic and Czech President Milos Zeman arrive for a family photo with other delegation heads as they attend the Belt and Road Forum for International Cooperation at the Yanqi Lake venue on May 15, 2017 on the outskirt of Beijing, China.