Five years on, Belt and Road projects change the lives of many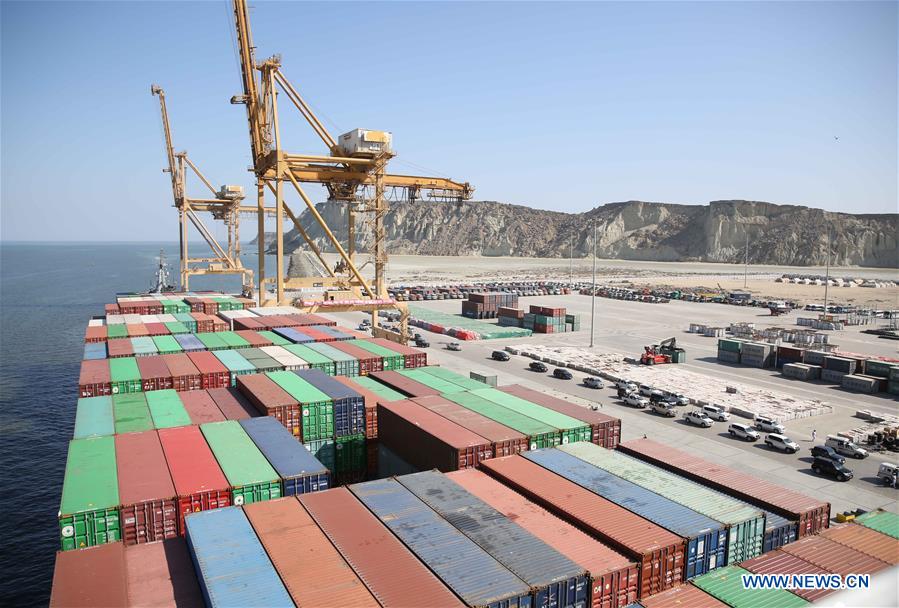 Photo taken on Nov. 13, 2016 shows the COSCO Wellington cargo vessel with containers is moored at Gwadar port, Pakistan. (Photo: Xinhua/Liu Tian)

HONG KONG, Sept. 16 (Xinhua) -- Life took a surprising turn in early 2016 for Bounmy Phonmixay, a 21-year-old young woman in the central Lao town of Kasi, when a team of engineers arrived for a rail project near her home.

It was literally a game-changer.
A single mum, Bounmy lives with her mother and her three-year-old daughter. Two years ago, she was almost in a depressing state of hopelessness, struggling to make ends meet by growing paddy rice and vegetables on leased land. Then, she found a job working at the construction site of the China-Laos railway, an infrastructure project under the Belt and Road Initiative.
When she showed up for an interview with Xinhua recently at the railway project site in Kasi, she was wearing the makeup she likes.
"I like wearing makeup, but I seldom did it in the past since I didn't have much money back then. Now I can afford my own cosmetics and put on makeup whenever I want to," she said joyfully.
THE GAME-CHANGER
The Chinese engineers were there to prepare for the railway project, which links the Mohan-Boten border gate in the northern part of the landlocked country with the capital Vientiane.
Bounmy was offered the job in 2016 to cook for the builders who were away from home. She got to know many of the builders and was happy with her new job. She learned to cook some dishes, both Chinese and Lao.
"I earn 1.5 million kip (about 176 U.S. dollars) every month. I give 200,000 kip to my mother, spend 500,000 kip on my daughter's snacks, milk and toys, and still have 800,000 to myself," she said.
"Although it is quite a busy job, working here makes me feel like being home," she added.
The China-Laos railway is the first overseas route to connect with the railway system in China, leveraging Chinese technology, equipment and investment. It is designed to have an operating speed of 160 km per hour.
"We grow excellent paddy rice and xiaomila (a pepper) here in Kasi, but not many people know it," she said. "Hopefully, with the new railway in place, more people would travel to Kasi and take our products farther away so they would be better known to all."
The railway is expected to be fully operational in 2021, but Bounmy does not worry about losing her job by then.
"I have learnt a lot from my work, especially Chinese cooking. When the railway is in place, there will be many people traveling around the station, then I'll start my own restaurant there," she said.
Proposed by China in 2013, the Belt and Road Initiative refers to the Silk Road Economic Belt and the 21st Century Maritime Silk Road, which are aimed at building a trade and infrastructure network connecting Asia with Europe and Africa along the ancient trade routes of the Silk Road on land and at sea.
Over the past five years, a series of cooperation projects have kicked off and some have been completed, changing the lives of many along the routes.
SELLING MANGOES AFAR
In Pakistan's southwestern port city of Gwadar, 15-year-old boy Akbar was both excited and relieved to learn about a new seawater desalination plant inaugurated in July this year. Gwadar had been plagued with acute water scarcity. Akbar used to stand on the roadside in the scorching sun for hours to wait for a water tanker to stop by.
In May this year, the China Overseas Ports Holding Company, the operator of Gwadar port under the China-Pakistan Economic Corridor (CPEC), agreed with the local government to provide the latter with 300,000 gallons of drinkable desalinated water daily. The government has been distributing the water freely through its pipelines to about 4,000 local households.

"The water is free and their water is very good," Akbar said.
Along the CPEC, a series of infrastructure projects have been completed.
Qasir Abbas, a 40-year-old Pakistani farmer who owns a 400-acre mango farm in Multan in the central Punjab Province, witnessed changes brought about by the construction of the Multan-Sukkur Motorway, locally known as M5.
Abbas sells mangoes from his hometown, known for conditions favorable to food and crops such as mango, cotton and sugarcane, to the southern major port city of Karachi, some 900 km away. However, the two cities were connected with a poorly maintained highway, with the whole journey taking about 21 hours.
The 392-km six-lane M5 is the largest transportation infrastructure project under the CPEC, a corridor linking Karachi and northwestern Peshawar and running through the populated provinces of Punjab and Sindh.
The first 33-km section of the M5 was inaugurated in May this year, with a speed limit of 120 km per hour. The whole project is scheduled to be completed by August 2019.
"By then, it will take only 14 hours to transport my mangoes to Karachi," Abbas said.
BODY LANGUAGE SPEAKS
In May 2017, the first Belt and Road Forum for International Cooperation was held in Beijing. More than 1,600 people from over 140 countries and 80 international organizations participated in the event.
"I shared my story of representing the Port City Project to ask the Sri Lankan government for a backup water supply inlet," said Sanjeewa Alwis, a mechanical manager from Sri Lanka's Colombo Port City, referring to the mega cooperation project, which was built on over 269 hectares of reclaimed land adjacent to the present commercial district.
Sanjeewa's work did not get off to an easy start when he had to try and convince his fellows that the project is for Sri Lankan good.
"I explained to them that the construction of the Colombo Port City is for Sri Lanka and Sri Lankan people's own good," Sanjeewa said.
The Colombo Port City, a joint project between the Sri Lankan government and China's CHEC Port City Colombo (Pvt) Ltd, is expected to be a future commercial, financial, residential and international entertainment hub.
"People gradually realized that the future of Colombo resides in the Port City, therefore they support it very much. The project is steadily progressing now," Sanjeewa said.
"We need to understand each other first, and bond our hearts together. Luckily, Sri Lanka and China have achieved that in the project of the Port City," he said.
As of July 2018, more than 100 countries and international organizations had signed cooperation documents under the Belt and Road Initiative.
In Alliance Steel at the Malaysia-China Kuantan Industrial Park, Khairy Akmal bin Ismail, 29, a coordinator at the coking plant, was seen chatting, joking and patting shoulders with his Chinese colleagues.
"Here we use body language a lot, and we also try to learn some mandarin," even though getting along with their Chinese colleagues was never a problem for even those who do not speak Chinese, said Ahmad Hawali bin Daud, an assistant fire control leader at the plant.
With an investment of 1.4 billion U.S. dollars and an annual output of 3.5 million tons of steel products, the Alliance Steel was the first project materialized in the Industrial Park, a government-to-government cooperative project between Malaysia and China.
The plant now hires some 2,500 Malaysian people. Over 80 percent of its 4,000 staff members will be locally recruited when it becomes fully operational.
"Now I am helping friends to submit resumes so that they could get jobs here," said Mohammad Nor Riduan bin Rawir.