Foreign representatives in CIFTIS hail China's opening up policy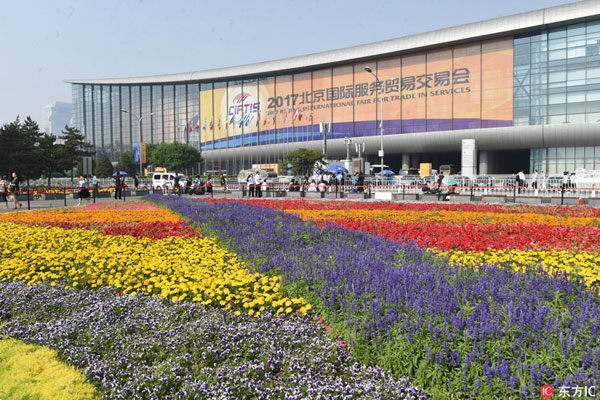 The 5th China Beijing International Fair for Trade in Services is held in the China National Convention Center in Beijing from May 28 to June 1, 2017. (Photo: Imagine China)
Foreign representatives taking part in the ongoing China Beijing International Fair for Trade in Services (CIFTIS) have hailed China's decision to further open up its service industry, expressing willingness to further cooperate with China in service and trade sectors.
UNO Parks from Lithuania is the operator of the biggest indoor family entertainment center in the Baltic Sea Region, and has taken the lead in constructing adventure parks in the region.
The firm entered the Chinese market in 2013, and up till now, 6 new adventure park projects have been launched in China.
Zhao Na, UNO Parks' business development representative in China, attended the services trade fair.
She said that the Belt and Road Initiative has provided her company with new markets and new opportunities for development.
"Eastern European countries along the Belt and Road Initiative have taken part in a number of events such as services trade fair, as well as other similar events. Lithuania is a small country. You need to know it well in order to start conducting trade and economic cooperation with it. As such, through events such as services trade fair, we will get to know the people who are interested in cooperating with us," said Zhao.
Ireland's embassy in China has also sent a delegation to take part in the trade fair.
Lin Zhi, an official with the Irish embassy, says she hopes that China and Ireland could deepen their cooperation in the science and technology sector.
"The China-Ireland Technology Growth Fund was launched by the Chinese and Irish governments; and its total value reached 100 million U.S. dollars in 2014. The fund invested significantly in science and technology firms in both countries, and had profitable returns. The two sides decided earlier this year to start Phase Two of the fund with a total of 150 million euros, or some 170 million dollars. We hope to make good use of the fund to attract more Chinese tech firms to invest in Ireland, and to help more Irish tech firms to enter the Chinese market," said Lin.
On Monday, China's Commerce Minister Zhong Shan vowed at the CIFTIS' Global Trade in Services Summit that China will accelerate the opening up of its service industry and further liberalize to greater trade in services.
Qin Jiahao, the CEO of the American International Chamber of Commerce, said that China and the United States complement each other in many ways in the service sector, such as logistics, healthcare, and finance, so the US side can benefit a lot if China further opens up its service sector.
"The volume of business by American companies trading with China has grown significantly, creating many more job opportunities for the American people. As Chinese logistics firms operating in the United States often have to build warehouses to store their goods, the real economy of the United States can be boosted by this process. For example, the construction and manufacture sectors can be boosted," said Qin.
This year's CIFTIS is held in the China National Convention Center in Beijing from May 28 to June 1.