Future bright for more Belt and Road Initiative projects to enter Africa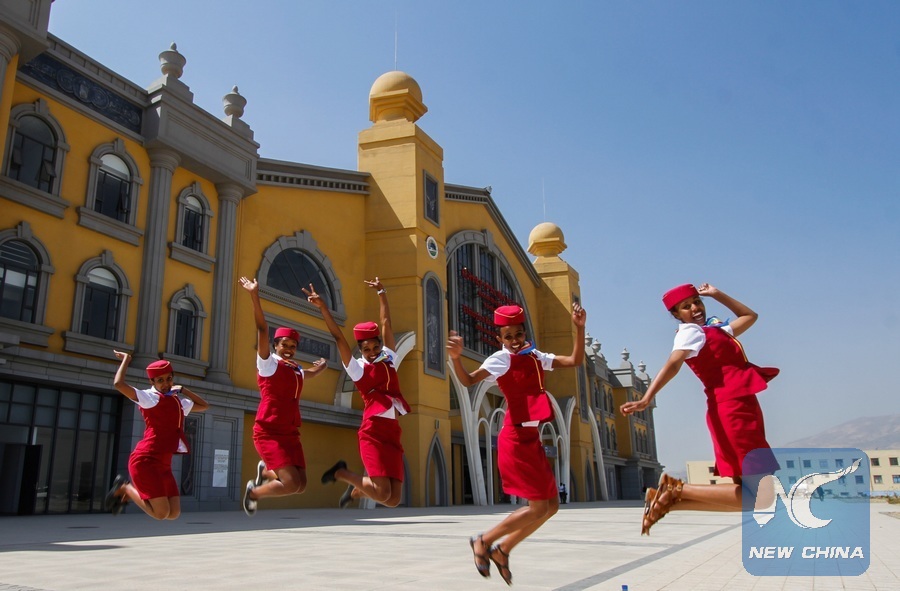 Ethiopian attendants jump at the Lebu station of the Chinese-built Ethio-Djibouti Railway in Addis Ababa, capital of Ethiopia, Jan. 1, 2018. (Photo: Xinhua)

A Chinese railway construction giant said prospects are bright for more Belt and Road Initiative projects to land in Africa, following the success of two "trailblazing" rail projects in Ethiopia.
Zhang Zongyan, President of China Railway Group Limited (CREC), told Xinhua in an interview that as Africa's economic development picked up steam, there will be greater demands for better infrastructure, thus creating a huge market for infrastructure construction companies.
"African countries witnessed enormous development in the past decade, which will give them better economic capacities for housing new infrastructure projects," he said.
CREC is a major constructor and operator of the Ethiopia-Djibouti railway, Africa's first transnational electrified rail, and the Addis Ababa Light Rail, the first of its kind in a sub-Saharan African city.
The 752-km Ethiopia-Djibouti railway, which provides landlocked Ethiopia a quicker access to sea port in Djibouti, has transported over 34,500 passengers and more than 11,000 containers since it commenced commercial freight and passenger services in January, according to CREC.
The light rail, which opened in 2015, has so far transported some 96.8 million people, according to the company, and is credited for alleviating the traffic jam in the capital city of Ethiopia.
Zhang said the railway has boosted economic links between Ethiopia and Djibouti, promoted local trade and industry and made travels easier for locals. He hailed the project as an early achievement of the Belt and Road Initiative, a Chinese proposal that aims to build trade and infrastructure networks connecting Asia with Europe and Africa.
To maximize the railway's economic impact, Zhang said they are also working with Ethiopia to improve supporting facilities like logistic parks to better connect it with industrial sites along the line.
"The main blood vessel is open, and now we need more capillaries. We are having cooperation in this regard," the company president said.
Zhang said one feature of the Chinese projects is prioritizing local employment and training. The construction of the Ethiopia-Djibouti railway has created over 61,000 jobs for Ethiopians and some 5,000 for Djibouti locals, according to CREC.
Ethiopia is a young nation, with 70 percent of its population being under the age of 30. Youth unemployment, however, is a big complaint that has fueled protests in several parts of the country.
Zhang said the employee localization strategy fits both the company's goal of creating more jobs for locals and its need to cut cost by reducing the expensive importation of Chinese labor.
"If a position can be taken by a local, we will surely employ a local. It's based on the company's actual management needs," said Zhang.