Cross-border e-commerce up 25% in H1
People's Daily app
1537435186000
China's cross-border e-commerce increased by 25 percent year-on-year in the first half of 2018, a research center reported Wednesday.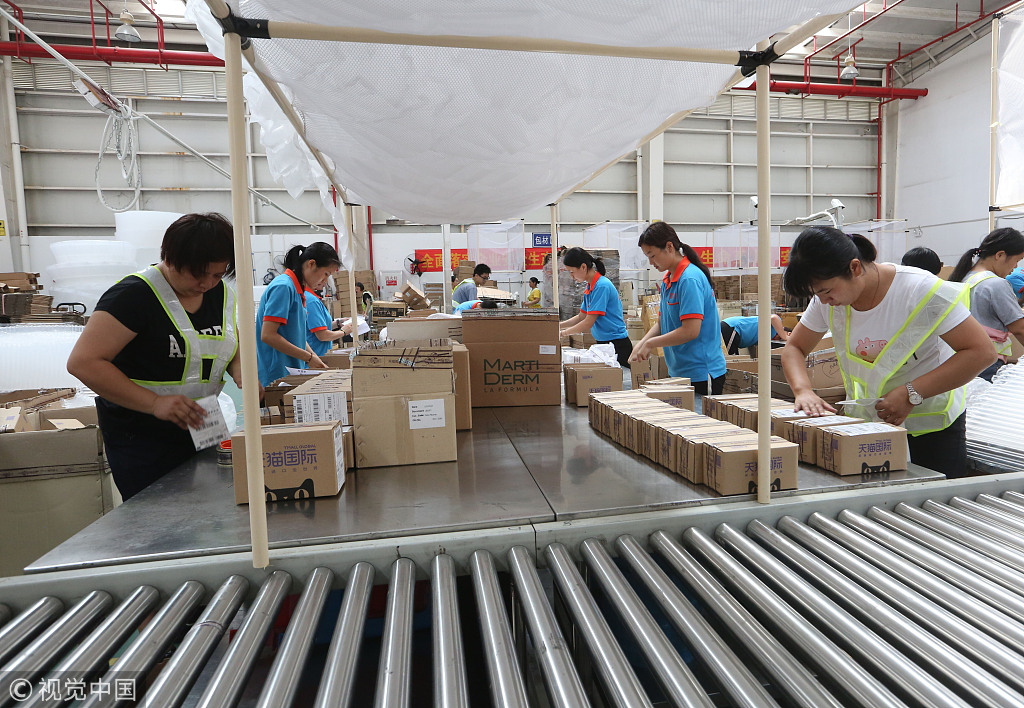 Photos: VCG
The cross-border e-commerce transactions in China in the first half year reached 4.5 trillion yuan ($657 billion), according to the 2018 H1 China Cross-border E-Commerce Market Data Monitoring Report by domestic e-commerce research website 100ec.cn.
The first six months saw the country's export e-commerce transactions reach 3.47 trillion yuan, a year-on-year increase of 26 percent, while import e-commerce transactions reached 1.03 trillion yuan, or a 19.4 percent increase. Market expectations for the full-year's imports through e-commerce are around 1.9 trillion yuan, the report said.
The import ratio was 22.9 percent with exports accounting for 77.1 percent, the report said. The research center also predicted that cross-border e-commerce will benefit from the strong growth of domestic demand for quality goods overseas.
B2B transactions accounted for 84.6 percent in the first half of 2018, with B2C at 15.4 percent. The B2B business model remains dominant, as its value chain is relatively long while meeting mass-based demand. National policies put B2B as an important business model for cross-border e-commerce development in the future.
Zhang Zhouping, a senior analyst at the China E-Commerce Research Center, said there are three major characteristics in the sector.
First, China's policies are boosting the rapid development of cross-border e-commerce. The State Council executive meeting vowed support for the development of cross-border e-commerce and measures to further expand imports on June 13.
Second, the growth of export e-commerce has driven the transformation and upgrading of "Made in China". With advantages established in both cost and scale, China's manufacturing industry is developing rapidly. The Belt and Road initiative and the capital market are also powering further growth.
Third, import e-commerce companies are expanding to offline businesses. Tmall International's first cross-border offline store opened in West Lake Yintai Store on April 20. NetEase Koala's first offline store was officially opened in the Hangzhou Tower Central Mall on April 28. Many imported cross-border e-commerce companies have expanded their business to offline channels. They are optimistic about the potential of brick-and-mortar stores, and expect to take the lead in the new retail, Zhang added.