Diplomacy with 'correct conception'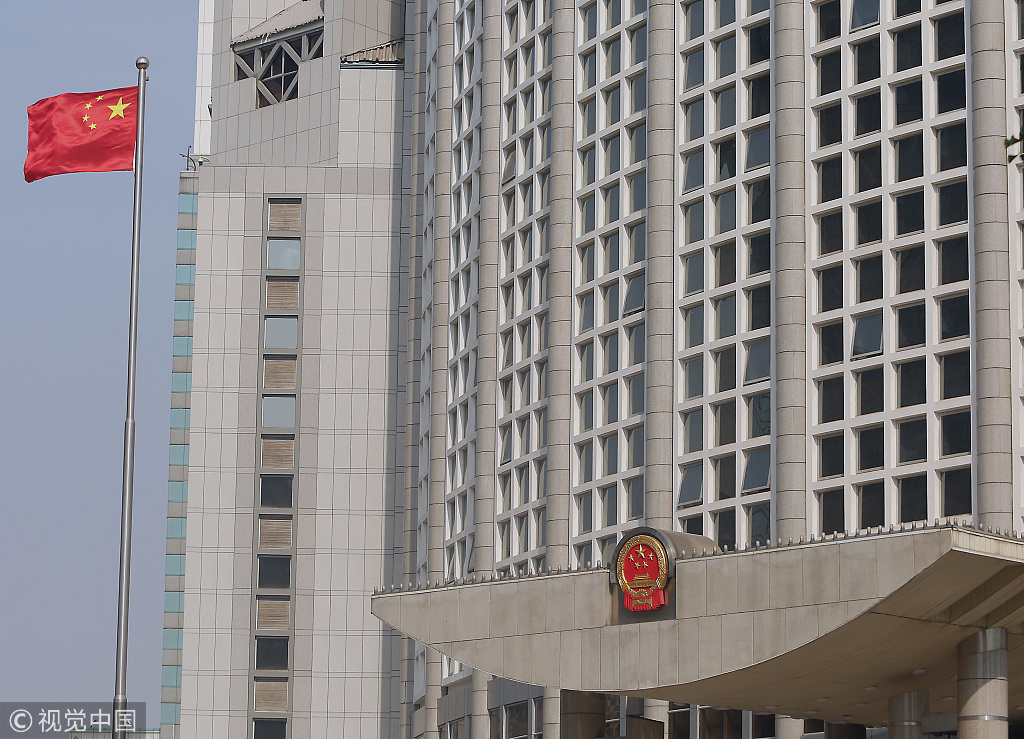 China's national flag flies in front of the Foreign Ministry in Beijing. (Photo: VCG)
At the two-day central conference on foreign affairs work in Beijing, which ended on Saturday, President Xi Jinping underscored the importance of keeping in mind both domestic and international imperatives in the nation's foreign affairs work. He said the country's diplomatic work should take national rejuvenation and promoting world peace and common development as the main tasks, strive to build a community with a shared future for mankind and firmly safeguard the country's sovereignty, security and development interests.
He especially emphasized the importance of the "correct conception" of China's role, which means, to judge China's role on the international stage and its ties with other countries, and therefore use China's diplomacy to create an international environment conducive to realizing its goals.
To correctly judge China's role will be very important for decision-making in China's diplomacy. In his report to the 19th National Congress of the Communist Party of China, Xi, who is general secretary of the Party, said: "We must recognize that the evolution of the principal contradiction facing Chinese society does not change our assessment of the present stage of socialism in China. The basic dimension of the Chinese context, that our country is still and will long remain in the primary stage of socialism, has not changed. China's international status as the world's largest developing country has not changed."
Since the 2008 global financial crisis, China has been playing a bigger role on the global stage thanks to its rapid economic development and diplomatic initiatives. But China has also been witnessing more international challenges.
For a long time, "keeping a low profile and hiding its brightness "has been China's diplomatic guideline. These two principles complement each other, requiring the country to keep a low profile while focusing on its development and not being arrogant about its achievements. This is a perfect example of dialectics, and it should play an important role in the "new type of major-country diplomacy with Chinese characteristics" that the country is advocating and striving to build.
Although great changes have taken place in the international arena, China is not yet strong enough to counter the existing major powers which continue to play important international roles. China's diplomacy needs strategic patience to proceed smoothly and avoid falling into the Thucydides' trap with existing powers.
China is still a developing country at the primary stage of socialism, and faces many challenges in its peaceful development and phased comprehensive modernization process-realizing the "Two Centenary Goals" of building a moderately prosperous country by 2020, by among other things eliminating abject poverty; building on the foundation of the moderately prosperous society to basically realize "socialist modernization" by 2035; and building a great, modern, socialist country by 2050.
More importantly, by correctly judging its role and remaining sober-minded, China will be able to avoid a downhill slide even after realizing the Chinese Dream of national rejuvenation.
In particular, considering the changing international situation over the past decade, China must carefully cope with diplomatic issues. Some Western economies have been blaming China for their poor economic performance. And with the rise of populism in some parts of the world, the theory of a "China threat" has been hyped once again, especially in the West.
The United States, in particular, has made China the target of its foreign strategy and taken measures that could trigger a full-fledged trade war. Given US President Donald Trump's "America First" policy, and anti-globalization and protectionist moves, China must "hide its brightness" so as to not give other economies excuses to target China for its "aggressive" diplomacy and, ironically, economic achievements.
Since China has a long road to travel before realizing national rejuvenation, it would do better to maintain a low profile to a certain extent.
Although China is a large developing country, the US, which is the world's only superpower, pays close attention to its development, not least because China occupies second position in many fields, which in turn has prompted many observers to say the Thucydides' trap will be difficult for Washington and Beijing to avoid.
The US has resorted to the zero-sum game of protectionism and unilateralism. But China should act rationally and promote global cooperation, and make efforts to resolve and control disputes to avoid vicious competition and an arms race.
Given the changing international situation, China has to balance the following five aspects: First, internal and external developments notwithstanding, China should keep focusing on domestic development, by deepening reform and opening-up, so it can be a stable and powerful engine for global development. It must also avoid taking rash development measures and, instead, take steady steps toward achieving both internal and external development.
Second, on the external front, China should weigh its power and capability, and accordingly implement development projects while respecting international rules. For instance, China is capable of shouldering the responsibility of protecting globalization and promoting fair global governance as part of its "new type of major-country diplomacy with Chinese characteristics". Third, when making efforts to increase its say in the global arena, it should adhere to the diplomatic principles of international relations.
Fourth, while weighing investment and income, China should not take full responsibility for the success of the multilateral cooperation projects it proposes, such as the Belt and Road Initiative, and instead insist on the principle of consultation, joint contribution and shared benefits.
And fifth, to strike a balance between countermeasures and cooperation at a time when anti-globalization and unilateralism are rising in some parts of the world, China should make efforts to manage disputes, take precise and timely countermeasures, promote international cooperation to safeguard globalization, and enhance communication to resolve the misunderstandings and disagreements over its peaceful rise.
(The author is director of Crisis Management Research Center, China Institutes of Contemporary International Relations.)