A more open western China embraces global opportunities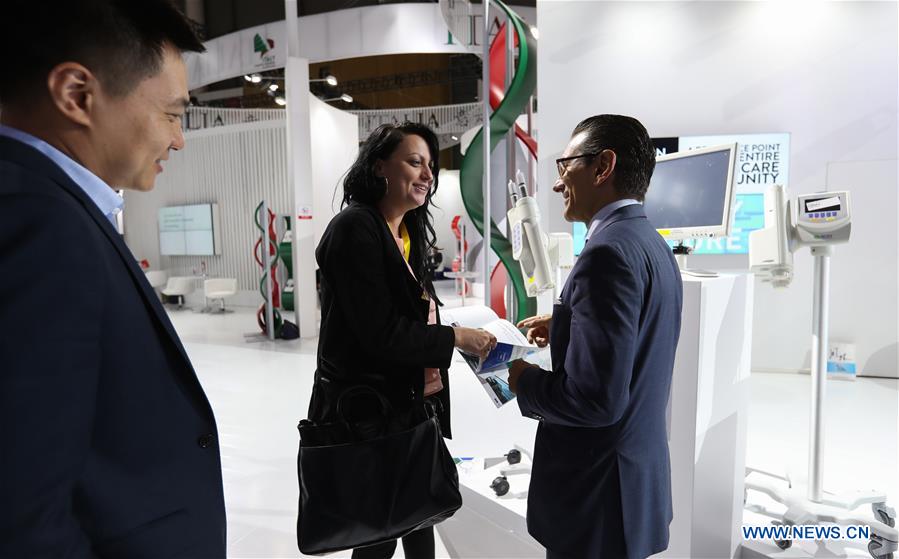 Traders talk at the medical equipment section of the Italian booth during the 17th Western China International Fair (WCIF) in Chengdu, capital of southwest China's Sichuan Province, Sept. 20, 2018. (Photo: Xinhua/Jiang Hongjing)
CHENGDU, Sept. 22 - Over 60,000 enterprises from 90 countries and regions are participating in the 17th Western China International Fair (WCIF) in west China's metropolis of Chengdu, vying for opportunities brought by China's bullish development of western China and the Belt and Road that runs through it.
Luigi Di Maio, Deputy Prime Minister of Italy and Minister of Economic Development, Labor and Social Policies, led an entourage consisting of representatives from 55 Italian enterprises to the fair.
He said the Italian government regards the country as an important European destination of China's Belt and Road Initiative, which opens a broader space for cooperation.
Italy, as the Guest Country of Honor at the fair, has a 1,200-square meter exhibition area with exhibitors from a wide range of fields including health, technology and innovation, clean energy, tourism, agriculture and food.
First launched in 2000 by China's National Development and Reform Commission, the Ministry of Commerce, and the Ministry of Foreign Affairs, the WCIF has become an important platform for western China to promote investment, carry out cooperation and conduct diplomacy.
BELT AND ROAD FRONTIERS
Witold Stepien, Marshal of the Lodz Region of Poland, formed ties with Chengdu after the first freight train named China Railway Express (CRE) from Chengdu arrived in Lodz in 2013, linking the two destinations with a distance of 9,826 km.
Since then, there have been more than 2,300 CRE train trips made between Chengdu and European cities, of which nearly half were between Chengdu and Lodz.
Stepien has visited Chengdu many times. At this year's fair, he came to find further cooperation opportunities, hoping to enhance the function of Lodz as a railway hub in Europe.
"With CRE operation between Chengdu and Lodz, people started to notice the importance of Lodz, which has become a major transport and logistics hub in Europe," said Stepien.
Since Chengdu and Lodz formed an official sister-city relationship in 2015, they have expanded their business cooperation to multiple sectors including trade, education and culture, said Stepien.
Chengdu-based Xilife, a less than 3-year-old local interior decoration company, has also attributed the company's growth to the CRE trains.
Wang Ying, CEO of Xilife, said 90 percent of the company's house decoration materials are brought directly from Italy via the train service, as Chinese consumers welcome the European materials.
"CRE train delivery shortens the time from two to three months by maritime transport to less than one month. It helps small firms like Xilife lower storage pressure and timely adjust products according to customers' preferences," said Wang.
Wang remembered how astonished their Italian suppliers were when she told them Xilife is able to transport thousands of tonnes of finishing materials such as ceramic tiles, rock boards and hardware by train.
Three months after its establishment in February 2016, Xilife began to transport goods via CRE, from 22 railway wagons in 2016, to 48 wagons in 2017, and 52 wagons in the first eight months this year.
In addition to Chengdu, two other cities in western China - Chongqing, the country's fourth municipality directly under the central government, and Xi'an, home of the Terra-Cotta Warriors - have also launched CRE train services.
Chengdu is building its second airport to cope with the growing demand for international travel. The airport is expected to officially open in 2020. At that time, Chengdu would be the biggest air gateway in the middle and western area of China.
"At the early stage of China's reform and opening-up, the vast inland regions were regarded as the 'tail' of the country's opening-up. But the 'tail' has been turned into the locomotive of China's new development drive, bringing its geological advantage to countries along the Belt and Road," said Bai Ming, deputy director of the international market research institute of the Chinese Academy of International Trade and Economic Cooperation.
Chinese Vice Premier Hu Chunhua delivered a keynote speech at the opening ceremony of WCIF on Thursday, saying China's western region will "exert a great vitality by participating in the Belt and Road Initiative."
Hu said the Chinese government will further create conditions to support the western region in speeding up its development and deepening international cooperation to achieve greater and higher mutual benefits and win-win results with other countries.
GREAT POTENTIAL
Bonfiglioli Drives, an Italian machinery manufacturing and design company with 62 years of experience, has shared in the vigorous economic growth of western China.
"The focus of our business in China has transferred from eastern coastal areas to western provinces, such as Sichuan, Yunnan, and Guizhou," said Duan Tingbo, senior sales engineer of Bonfiglioli Drives Shanghai branch.
"Our sales in western China grew by 21 percent in 2017, compared with the previous year, and grew another 17 percent in the first half of 2018," said Duan.
Back in 2000, the eastern and western parts of China had a stark development gap - 12 provinces, autonomous regions, and municipality in western China with about one-third of the country's population and 71 percent of the territory only contributed 17 percent of the national GDP.
Since China put forward the West Development strategy in 1999, western China regions have maintained steady and rapid economic development.
Data from the National Bureau of Statistics showed that the GDP of China's western region increased from 1.73 trillion yuan (248 billion U.S. dollars) in 2000 to 17.1 trillion yuan in 2017, representing an average annual growth rate of 11.6 percent.
Since 2012, the western region has sustained an average annual GDP growth rate of 8.9 percent, which is 1.8 percent higher than the national growth rate, suggesting an ever-shrinking development gap between the country's east and west.
In the first seven months of this year, the foreign trade volume of the western region increased by 25.7 percent year on year, and the utilization of foreign capital increased by 18.8 percent, both numbers surpassing the national average rate.
With improvements in infrastructure, the western China region is becoming even more attractive to foreign investors.
INNOVATION MOTIVATES VITALITY
In the prelude to the fair, the 13th EU-China Business & Technology Cooperation Fair opened on Wednesday. Enterprises from China and Europe engaged in talks concerning environmental protection, energy conservation, green economy, intelligent water systems, new energy and new materials, information and communication technology, and intelligent manufacturing, etc.
These are sectors that are booming in western China, as new technology and business models have become the engine of the growing economic development.
Huangfu Zhengsheng, 40, vice president of Chongqing Shangyu Net Company, said he hoped to find partners to develop his invention of a free WIFI technology for subways with a mobile app named "Hey Fast." It has been used on Chongqing's Metro Line 1 since 2016.
"Companies from Germany, the Republic of Korea and Malaysia approached me at the fair, showing interest in the technology," he said.
"The digital economy is developing faster than we can imagine in China, and it has been integrated into peoples' daily lives. The EU also has advanced technologies in this field," said Elzbieta Bienkowska, European Commissioner for the internal market, industry and entrepreneurship.
She believes that China and EU have great potential for cooperation in smart technology and the digital economy.
Clavs Mortenson, project manager of Denmark Agro Business Park, attended the WCIF for the first time in 2017, when he introduced a Danish enterprise engaged in microbial remediation of soil pollution to China.
This time, he came with six new technology projects on environmental protection, including air purification tech for waste gas of the breeding industry, also hoping to find business partners.
Vice Premier Hu told participants at the fair that China encourages the western region to develop advanced manufacturing and modern service industries to accelerate the development of cutting-edge industries such as big data, artificial intelligence and new energy, and build a new engine for mutual development.