A new chapter in China-Nepal economic relations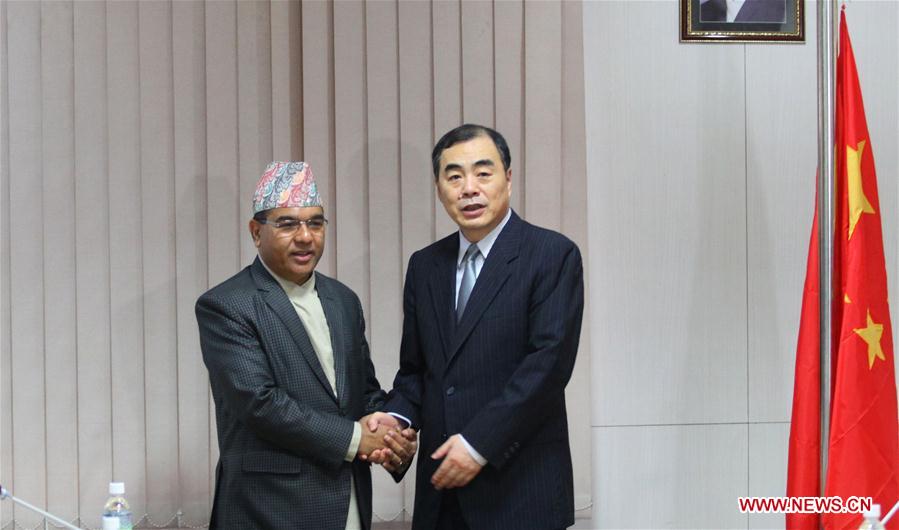 Chinese Assistant Foreign Minister Kong Xuanyou (R) shakes hands with Nepal's Foreign Secretary Shanker DAS Bairagi before the 11th meeting of Nepal-China Joint Consultation Mechanism held at the office of Foreign Ministry at Singhadurbar in Kathmandu, Nepal, June 20, 2017. China and Nepal on Tuesday pledged to further deepen their mutually beneficial cooperation in all fields. China and Nepal on Tuesday pledged to further deepen their mutually beneficial cooperation in all fields. (Photo: Xinhua)
KATHMANDU, Nov. 4 (Xinhua) -- Nepal's economic engagement with China has deepened in recent years through heightened infrastructure connectivity, investment, trade and tourism.
China has emerged as Nepal's largest source of foreign direct investment (FDI) and remained so over the last three years. China is also its second largest trading partner, only after India.
Economic relations are bound to grow in the future as Nepal has prioritized enhancing connectivity with China by signing a Memorandum of Understanding (MOU) on Cooperation Under the Belt and Road Initiative in May 2017, and agreeing to implement the MOU at the highest political levels.
PROMOTING CONNECTIVITY
During a visit of Nepali Prime Minister K.P. Sharma Oli to China in June this year, the two countries agreed to implement the MOU on the BRI to enhance connectivity in key areas including ports, roads, railways, aviation and communications within the prime framework of Trans-Himalayan Multi-Dimensional Connectivity Network, according to a joint statement issued during the visit.
To materialize the dream of a cross-border railway, a Chinese technical team recently conducted a pre-feasibility study of the proposed railway which will connect Nepal's capital Kathmandu with border point Rasuwagadhi to facilitate trade.
Nepalese infrastructure expert Surya Raj Acharya said that cross-broader highways, railways, transmission lines and internet connectivity would bring drastic changes to Nepal's socio-economic landscape. "Geography is not a barrier to extending railways in this region," Acharya said.
China CAMC Engineering Co. Ltd also conducted a feasibility study of the proposed Kathmandu-Pokhara Railway, which will connect the national capital Kathmandu with Nepal's western provincial capital of Gandaki.
The two countries are also working on developing cross-border electricity transmission lines. The State Grid Corp., one of China's two major power grid operators, and Nepal Electricity Authority (NEA) signed in June a cooperation agreement on China-Nepal electricity networking feasibility study.
In addition, an energy minister-level meeting to implement the MOU on Energy Cooperation was held later in September in Kathmandu. During the first ever meeting of its kind, the two sides discussed energy collaboration and the possibility of developing cross-border interconnection, among others.
Chinese contractors are also involved in building two new international airports in western Pokhara city and Lumbini, the birth place of Lord Buddha in south-western Nepal.
BOLSTERING TRADE
With bilateral trade totaling 1.37 billion U.S. dollars, China is Nepal's second largest trading partner. Within the last fiscal year 2017-18, which concluded in mid-July, Nepal's trade with China grew by 25 percent, according to the country's central bank -- the Nepal Rastra Bank.
To promote trade balance, China has offered duty-free access to more than 8,000 Nepali goods. To fully harness and benefit from the trade ties, experts say that Nepal should tap into its potential and explore more exportable items and goods.
In addition, Nepal's transport infrastructure is in desperate need of improvement, they added.
Bishnu Bahadur Khatri, an importer from China and former president of Nepal Trans-Himalayan Border Commerce Association, a body formed by traders involved in Nepal-China trade, told Xinhua that poor infrastructure on the Nepali side hinders goods from reaching the Rasuwagadhi border point, discouraging use of the land route by traders.
To solve this, the customs offices of the two countries have agreed to open seven more customs points across the border, during the 28th Nepal-China Border Customs Meeting held in Kathmandu in 2015.
FINANCIAL COOPERATION
Traditionally, India has been the largest source of foreign direct investment in Nepal, but things have changed in recent years. China topped FDI commitments in Nepal for the past three years in a row.
In the last fiscal year, Nepal received FDI commitments of 399 million dollars from China, 84 percent of the total FDI pledges in the country. In particular, there have been notable investments in hydropower and cement industries from China.
Two China-invested hydropower projects -- 50MW Upper Marsyangdi, a hydroelectric project in western Lamjung district and 25MW Upper Madi Hydropower Project, in western Kaski district -- have already come into operation.
Two Chinese cement companies, Hongshi and Huaxin, have also entered Nepal, making the top two largest foreign investments in the cement sector. A Nepal-China joint venture company, Hongshi Shivam, has already started producing cement here.
There has been growing cooperation between the two sides in the financial sector too. Nepal's central bank has been investing in RMB-based Chinese securities as far back as five years ago.
According to the Nepali central bank, its investment in RMB-based securities has grown five-fold during the 2013-2017 period.
Nepali commercial banks have also started providing loans to Nepal-Chinese joint ventures here. A consortium of five commercial banks approved 135 million dollars worth of credit to Hongshi Shivam Cement Private Limited in one of the largest investments to date.
Sunil K.C., chief executive officer of NMB Bank Limited, said he found a lot of opportunities for Nepali banks to finance or provide bank guarantees to Chinese companies given their involvement in various infrastructure projects.
"There are also the opportunities for Nepali banks to offer payment solution to Chinese tourists visiting Nepal," Sunil said.