The Turkish economic crisis and China
China.org.cn
1534520771000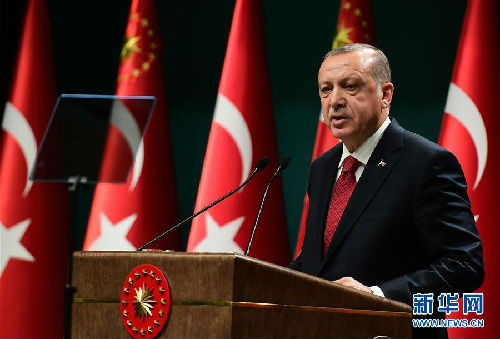 Turkish President Recep Tayyip Erdogan (Photo: Xinhua)
Turkey is currently suffering a serious economic crisis. This didn't suddenly break out, but has been in the making for some time. That is why President Tayyip Erdogan decided in April to call an early election for June – approximately one year and a halfahead of schedule.
His decision reflected his concern about potential political damage for himself and his Justice and Development Party amid economic turmoil.
Erdogan was right. He was re-elected president and his party gained the dominant position. Now, however, he has to face up to the real problem.
The economic overheating his government had allowed for years resulted in a significant current account deficit and uncontrolled inflation. And now that Turkey is taking some extraordinary measures to stabilize the economy and stop the fall of the Turkish lira, but it's hard for the shaken international confidence to be restored.
The Turkish president is putting the blame for the economic crisis on the U.S., claiming his country is under economic "siege" by the "bullies of the global system." This essentially referred to sanctions imposed by President Donald Trump.
Erdogan also authored an article in the New York Times inwhich he complained about what he sees as limited American support after the failed coup d'état of July 2016. It is convenient for him to strongly criticize the U.S. Anti-Americanism is on the rise in the Turkish society and this method helps him to transfer the responsibilities to an external source.
Despite political communication strategies we've seen so far, difficult decisions are now required. The scenario of Turkey's recourse to the International Monetary Fund is widely discussed in American and European media. However, Erdogan does not find this option attractive.
In a period during which Turkish-American relations are strained, he will be weakened by accepting a financial solution that will largely be led by Washington. Also, the Turkish president does not want to show to his compatriots that Turkey's economic rise – for which he had been proud in the past – was false and has caused bankruptcy.
Under these circumstances other alternatives are on the agenda. Erdogan himself has talked about a"Plan B"or"Plan C"without giving further details. In his New York Times article he went even further and argued that U.S.unilateral actions against Turkey were forcing it to look for other friends and allies.
Obviously, Russian-Turkish rapprochement should not be ignored. The official visit of Russian Foreign Minister Sergey Lavrov to Ankara fuels such speculation. However, it's not clear whether Russia is seriously interested and able to be engaged in discussions about providing a loan to Turkey.
Some commentators are also focusing on China because of its liquidity capacity. Realism is required, though. For the time being, the most important priority of the Chinese government is not to provide Turkey with a bailout but to deal with the immediate repercussions of the fall of the Turkish lira on international markets, mainly emerging ones.
The U.S. dollar is temporarily benefiting because many investors see it as a safe haven. This tendency is impacting the yuan's value. Additionally, some Chinese companies – such as online travel agency Ctrip – have no alternative but to stop allowing customers to pay in Turkish lira to avoid losses.
From another perspective, Chinesestate-owned enterprises might theoretically find good opportunities to further invest in Turkey while the Belt and Road Initiative is being realized. As long as the lira is plummeting, prices will be lower.
However, China's economic calmness in the long-term matters more than easy-buying in the short-term. If the Turkish economy collapses, Chinese investments will naturally be affected. This is not in the interest of Beijing, which is employing a future-oriented approach and is looking for stability and continuity.
All in all, the Turkish economic crisis is jeopardizing Beijing's policy goals. Even plans such as the one of Ankara to explore bond issuance opportunities in the Panda bond market can be better carried out under more normal circumstances. The Chinese administration is not prepared to grant loans that cannot be easily paid back. And it does not act as a savior offering a bailout which might alter the status-quo, especially in a NATO-member state such as Turkey.
(The author is a columnist with China.org.cn. For more information please visit: http://www.china.org.cn/opinion/GeorgeNTzogopoulos.htm. Opinion articles reflect the views of their authors, not necessarily those of China.org.cn.)