Xi's visit to further strengthen Argentina-China ties, says Argentine FM
BUENOS AIRES, Nov. 28 (Xinhua) -- Chinese President Xi Jinping's upcoming state visit to Argentina will further consolidate the two countries' comprehensive strategic partnership, said Argentine Foreign Minister Jorge Faurie.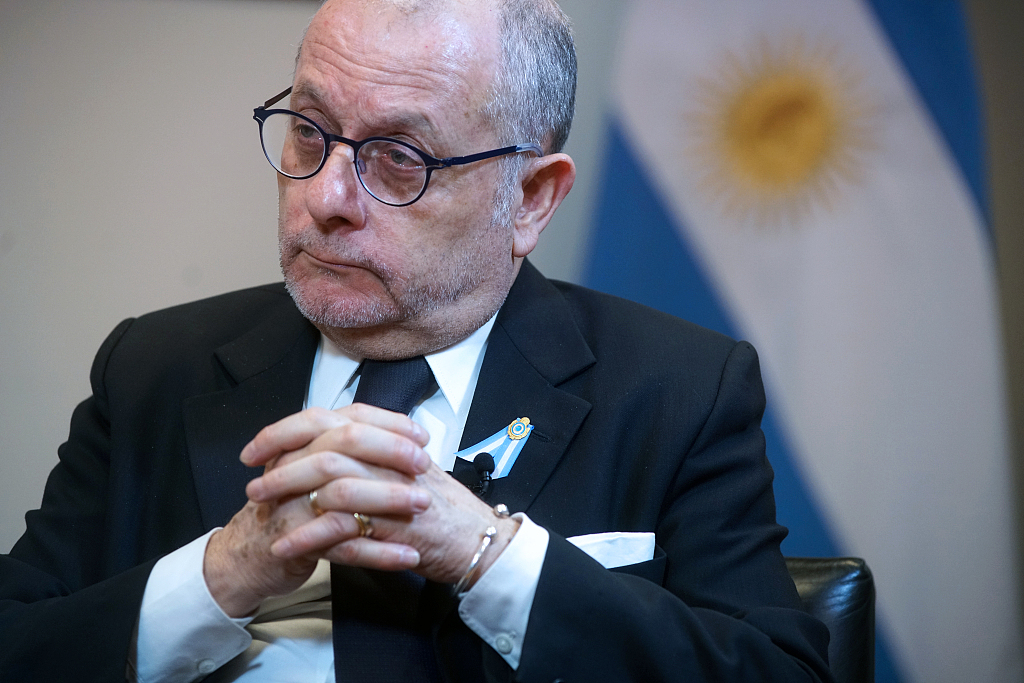 Argentine Foreign Minister Jorge Faurie (Photo: VCG)
"We have a supremely important relationship," Faurie told Xinhua in a recent interview, describing the bilateral ties "as an extremely rich relationship that reflects the potential today's China has on the international stage."
Xi will pay a state visit to Argentina and attend the 13th Group of 20 summit in Buenos Aires during his ongoing Europe and Latin America tour from Nov. 27 to Dec. 5, which also includes Spain, Panama and Portugal.
Noting that China is "one of the major players in the international arena" and Argentina is "a medium-sized nation" and "an emerging economy," he said "this sincere exchange benefits us both."
The two countries established diplomatic relations in 1972 and lifted their ties to a comprehensive strategic partnership in 2014. With Xi's visit, Faurie said, "we hope to continue deepening the sincere dialogue."
China is now Argentina's second-largest trade partner and a major source of investment. The Asian country is the leading market for the South American nation's agricultural goods, importing large quantities of cooking oil, soybeans, beef, poultry, wine and dairy products. Two-way trade reached 13.8 billion U.S. dollars last year.
Meanwhile, talks are going on to further open China's market to other Argentine goods, including lamb, pork, honey, wheat and cherries.
"China has been working on opening its market to goods Argentina is interested in selling to the Chinese market," said the minister.
The two countries, added Faurie, also enjoy increasing practical cooperation in infrastructure, energy, agriculture and finance, including "projects that are of great importance for Argentina."
"The participation of Chinese companies, whether in the energy sector or in infrastructure, contributes to the development of our economy," he said, noting that the cooperation also benefits the Chinese entities involved.
The relationship between Argentina and China is also bolstered by the Belt and Road Initiative (BRI), said the Argentine minister.
Cooperation projects within the BRI framework, he added, "are in a way part of China's interest in creating stronger ties with different countries around the world, including in Latin America," and part of its larger vision of forging a community with a shared future for mankind.
"We believe it is an initiative that promotes the development and growth of China's ties with other countries," he said.