China, Sudan to write new chapter of strategic partnership
People's Daily online
1536238063000
It has been 4 years since I first set foot on the land of Sudan, a country located in northeast Africa with a vast territory.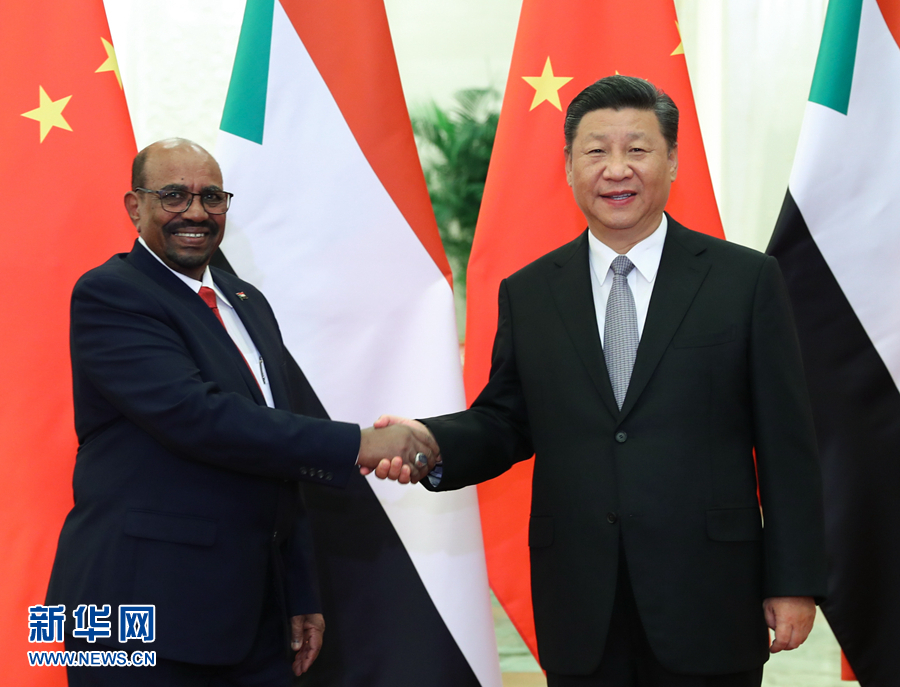 Chinese President Xi Jinping (R) meets with Sudanese President Omar al-Bashir at the Great Hall of the People in Beijing, capital of China, Sept. 2, 2018. (Photos: Xinhua)
During my years in Sudan, I've felt firsthand the friendliness and kindness of Sudanese, and witnessed the development and changes of Sudan and the rapid progress of China-Sudan friendship.
Enjoying a long history of friendship, China and Sudan have set a role model for South-South Cooperation.
Since establishing diplomatic ties in 1959, the two countries have always maintained stable and healthy development of bilateral friendly relations in various fields, enjoyed mutual understanding and coordination, and supported each other on issues related to core interests and major concerns.
China has offered assistance to Sudan's economic and social development to its best capabilities, such as the aiding of the Sudan Friendship Hall, which has become a well-known project in Sudan, as well as a series of economic and livelihood projects including the construction of hospitals, schools, roads and bridges, and the Brightness Action campaigns that offer free surgery for cataract patients.
In 2015, Chinese President Xi Jinping and his Sudanese counterpart Omar al-Bashir jointly announced the establishment of China-Sudan strategic partnership, pushing bilateral relations forward to a new historical stage.
In 2017, China remained the largest trading partner of Sudan, with bilateral annual trade volume reaching $2.8 billion that accounted for 21 percent of Sudan's total imports and exports in the corresponding period.
China and Sudan have also carried out effective cooperation on petroleum, agriculture, and mining industry. Under China's assistance, Sudan has built a complete petroleum industry chain integrating oil and gas exploration, development, production, oil refining, petrochemicals and marketing.
Meanwhile, Chinese enterprises are also growing stronger thanks to the cooperation, bringing tangible benefits to the two peoples.
In addition, cultural and people-to-people exchanges between the two countries have made Confucius Institutes and Happy Spring Festival art and cultural show name cards of China in Sudan. Chinese language is also seeing increasing popularity in the country.
Mohammed Elmoiez (Chinese name: Zhao Zhixing), a Sudanese student majoring in Chinese from the University of Khartoum, won the championship in the 16th "Chinese Bridge" Chinese Proficiency Competition for Foreign College Students, which further ignited the enthusiasm of the Sudanese people for Chinese and promoted the friendly exchanges between the two peoples.
The Belt and Road construction has brought China and Sudan a rare and valuable opportunity for enhancing their cooperation.
As one of the earliest countries to respond actively to the Belt and Road Initiative and sign cooperation agreements with China on the joint development of the Belt and Road Initiative, Sudan hopes to align the Belt and Road construction with its own development strategies so as to realize greater development.
China and Sudan enjoy traditional friendship. They are highly complementary in both development strategies and economies. With solid public support, the two countries now face a new historical opportunity for pragmatic cooperation.
President Xi met with President al-Bashir once again at the 2018 Beijing Summit of the Forum on China-Africa Cooperation to jointly draw a beautiful blueprint for China-Sudan relations in the new era. It is expected that the two countries will usher their strategic partnership into a new chapter.
The author, Li Lianhe is Chinese Ambassador to Sudan