Lao gov't awards freedom medal to China's Xinhua News Agency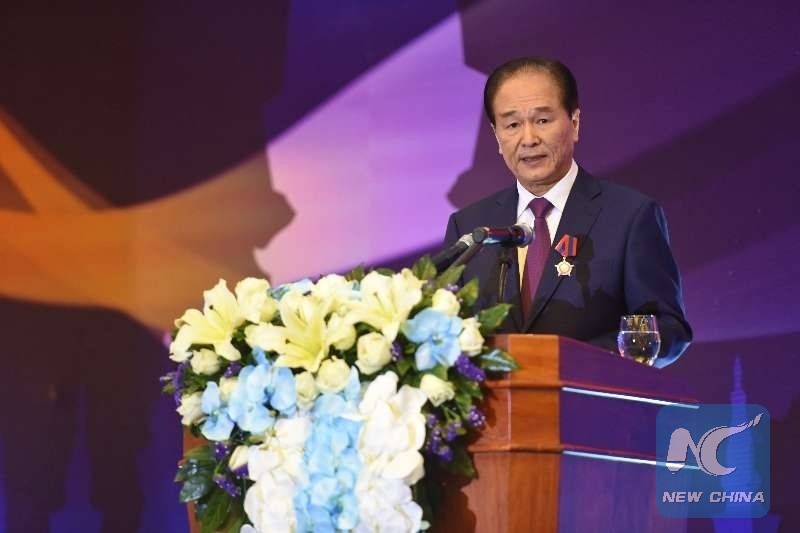 Xinhua President Cai Mingzhao speaks at the medal award ceremony in Vientiane, Laos on Feb. 2, 2018. Photo: Xinhua
The Lao government awarded freedom medals to China's Xinhua News Agency and Xinhua President Cai Mingzhao here Friday during the ongoing Laos-China Belt and Road Cooperation Forum.
The medals were awarded by Lao Minister of Information, Culture and Tourism Bosengkham Vongdara on behalf of the Lao government for the contributions that Xinhua News Agency and the Xinhua president have made to promote Laos-China friendly relations and supports for the development of the Lao News Agency (KPL).
Cai expressed gratitude to the Lao side for awarding the medals which symbolize the glorious history of revolution in Laos, saying it is a commendation for the work that Xinhua has done for enhancing Laos-China friendly relations and promoting bilateral cooperation and exchanges.
Cai noted that Xinhua News Agency attaches great importance to news coverage on Laos, and has been working for a long time toward building a bridge of friendship between the two peoples.
He added that Xinhua News Agency will make even more efforts in the future to further push ahead the Laos-China traditional friendship of good neighbors, good friends, good comrades and good partners.
Xinhua will also seek to make more contributions toward accelerating the synergy of the China-proposed Belt and Road Initiative and Laos' strategy of turning itself from a "land-locked" country to a "land-linked" one, as well as toward the building of a community of shared future between China and Laos, he noted.
The freedom medals are awarded in Laos to organizations or individuals which have made remarkable contributions and achievements to the country.
The Laos-China Belt and Road Cooperation Forum is being held here to boost implementation of the outcomes of Chinese President Xi Jinping's state visit to Laos in November last year and to further strengthen Laos-China cooperation.