Dialogue to build Sino-Indian trust, advance relations
Global Times
1531019838000
According to Indian reports, India has proposed a maritime dialogue with China on the Indo-Pacific region that is roiled in the "open and inclusive" Indo-Pacific strategy US President Donald Trump put forward last year. It stands as an important step for Beijing and New Delhi to build their mutual trust and intensify bilateral cooperation.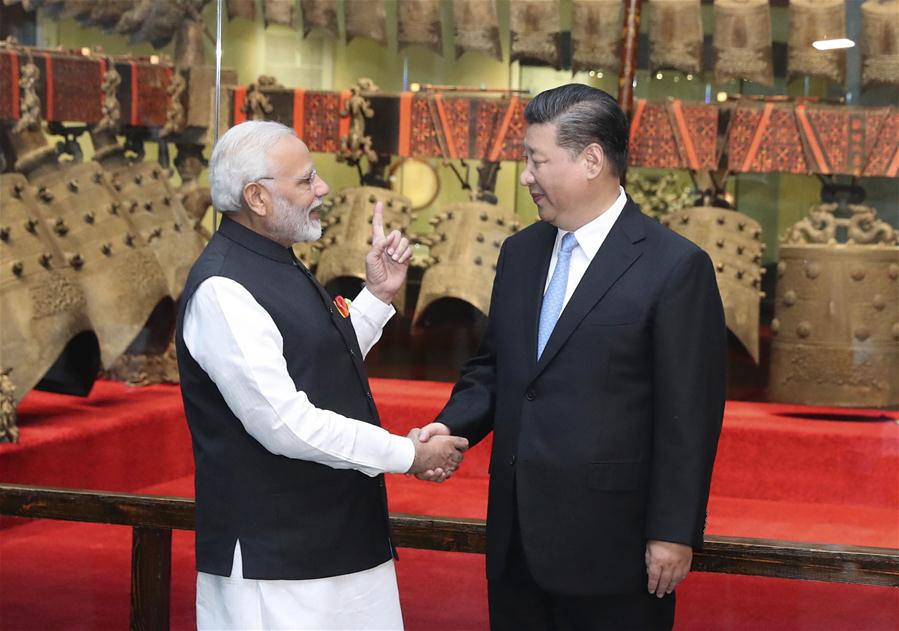 Chinese President Xi Jinping (R) shakes hands with Indian Prime Minister Narendra Modi during their visit to an exhibition of cultural relics at Hubei Provincial Museum in Wuhan, capital of central China's Hubei Province, April 27, 2018. Modi is here for a two-day informal meeting with President Xi Jinping. (Photo: Xinhua)
The dialogue comes amid the US's continued promotion of the "American First" policy and trade stick tactics against many of its trading partners, including China and India. The dramatic change in world order necessitates more cooperation between countries, especially the two most populous Asian ones.
Sino-Indian ties have been warming even though they were strained by the Doklam standoff last year. This year Chinese President Xi Jinping has met twice with Indian Prime Minister Narendra Modi - in April and June - and called for more cooperation between the two countries. Meanwhile, when the US disturbingly tried to rope in India and form a so-called Quad security pact together with Japan and Australia to direct against China, Modi played down the quadrilateral grouping and hailed the prospect of Sino-Indian ties at the 17th Shangri-la Dialogue in early June.
India's status as a South Asian power and its long-existing clout in the region deserves China's recognition and adequate attention. The country is fraught with challenges such as worn-out infrastructure, but it has tremendous potential for development.
In the meantime, China's fast development over the past decades has created a spillover effect on Asia and beyond, and brought massive opportunities to India and other countries. India received nearly 30 percent of funds provided by the China-initiated Asian Infrastructure Investment Bank in the past two years, of which most was allocated for infrastructure development in electricity and transportation.
Through the Beijing-proposed Belt and Road initiative, China can provide infrastructure investment and industrial upgrade to help India make better use of its labor force advantage and bring real benefits to its neighbor. The initiative will also help promote the economic and peaceful development of the whole region, including Pakistan, that has been among the problems facing Sino-Indian relations. China's effort serves the interests of both India and Pakistan and will therefore promote New Delhi's communication with Islamabad.
China and India, the two largest countries in Asia, cannot avoid having differences and conflicts, but more importantly they share common interests and are complementary to each other in a variety of fields such as infrastructure.
As Chinese Ambassador to India Luo Zhaohui wrote in Hindustan Times in April, "When differences can't be solved for now, we should properly manage them and focus on cooperation. Our consensus and cooperation outweigh differences and competition." Tightened cooperation should prevail in China-India relations.