Malawi is in need of our help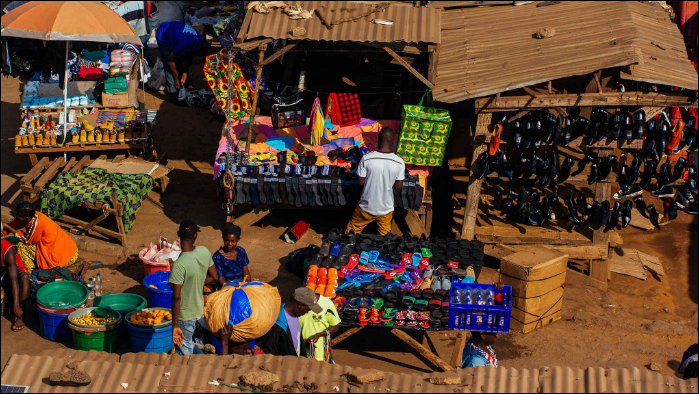 Vendors sell their wares at market stalls, Lilongwe, Malawi, June 26 2018. (Photo: VCG)
Today, his Excellency, Professor and President Arthur Peter Mutharika of the Republic of Malawi came to our university, the University of International Business and Economics (UIBE) in Beijing. This is a great honor for us.
Some people in China probably have never heard of Malawi and wouldn't be able to find it on a world map. But I hold Malawi special in my heart, even though it is one of the poorest countries in Africa.
In fact, the World Bank has a special term for it. Malawi is an LDC, which stands for the least developed countries.
But don't blame the Malawians for their current situation. Their country does not possess as many mineral resources as its neighboring countries do.
Take coal as an example, one of the most important basic mineral resources for industrial development. Tanzania, its northern neighbor, has coal. Mozambique to its west and to its east has coal. Malawi doesn't have much coal.
Another western neighbor, Zambia, is famous for its copper minerals for exports. Zimbabwe to the southwest has all kinds of natural resources. Malawi has practically nothing, other than a small uranium mine in the north.
Malawi is also a landlocked country. There are only three costly routes to seaports on the Indian Ocean: Via train to Nacala, by truck to Beira in Mozambique or a longer trucking route all the way to Dar es Salaam in Tanzania.
Another option traverses three countries to Durban in South Africa. All of these routes are at least a thousand kilometers long. Now you can imagine how difficult it is for a country like this to attract foreign direct investment, and start participating in the global value chain.
Nevertheless, Malawi is a proud country and Malawians are a proud people. Under the leadership of the current President Peter Mutharika and against all odds, the country has maintained steady economic growth over the years.
Last year, GDP growth was six percent. Inflation, which used to be flying to a high of 28 percent in 2013, stands at a low level now and the Malawi Kwacha, the local currency, has greatly stabilized. Some Chinese investments are even slowly trickling into the country.
Thanks to the assistance of the Chinese government, a new university was built with state-of-the-art facilities in Thylo to meet the challenges of innovation in the 21st century. One bill of the local currency even has a picture of that university on it.
From Karonga in the north to Nsanje in the south, and from the breathtaking Mount Mulanje to the beautiful Mchinji Forest Reserve, which is located in the central Mchinji district of Malawi,18 million people live a life of independence, happiness and dignity under a thriving democracy.
In President Mutharika's speech at UIBE on Friday, he stressed the drive to move Malawi from poverty to prosperity.
He said that roughly 30 years ago, China and Malawi were both about as poor as each other. Now China has moved far ahead, raising the question of what can Malawi do to learn from it and what it can do to catch up.
I think the answer is very simple. There are certain elements from the China growth model that Malawi can use, such as the importance of infrastructure development. Right now, the most pressing need in Malawi is electricity generation.
Both Malawi's capital of Lilongwe and Blantyre, which is the center of finance and commerce, often go through blackouts. Without electricity, there can be no manufacturing, and no meaningful exports. In that regard, our Malawian brothers need Chinese help.
China's Belt and Road Initiative is all about building infrastructure in developing countries. Malawi needs our help in building a power plant, be it reviving the Kam'mwamba project, which aims to improve the current power outages of Malawi, or building something brand new. Either way, they need a 300 MW power plant.
In today's opening event, UIBE vice president Zhao Zhongxiu said the friendship between Malawi and China is going to be as deep as the Lake Malawi and as long as the Shire River. It is the time that we Chinese do something concrete to extend a helping hand.