Premier Li: Trade wars have no winner
Chinese Premier Li Keqiang (L) holds talks with Bulgarian Prime Minister Boyko Borissov in Sofia, Bulgaria, July 6, 2018. (Photo: Xinhua)
Chinese Premier Li Keqiang said Friday that no one will win by fighting a trade war, yet China will take countermeasures in the face of unilateral moves.
He made the remarks while meeting the press with Bulgarian Prime Minister Boyko Borissov in Sofia.
Addressing the reporters, Li emphasized that China's move to take counteractive measures to respond to a trade war is a way to protect its own interests as well as to safeguard the rules of the World Trade Organization (WTO).
Li stressed that there won't be winners in a trade war, which will not only harm enterprises and consumers from both sides but also impede the world's economic recovery.
He also met with Bulgarian President Rumen Radev.
Li is in Bulgaria to attend the seventh leaders' meeting of China and 16 Central and Eastern European (CEE) countries. It marks the first visit to Bulgaria by a Chinese premier in 18 years.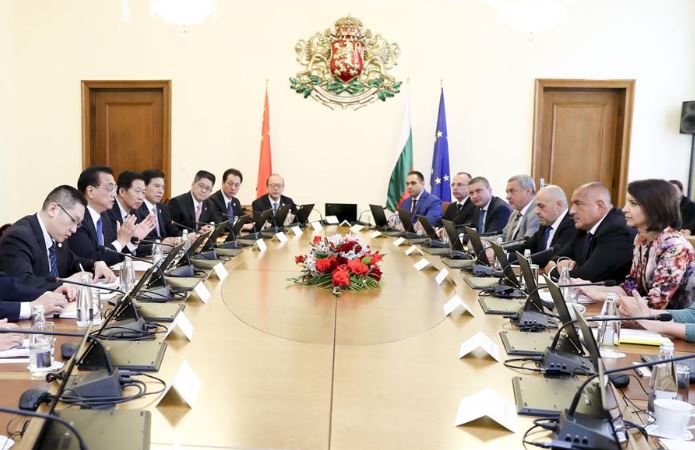 Chinese Premier Li Keqiang holds talks with Bulgarian Prime Minister Boyko Borissov in Sofia, Bulgaria, July 6, 2018. (Photo: Xinhua)
'China is a staunch supporter of European integration'
During his talks with Borissov, Li pointed out that ever since 2014 when Chinese President Xi Jinping and the visiting Bulgarian president agreed to establish the China-Bulgaria Comprehensive Friendly Cooperative Partnership, bilateral ties have been developing with clear guidance.
The Chinese premier expressed his hope for the two sides to reinforce exchanges on different levels and support each other on issues of common interest and major concerns.
He also called for the expansion of trade and investment and more cooperation in the Belt and Road Initiative, nuclear energy and the construction of industrial complexes.
On deepening agricultural cooperation, Li said China is willing to import more Bulgarian specialty agricultural products that meet Chinese market needs.
The two sides, he added, should also strengthen cooperation in agricultural product cultivation and processing, agricultural science and technology, and breeding.
Li stressed that the collaboration between China and CEE countries complements the China-Europe relations. China is a staunch supporter of European integration and is willing to advance the "16+1" cooperation with all CEE countries, including Bulgaria.
For his part, Borissov said Bulgaria aims to strengthen the building of infrastructure facilities with China based on its geographic advantages. He said the 16+1 cooperation is not a geopolitical platform, but rather a win-win cooperation completely built on market rules, which is beneficial to the cooperation between the European Union and CEE countries.
Both leaders witnessed the signing of multiple cooperation papers between China and Bulgaria after the talks.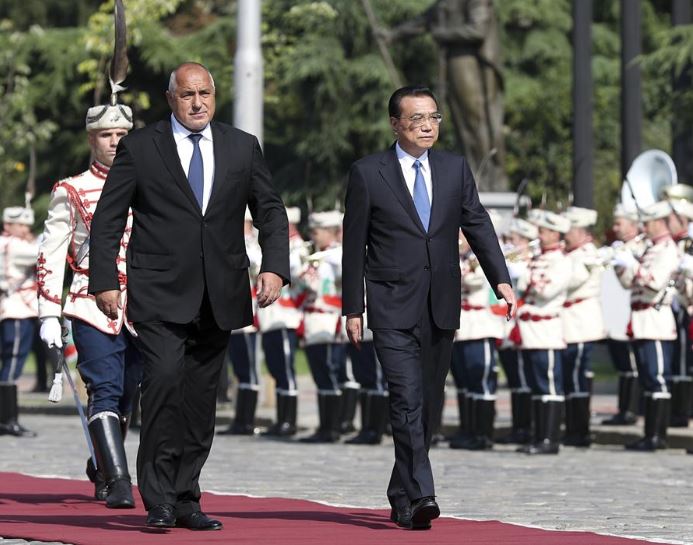 Chinese Premier Li Keqiang (R) attends a welcome ceremony held by Bulgarian Prime Minister Boyko Borissov before their talks in Sofia, Bulgaria, July 6, 2018. (Photo: Xinhua)
High-quality Bulgarian agricultural products to enter Chinese market
Li later met with the Bulgarian president, noting that the two countries are witnessing fruitful cooperation in such key areas as trade and agriculture as well as more frequent people-to-people exchanges.
China is willing to work with Bulgaria to further strengthen high-level contact and expand practical cooperation on the basis of mutual benefit and common development, he added.
China welcomes Bulgaria to export high-quality agricultural products to China, and encourages competitive Chinese companies to invest in Bulgaria, Li said.
He suggested that the two countries increase engagement in the fields of people-to-people exchanges, tourism and culture, so as to carry on their friendship.
In response to Radev's proposal to set up a research center on 16+1 cooperation in Sofia, Li said China will actively study the idea.
Radev said Bulgaria appreciates China's efforts in safeguarding the rules of global trade and market economy, and supports 16+1 cooperation.
Bulgaria is the first leg of Li's ongoing trip to Europe. He will later travel to Berlin for the fifth round of intergovernmental consultations between China and Germany.