SCO plays vital role in safeguarding peace, security of region: Pakistani president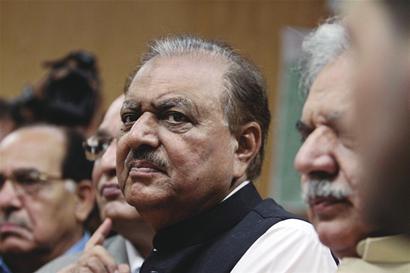 File photo
Pakistani President Mamnoon Hussain said his country sees the Shanghai Cooperation Organization (SCO) as an important framework for regional cooperation and it has played a vital role in safeguarding peace and security in the region.
The president told the Chinese media Wednesday ahead of his departure for the upcoming SCO's summit to be held in China's eastern port city of Qingdao that the organization promotes multifaceted cooperation in the region in a wide array of fields, adding that the SCO includes the Pakistan's major development and strategic partners.
"It allows us to share perspectives, coordinate positions and develop practical and concrete cooperation with these important countries," he said.
The president said the organization espouses the values of the Shanghai Spirit, which features mutual trust and respect, equality, respect for diverse civilizations and pursuit of shared development.
Pakistan, as a new member of the SCO since 2017, is "committed to enhancing our relations with all SCO members on the basis of these values," he added.
The Pakistani president hailed the SCO's Regional Anti-Terrorist Structure (RATS) as an important and useful forum for cooperation against the common enemy of terrorism. He said his country has successfully combated terrorism and it is ready to share its experiences in tackling the menace of terrorism through the SCO-RATS.
He expected that initiatives of SCO on investment promotion, trade facilitation, customs cooperation, e-commerce, small and medium enterprises, rail and road connectivity and tourism cooperation should be tied to specific timelines, that initiatives such as SCO Development Bank and SCO Development Fund should be pursued in earnest, and the SCO Business Council should be empowered and entrusted to establish business-to-business linkages.
The president emphasized that nowadays the SCO stands out not just in terms of the sheer size of its populations or the territorial expanse it covers.
"While some major powers are becoming increasingly inward and isolationist, the Shanghai Spirit of mutual trust, equality, shared development and respect for diversity offers a template for a new kind of inter-state cooperation. By according equal priority to economic development and security cooperation, the SCO serves as a model of efficient and effective cooperation," Hussain said.
He said the Belt and Road Initiative is a revolutionary global movement connecting over 60 countries with generational impact. "It is a win-win partnership that is already catalyzing growth and integrating economies all across Eurasia, the Middle East and Africa. Pakistan is a strong believer and an ardent supporter of the BRI."
The Pakistani president expected that the SCO can be a vehicle for the Belt and Road Initiative as all SCO countries are connected through the ancient Silk Route. He said that the China-Pakistan Economic Corridor (CPEC) is fast reaching fruition.
"It entails greater connectivity and trade linkages between Pakistan and China through a network of road, rail, fiber optic cable, energy pipelines and power generation projects," he said.
The Silk Road Economic Belt and the 21st Century Maritime Silk Road initiative, proposed by China in 2013, is aimed at building a trade and infrastructure network connecting Asia with Europe and Africa along the ancient trade routes.
"By generating employment and improving energy and transport infrastructure across the length and breadth of Pakistan, we have already begun reaping dividends form CPEC. Many of the early harvest projects of CPEC have been completed ... Energy projects have helped Pakistan to overcome its energy shortage," said the president.
"Many infrastructure and other projects are fast approaching completion. Gwadar port has become operational. Many projects of social welfare have also been completed in Gwadar."
Hussain said that Pakistan and China are all weather and time tested friends. "Successive generations of the leaders in both the countries have worked hard to strengthen this relationship ... Pakistan supports China on all its core issues," said the president, adding that Pakistan believes that maintenance of peace and security is the collective responsibility of all parties to the South China Sea.
"Pakistan has maintained that disputes over the South China Sea should be peacefully resolved through consultation and negotiations," the president concluded.