Youth Forum enhances Sino-EU dialogue
People's Daily app
1510696153000
Shanghai (People's Daily) – "Youth play a vital role in bridging the Sino-EU relations. We hope the young generation on both sides will embrace the development of bilateral relations, to build a community with a shared future for mankind," said Wang Hongyan, Vice President of the All-China Youth Federation, while speaking at the China-EU Young Thinkers' Forum in Shanghai on November 14.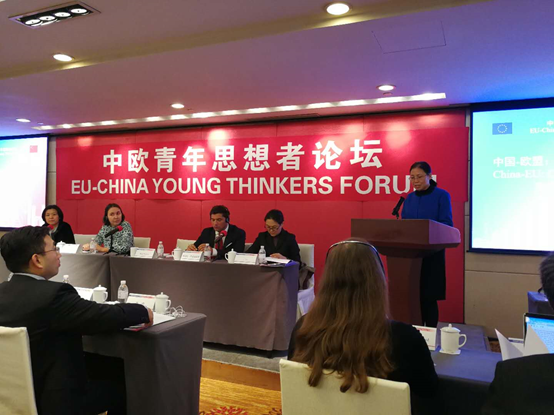 Wang Hongyan addresses the forum attendees Photo: People's Daily/Huan Xiang
Echoing Hongyan's remarks, Vice President of the Europe Youth Forum, Carina Autengruber said, "Young people are bold enough to be the agents for change, and bring to the table innovative ideas that can help build stronger, sustainable dialogue between EU and China."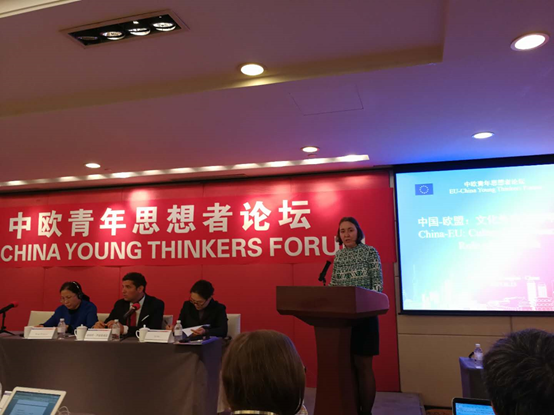 Carina Autengruber speaks at the China Young Thinkers Forum in Shanghai. Photo: People's Daily/Huan Xiang
"Students, especially those living abroad, can play a bigger role in culture diplomacy, because they long for their identity. This strengthens the bond with the Motherland," said Chen Yunzhe, Secretary General of the Institute of the Belt and Road initiative and Party institute of the Central Committee of the Communist Youth League of China (CCYL).
"In the future, it will be completely normal for the youth to understand themselves in a global way. Ecological civilization will know no boundaries,' said David Bartosch a professor with Beijing Foreign Studies University, School of International Relations and Diplomacy.
"The role of cultural diplomacy in general, as well as the role of youth in global cultural diplomacy, and in the future way of humanity, has to be understood as a mutual learning process in which different civilizations learn to accept one another on the basis of cultural exchange," added Bartosch.
The Youth Forum rests within the framework of the dialogue mechanism between China and Europe. It serves as a booster for cultural exchange as the "third pillar" in Sino-US relations. The event is held jointly between the All-China Youth Federation and Europe Youth Forum.
Focusing on common and different aspects of cultural diplomacy between China and Europe, and the role of youth in cultural diplomacy, the forum was attended by official representatives and academics from 15 EU nations.