China, Portugal agree to seek more cooperation progress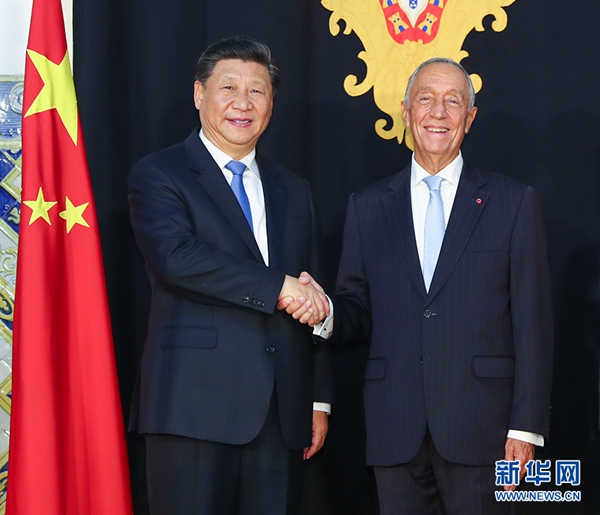 Visiting Chinese President Xi Jinping held talks in Lisbon with Portuguese President Marcelo Rebelo de Sousa on Dec. 4. (Photo: Xinhua)
Visiting Chinese President Xi Jinping held talks in Lisbon on Tuesday with Portuguese President Marcelo Rebelo de Sousa.
They agreed to take the 40th anniversary of the establishment of diplomatic ties next year as a new historical starting point, to promote the friendly cooperation to score more progress and open up a new chapter in the development of China-Portugal relations.
Xi said the two countries enjoy a long history of friendly exchanges, adding that since the establishment of diplomatic ties 39 years ago, China and Portugal have always witnessed win-win cooperation with mutual understanding, respect and trust. The bilateral ties stood the test of changes in the international landscape and have been developing in a healthy and stable way.
Noting an ancient Chinese saying "A partnership forged with the right approach defies geographical distance; it is thicker than glue and stronger than metal and stone," Xi said China and Portugal are such kind of good friends and partners who are getting along with each other.
Xi said that the Chinese side appreciates Portugal's adherence to the one-China policy, and will continue to work with Portugal to share mutual understanding and support on issues involving each other's core interests and major concerns.
Xi called on the two sides to advance high-level exchanges, strengthen exchanges between the two governments, legislative bodies, political parties, local areas and non-governmental bodies, and deepen political mutual trust, in efforts to cement political foundation for friendship.
The two sides should take the opportunity of signing a memorandum of understanding on the cooperation over the Belt and Road Initiative (BRI), to comprehensively forge ahead cooperation within the framework of the BRI and facilitate connectivity, said Xi.
The Chinese president also expected the two countries to expand pragmatic cooperation, enlarge and strengthen existing projects, enhance bilateral trade and create more cooperation aspects for further growth.
The two sides should strengthen cultural exchanges, accelerate the preparation for the Chinese cultural center in Lisbon, and deepen exchanges in education, broadcasting, film and television, he said.
The two sides should strengthen multilateral coordination, cement communication and collaboration on major international and regional issues, and jointly safeguard multilateralism and free trade, said Xi.
Noting that China and the European Union (EU) are comprehensive strategic partners, Xi said that China firmly supports the integration process in Europe and hoped that Portugal continues to play an active role within the EU to ensure the development of China-EU ties to be on a correct direction.
Rebelo de Sousa expressed a warm welcome to his Chinese counterpart, saying the fact that Portugal and China share mutual understanding and a long history of exchanges offers a solid foundation for the development of bilateral relations.
As next year marks the 40th anniversary of the establishment of bilateral diplomatic relations, Portugal is looking forward to deepening exchanges and cooperation with China in such areas as economy, trade, finance, and culture, said Rebelo de Sousa, adding that more China's investments are welcome in Portugal.
The Portuguese president said that Portugal supports the BRI and is willing to become the hub in Europe of the overland and the maritime silk roads.
Portugal and China have similar positions on many international issues, as both countries support multilateralism while opposing unilateralism, and support free trade while opposing protectionism, said Rebelo de Sousa, expecting the two countries to push forward coordination in multilateral organizations.
Portugal supports closer Europe-China ties, and will make efforts to press ahead cooperation between Portuguese-speaking countries and China, said the Portuguese president.
The two leaders met with the press after the talks. Before the talks, Rebelo de Sousa hosted a grand ceremony for President Xi.
Xi also laid a wreath at the tomb of famous Portuguese poet Luis de Camoes inside the Jeronimos Monastery in Lisbon.
On Tuesday evening, Xi and his wife Peng Liyuan, together with the Portuguese president, also visited a cultural relics exhibition of "The Forbidden City and the Maritime Silk Road," which was temporarily showcased in a Portuguese museum.