Celebrating the work of friends from abroad toward reform and opening up
Chinese President Xi Jinping and other leaders shake hands with winners of Reform Pioneers medals and China Reform Friendship medals on December 18, 2018 in Beijing. (Photo: Xinhua)
Note: The following is an edited translation of a commentary from the Chinese-language "Commentaries on International Affairs."
At the celebration of the 40th anniversary of China's reform and opening up in Beijing, President Xi Jinping expressed his gratitude to China's friends from around the world that have helped support China in its efforts to reform, open, grow, and modernize.
His kind words were matched with action, as 10 people from overseas were awarded with the China Reform Friendship Medal. Among them was French businessman Alain Mérieux, who helped China to cope with several major public health events, including SARS and the avian flu.
In the field of business, the recipients included Werner Gerich, who was the first director of a state-owned enterprise to come from overseas; Klaus Schwab, a German engineer and economist who helped China integrate into the world economy; and Japanese industrialist Konosuke Matsushita, who helped China's electronics industry to develop.
Other prominent recipients included Singpore's former leader Lee Kuan Yew, who firmly supported China as it created its own model of development and whose country trained large numbers of China's reform era civil servants. And Juan Antonio Samaranch was recognized for his role in promoting the Olympic movement in China and raising the country's profile on the world stage.
The medal recipients come from different fields – medicine, manufacturing, electronics, sports, services, politics, finance – but they all have in common an enthiuasm to contribute to China's reform and opening up.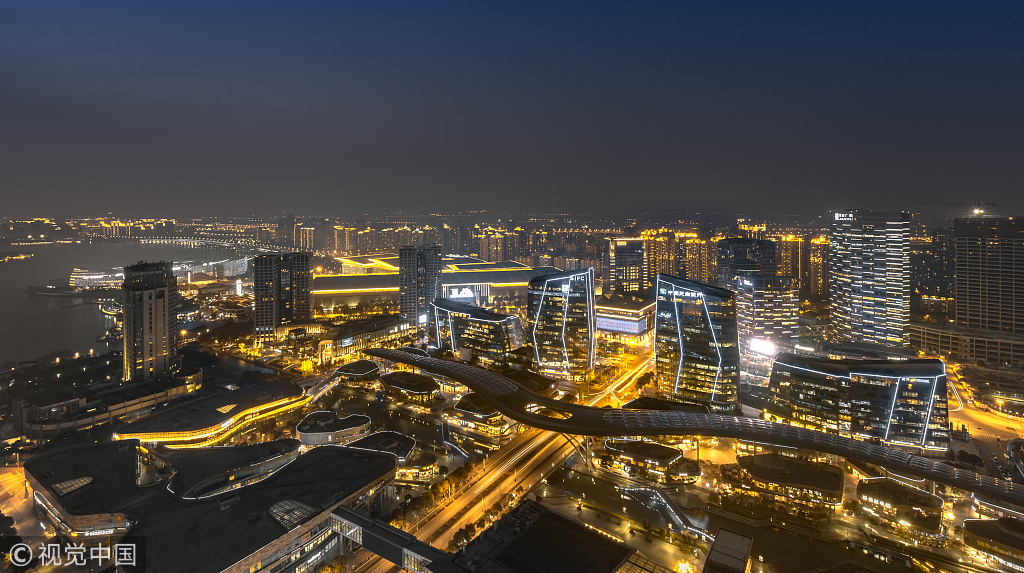 A night-time scene of the China–Singapore Suzhou Industrial Park. (Photo: VCG)
When China started on this process 40 years ago, due to a decade of civil unrest, the national economy was on the verge of collapse. The country's leaders recognized the necessity to learn from the exerience of others by bringing in human capital from outside that had the knowledge and skills needed to get the country back on the right track to development.
German business management expert Werner Gerich was the first factory manager from overseas to be hired after the reform and opening up began. After being appointed as the director of the Wuhan Diesel Engine Factory in 1984, he introduced management concepts on how to deliver high-quality products, and how to adapt to meet market needs. Thanks in no small part to his efforts, diesel engines manufactured by the factory were exported to seven countries in Southeast Asia, and the company provided an example of achieveable reforms for others in the state-owned sector.
Known as the "Father of Singapore", Lee Kuan Yew, during his tenure as Singapore's prime minister, actively promoted the China-Singapore Suzhou Industrial Park in the city of Suzhou in eastern China. His contribution helped to make it a demonstration zone for future international cooperation. And Singapore's home ownership and public housing policies provided important reference points for China as it strived to solve its own housing problems.
The people mentioned here are just some of the many, many thousands of people who have come to China over the last four decades to make their own contribution. And China has also made its own contributions to the people of the world. It has accounted for more than 30 percent of world economic growth for many years. Between 2013 and 2017, the economic and trade cooperation zones built as part of the Belt and Road Initiative created local jobs for more than 200,000 people. China has waived debts worth billions of yuan to underdeveloped countries. And it has provided around 60 billion U.S. dollars in development funding to African countries, accompanied by training for hundreds of thousands of new professionals.
And so, as China moves past this major anniverary, it looks towards the future. These past 40 years have shown that a policy of reform and opening up is not something that can sit upon a bookshelf gathering dust, only to be opened on special occasions. It is a living expression of a complex and ongoing process that is set to continue for many years to come. When there are tough times ahead, China will again turn to its friends around the world to ask for their expertise. And just like we saw this week, there will be moments when the Chinese nation will pause to celebrate the hard work of its own people, and those who came from abroad to be a part of China's future.