Former UN chief believes China is going to open up even more
Global Times
1541430486000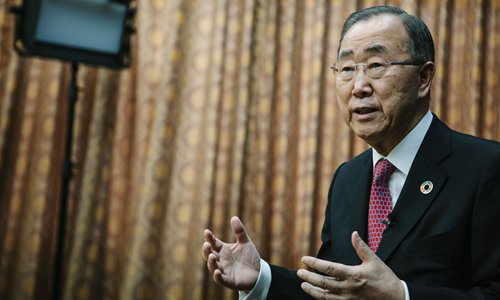 Former UN Secretary-General Ban Ki-moon (Photo: Global Times)
Editor's Note:

Almost two years after leaving his post as the UN secretary-general, Ban Ki-moon (
Ban
) is still following the global development process. On the sidelines of the "2018 Future Consensus Forum" in Beijing, Ban shared his thoughts with Global Times reporter Lu Wenao (
GT
) on China's reform and opening-up, the trade war as well as the denuclearization of the Korean Peninsula.
GT: China is celebrating the 40th anniversary of reform and opening-up this year. During your tenure as the UN secretary-general, we've seen a fast-growing China. What do you think of China's reform and opening-up?
Ban: In the 40 years of opening-up, China has made tremendous development in terms of industrialization and opening up the market to the world. And you have also been investing a lot in the international community. At the same time, China as one of the G20 members, has also contributed to global financial and economic development. China has been completely integrated during the last 40 years. There should be more China can contribute now, much more than Chinese development. China should also feel a sense of responsibility for global economic and financial development as a whole.
Earlier this year during the Boao Forum in China's Hainan Province, President Xi Jinping declared they were learning lessons from the 40 years of opening-up. China will open even more to the world. China is now going really global. The Belt and Road initiative is very appreciated. That will be very important for global as well as your national development.
GT: Do you think the rise of protectionism will jeopardize future multilateralism and even the global order?
Ban: As the former secretary-general, I am deeply concerned about the current international trend that puts multilateralism under serious threat.
Since the end of WWII, the international community's multilateralism has underpinned everything - prosperity, peace, stability. The idea has led to the development of so many multilateral systems including the WTO, APEC and TPP.
With the development of science and technology in transport and communication, the whole world is now tightly connected. No country can be left alone. I sincerely hope world leaders could develop a global vision. All these global challenges must be addressed through diplomatic negotiations aimed at finding a solution.
GT: There is an ongoing trade war between China and the US. China has been defending multilateralism while the United States is focusing on protectionism. What's your take on this? How do you think the world should react against this challenge?
Ban: The international economic crisis in the 1930s was triggered because the US government legislated trade protection laws. Americans were basically quite engaged in unilateralism and trade protectionism, which caused the Great Depression that even led to the outbreak of WWII. We have to learn lessons from the past.
With regard to the trade war between the US and China, it was caused by US unilateralism and China has been reacting to it. If one or two countries are involved in trade protection, they may gain in some areas in the short term.
I sincerely hope that the issue should be resolved through negotiations.
GT: Do you think the international community is on the right path toward the denuclearization of the Korean Peninsula?
Ban: Never in the history of South and North Korea have we seen such exciting and more reconciling process between the two countries. This is highly welcome and commendable.
China has also been playing a very important role by engaging with North Korean leader Kim Jong-un three times this year. It's very important that the North Korean leader know and learn from China's rapid industrialization and development process by opening up. I think there's a lot North Korea can gain by opening up and by getting engaged in the denuclearization process.
GT: China, Russia and North Korea have called for adjusting UN sanctions on North Korea. What's your opinion on this?
Ban: This sanctions imposed by the Security Council were decided, because of North Korea's continuing defiant violation of charters of the UN. It's not only aimed at NK. The Security Council has the responsibility to make sure that such violation is rectified and is not repeated.
It's important that North Korea should fully comply with the relevant Security Council resolutions. There are 10 Security Council sanction measures imposed on North Korea. Now it may be premature to talk about relaxing these sanctions before we have any definite and clear commitment by North Korea to implement what had already been agreed between Pyongyang and the leaders of Republic of Korea and the US.
North Korea has committed to complete denuclearization. It should be ready to provide all the details of the schedules and sequence of its compliance. I am sure after that the Security Council will discuss relaxing the sanctions.
GT: During your tenure as the UN secretary-general, the denuclearization process of the Korean Peninsula advanced slowly, but now in less than a year we have seen huge progress. What do you think is the major reason behind the sudden change?
Ban: During my time as the secretary-general, even before my assumption of the post, North Korea had tested six nuclear weapons and long-range missiles several times. So it has startled and threatened global peace and security, not to mentioned peace and security on the Korean Peninsula. North Korea has been only one country which has been acting against the will of the international community. North Korea should also learn from what they have done.
We sincerely hope that this would be resolved as soon as possible, with all three summit meetings between South and North Korea, one summit meeting between the US and North Korea, three summit meetings between China and North Korea. So such a theory of sustained deployment effort should lead to the harmonious and complete denuclearization of North Korea. It's high time North Korean leadership took decisive action.
There were many such occasions on which North Koreans could have taken the opportunity to come out. This time they have taken the Olympic Winter Games as an opportunity of coming out. We welcome it. They should also comply with international rules and regulations.