SCO sees bright prospects ahead
People's Daily app
1528126254000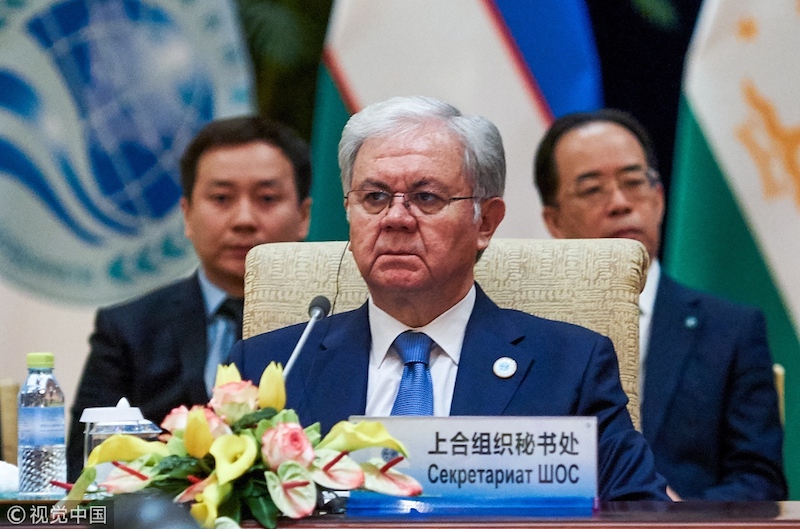 Rashid Alimov, secretary general of the Shanghai Cooperation Organization (Photo: VCG)
"Like a landmark, the Shanghai Cooperation Organization (SCO) Qingdao Summit will open a new chapter in the history," Rashid Alimov, secretary general of the SCO, told the People's Daily on Sunday.
The city of Qingdao in East China's Shandong Province will host the 18th summit of the SCO on June 9-10.
Alimov spoke highly of China's efforts in the past one year. He said that since China took over the rotational presidency of the SCO on June 10, 2017, the organization has made tremendous progress in consolidating the neighborly, friendly and cooperative relationship among the member states. China has introduced more than 30 mechanisms to the SCO, each of them supported by all the member states.
The organization has had a global vision and played a significant role in Europe and Asia and the world at large, said Alimov.
The SCO currently has eight member states after the official joining of India and Pakistan in 2017. On the vast land of the member states lives more than 3 billion people, which is more than 45 percent of the population on this planet, added the secretary general.
"The SCO is a new type of international organization established based on mutual respect and in-depth dialogue and committed to common development," said Alimov.
The SCO supports and actively participates in the Belt and Road Initiative proposed by Chinese President Xi Jinping. Member states of the organization have set their national development strategies, such as the "Bright Road" of Kazakhstan, in line with the Belt and Road Initiative. The Belt and Road Initiative is currently integrating with Eurasia Economic Union construction.
President Xi's proposal of building a "community of shared future for mankind" also receives a positive response from the SCO member states. "'A community of shared future represents countries' mutual responsibility to future development. We ought to work together to eliminate negative phenomenon in the world to attain peace and stability, and the priority is to conquer terrorism," said Alimov.
Alimov also pointed out that the SCO member states are committed to fighting against international terrorism.
(Compiled by Li Lei)