In-Depth: Australia should walk the talk on values with China
People's Daily app
1530373426000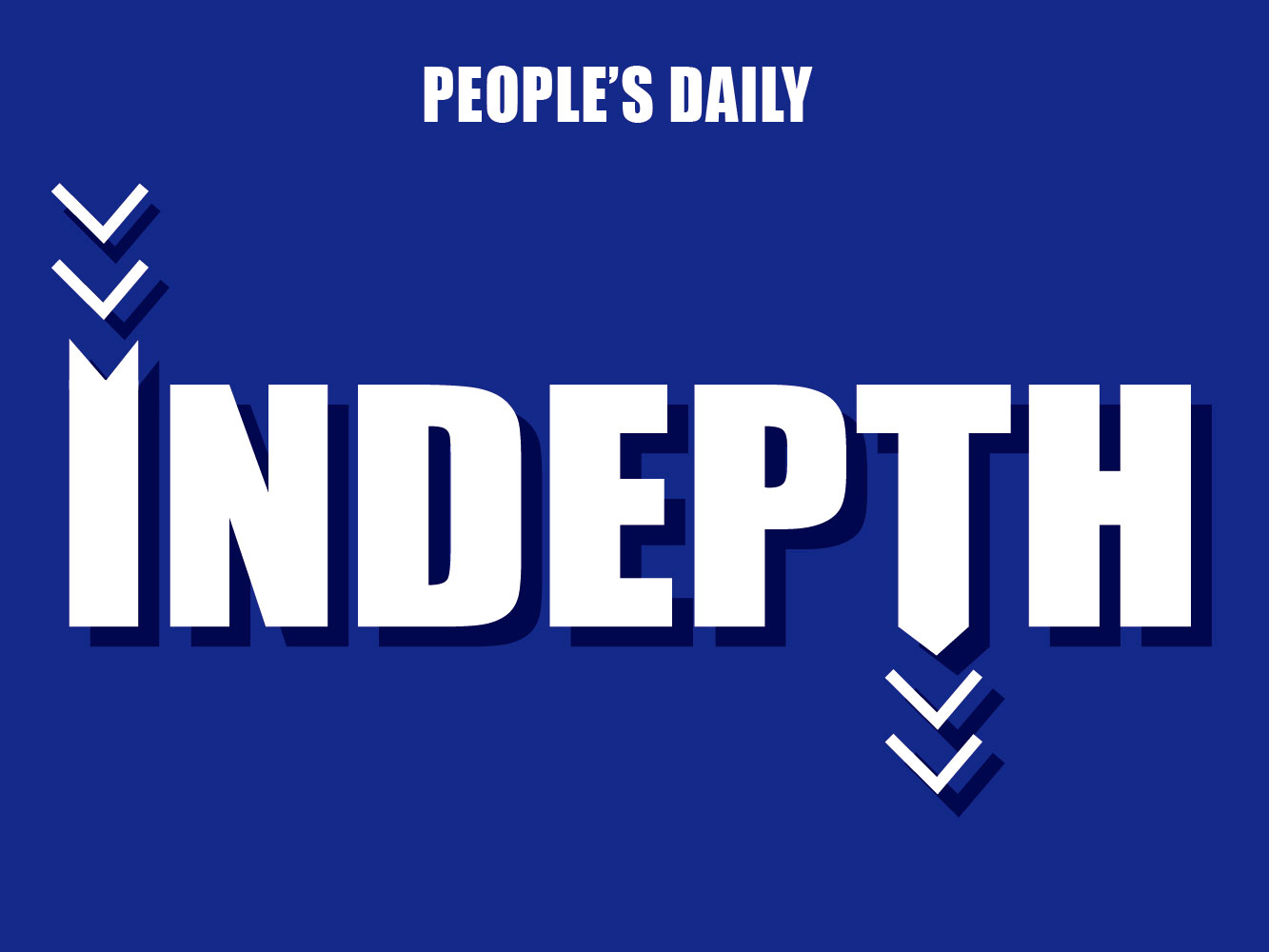 Aussie parliament passed sweeping foreign interference laws on Thursday, believed to be one of the most contentious pillars of diplomatic tensions between Beijing and Canberra in recent months. The laws, mirroring similar rules in the United States, will require lobbyists for foreign countries to register, and makes them liable for criminal prosecution if they are deemed to be meddling in domestic affairs.
Though Australian Prime Minister Malcolm Turnbull said he was not speaking about any one country when introducing the laws in 2017, his earlier statements citing "disturbing reports about Chinese influence" has made its top trading partner China to be the potential target.
Australian Prime Minister Malcolm Turnbull (File Photo: Xinhua)
The Chinese government responded by saying that Beijing never meddles in the affairs of other countries. "I want to stress again that the basic principle we have long upheld is never to interfere with other countries' internal affairs. We always act in the light of this principle", said Lu Kang, Chinese Foreign Ministry's spokesperson, urging Australia to shed its Cold War mindset and strengthen exchange and cooperation on the basis of mutual respect and equal treatment.
The move comes just two weeks after the Turnbull government was seen to be keen on repairing the fractured relationship with China, as the Prime Minister gave an upbeat assessment of ties while addressing the Australia-China Business Council in Canberra, saying he was "filled with optimism" about the future of bilateral relations and issues between the two countries are being sorted out amicably, which contradicted his frank admission in April that there is "a degree of tension" in China-Australia ties due to the Coalition's foreign interference laws; it did not find mention in his speech this time.
Ties facing a test
When Malcolm Turnbull was sworn in Prime Minister in 2015, Chinese media outlets gave him the nickname "Tang Bao" over his surname, which means 'sweet candy' in Chinese.
The moniker reflected a general air of optimism about the new Aussie leader. As a businessman in the 1990s, Turnbull set up one of the first Sino-Western joint mining ventures in China, and his son Alex is married to Wang Yiwen, daughter of a Chinese academic. His deep personal and business connections with the country had assured Beijing, as well as the Australian business community — particularly those companies reliant on the Chinese economy — of good prospects.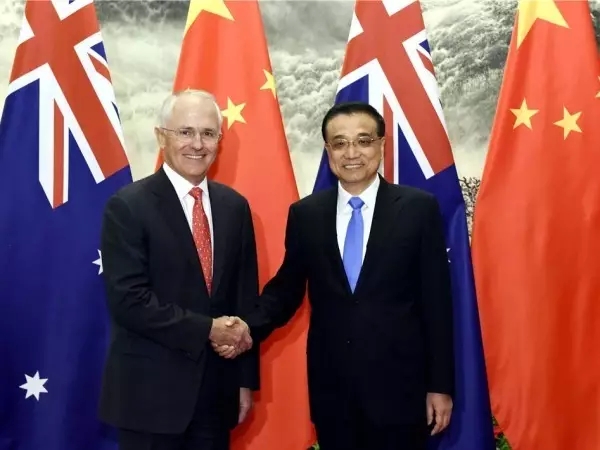 Australian Prime Minister Malcolm Turnbull (L) and Chinese Premier Li Keqiang (File Photo: Xinhua)
In the same year he took the reins, Turnbull signed China-Australia Free Trade Agreement (ChAFTA) with Chinese Premier Li Keqiang. Cheered by business people on both sides, the deal was described as a state-of-the-art FTA, a boon for banks, insurers, securities companies, law firms, professional services suppliers and education services exporters, as well as health and geriatric care businesses.
It was supposed to be the dawn of a new era of economic cooperation and an investment spring. However, ties have been under a cloud since last year, when Turnbull turned himself into a stumbling block in the relationship after local media claimed some of the country's major political parties had "received donation from Chinese individuals and companies".
"China Syndrome"
This describes Australia's current condition that is a bit impulsive and not always rational. Its response to China's continuing development mixes anxiety, even a bit of paranoia, with anticipation of the riches that derive from the sale of huge amount of products.
Since US media outlets firmly believe that Russia interfered in the 2016 US presidential election, foreign interference has been a good excuse for western powers to trigger rifts.
Over the past eight years, China has been Australia's top trading partner, largest provider of foreign students and biggest source of tourism revenue. Australia's Minister for Trade, Tourism and Investment, Steven Ciobo, has repeatedly stressed China's importance for Australia, and claimed its commercial relationship with Beijing is a dictionary definition of "win-win". According to Ciobo, China bought $116 billion of Australian goods and services in 2017, a rise of 21 percent from the previous year, and far more than their next four biggest trading nations combined (Japan, Korea, the US and India).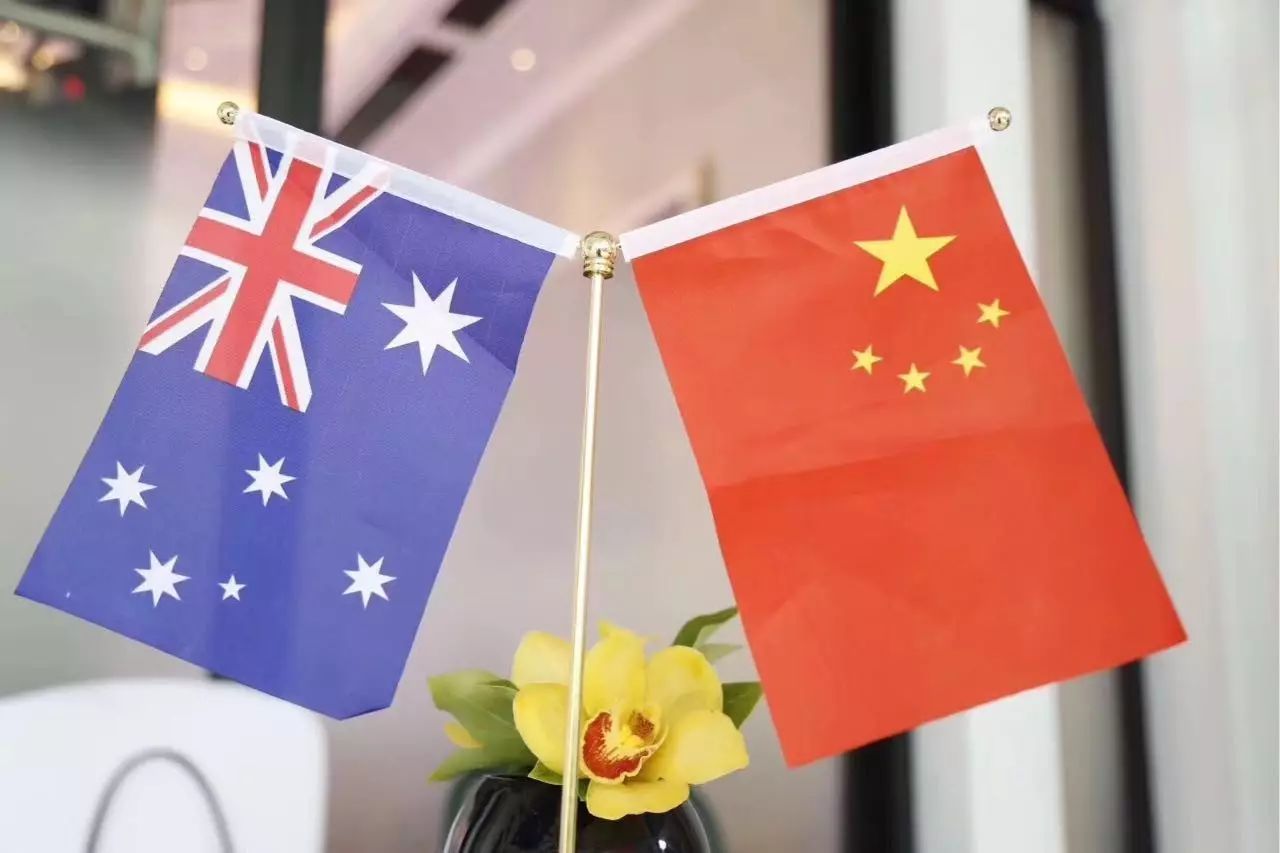 File photo: QJWB.com
But the close economic partnership of the two countries helped little in developing bilateral political trust. Due to a lack of deeper understanding of different situations in different fields, Australia has maintained strict vigilance on China.
Not only is it vigilant about its "national defense", the country stays alarmed over China's "5G threat." According to local media, liberal senator David Fawcett on Tuesday has urged a ban on Chinese communications giant Huawei from building Australia's next 5G network.
Serving as a Western country in the Asia-Pacific region, Australia toes the line of Western political institutions and magnifies the differences with other cultures. It is hard for the isolated island to understand the typical socialism with Chinese characteristics under the leadership of the Communist Party of China, as well as China's efforts to improve the current world order.
Is it indeed what Australia wants?
"There is no reason for us not to develop a better relationship with each other based on mutual benefits and mutual trust," Chinese Ambassador to Australia Cheng Jingye told almost 200 delegates at a China-Australia business forum in Australia's Parliament House on June 19. "China never interferes in the internal affairs of other countries, let alone carry out so-called infiltration in other nations."
The Australian government had been frequently cozying up to China just before passing the foreign interference law, as Turnbull blamed the media and his political opponents for portraying the China-Australia relationship as troubled and claimed a visit to China later this year to paper over bumpy diplomatic ties, Fairfax Media reported.
James Laurenceson, Deputy Director of Australia-China Relations Institute (ACRI) at University of Technology Sydney (UTS), said the US attitude was the biggest variable in the seesaw battle between China and Australia.
"In March, Prime Minister Turnbull was reduced to thanking President Trump for eventually choosing not to impose steel and aluminium tariffs on Australia, despite the US having no right under international law to do so in the first place", Laurenceson said, adding that the US president used tariffs as bargaining chips to threaten Australia over its attitude toward China. With the US turn on trade, China has emerged as a natural economic ally, Laurenceson said, urging the Australian government to stop depending too much on the Trump Administration, which continues to undermine global rules-based trading order upon which Australia has relied.
For Laurenceson, sustaining this massive annual injection of Chinese demand, worth more than six percent of Australia's GDP, will be vital to securing Australia's economic prospects.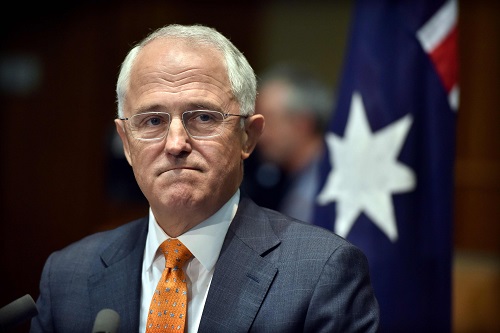 Australian Prime Minister Malcolm Turnbull (File photo: Xinhua)
This could reflect the gap between politicians and the business community in Australia. While the government follows diplomatic language of the US, more than 80 of Australia's leading China scholars have signed an open letter that concludes there is 'no evidence' that China's actions 'aim at compromising Australia's sovereignty' in March.
As the most China-dependent developed economy, Australia potentially has a lot to lose if relations deteriorate further, academics warned, and exporters have already said strained ties were behind delayed shipments to the ports of its biggest trading partner, local media reported.
"At a time when global trade is marked by uncertainty, it is particularly important to rely on strength and stability in our trading relationships", Ciobo said during an address in the Parliament House on Thursday, calling for support for China's Belt and Road Initiative (BRI) and confirming that an Australian business delegation will visit the BRI-focused China International Import Expo in Shanghai in November this year.
Jocelyn Chey, Professor of ACRI at UTS, said bilateral ties between China and Australia, which indicated the coming strains years ago, have carried too much impractical expectations. "Australia's dependence on UK has shifted to US after the World War II, and this has got Australia nowhere."
"We need to rethink Australia's current situation in the world, which is the biggest challenge for the country now", Chey said.