Commentary: FOCAC Beijing Summit to strengthen China-Africa community of shared future
BEIJING, Aug. 21 (Xinhua) -- The upcoming Beijing Summit of the Forum on China-Africa Cooperation (FOCAC) will kick-start a new journey for China-Africa relations.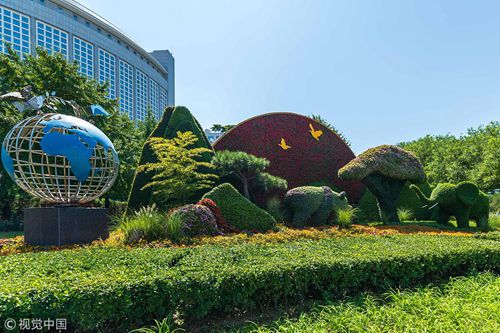 Beautiful landscaping, which integrated sculpted bushes of a panda, an elephant and mountains, appeared in Beijing on August 21, 2018, to welcome the upcoming summit of the Forum on China-Africa Cooperation. (Photo: VCG)
Themed "China and Africa: Toward an Even Stronger Community with a Shared Future through Win-Win Cooperation," the summit is expected to invigorate joint efforts to build a community with a shared future for humanity.
China and Africa have shared weal and woe, and see their future as interwoven, which sustains the lasting resolve of the two sides to cooperate and act on a great vision.
As a key platform for the collective dialogue and cooperation between China and African countries, the FOCAC has become a model of South-South cooperation and a banner of international cooperation with Africa since its establishment in 2000.
Over the past 18 years, achievements have been made in political, economic and people-to-people exchanges between China and Africa, especially after the FOCAC Johannesburg Summit in 2015.
Trade volume between China and Africa increased by 17 times between 2000 and 2017. China's investments in Africa have also grown significantly.
A number of major Chinese-assisted infrastructure projects, including the Ethiopia-Djibouti railway and Kenya's standard gauge railway from Mombasa to Nairobi, are examples of the tangible benefits brought by China-Africa cooperation.
The cooperation plans announced during the previous FOCAC conferences and their effective implementation have given a great boost to economic and social development in Africa, winning recognition from both African people and the international community.
They also give people from both sides strong confidence in the future of China-Africa friendship and cooperation.
At the upcoming summit, the two sides are expected to further align the summit's theme with the Belt and Road Initiative, the United Nations 2030 Agenda for Sustainable Development, the African Union's Agenda 2063 and the development strategies of individual African countries.
In keeping with the policy of sincerity, real results, affinity and good faith, there is no doubt that the Beijing Summit will become another milestone in China-Africa relations.