Xi, foreign leaders tour CIIE exhibition hall
SHANGHAI, Nov. 5 (Xinhua) -- Chinese President Xi Jinping and foreign leaders who are attending the first China International Import Expo Monday toured around the Country Pavilion for Trade and Investment, which showcased development achievements and feature products from more than 80 countries.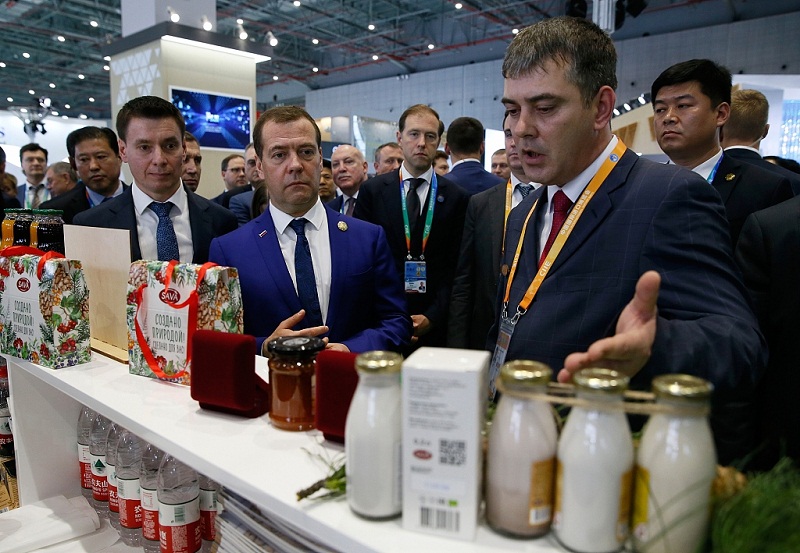 November 5, 2018. Russian Prime Minister Dmitry Medvedev in the exhibition area of food and agricultural products from Russia at the First China International Import Expo, Shanghai. (Photo: VCG)
They visited the booths of Hungary, Egypt, the United Kingdom, the Czech Republic, Kenya, El Salvador, the Dominican Republic, Laos, Georgia, Vietnam, Pakistan and Russia at the Country Pavilion.
During the visit, Czech President Milos Zeman improvised a melody on a Czech-made piano and invited Xi to taste beer from his country. Flowers from Kenya, coffee from El Salvador and fruits from the Dominican Republic also attracted the leaders.
At the Russian booth, Xi was accompanied by Russian Prime Minister Dmitry Medvedev and was introduced to the achievements of both sides' cooperation in nuclear power, natural gas and plane manufacturing, as well as local exchanges.
Xi noted the exhibits from all the countries are various and distinctive, and he expected all sides to take the advantage of CIIE to discover market opportunities, enhance cooperation and improve their competitiveness, so as to achieve mutual benefits from exporting quality products that can enrich the Chinese market and satisfy the increasingly diversified demands from Chinese consumers.
The group of leaders also visited the Chinese booth that is organized around the country's vision of innovative, coordinated, green, and open development that is for everyone, which showcased the country's achievements since the reform and opening-up and new opportunities brought to the world by the Belt and Road Initiative.
Laotian and Vietnamese prime ministers had a simulated ride on the Fuxing, China's latest generation of high-speed trains, which run at 350 km per hour. China's independently developed C919 large passenger aircraft and a model of the Hong Kong-Zhuhai-Macao bridge that opened recently also interested the visitors.
The leaders said CIIE shows China's open mind for inclusiveness and responsibility as a major country. They spoke highly of and warmly welcomed Xi's keynote speech at the opening ceremony.
They noted China is an important and promising market, and they will tap the potential for cooperation and promote bilateral trade growth and the development of free trade globally.
With an area of 30,000 square meters, the Country Pavillon for Trade and Investment is an important part of CIIE, held at the National Exhibition and Convention Center (Shanghai) from Nov. 5 to 10, where 82 countries and three international organizations set up 71 booths.
A total of 12 countries, namely Indonesia, Vietnam, Pakistan, South Africa, Egypt, Russia, the United Kingdom, Hungary, Germany, Canada, Brazil and Mexico, attended the expo as guest countries of honor.
Cover image: Chinese President Xi Jinping and foreign leaders who are attending the first China International Import Expo (CIIE) tour around the Country Pavilion for Trade and Investment, which showcases development achievements and feature products from more than 80 countries, in Shanghai, east China, Nov. 5, 2018. (Photo: Xinhua)