China, Iraq to deepen strategic partnership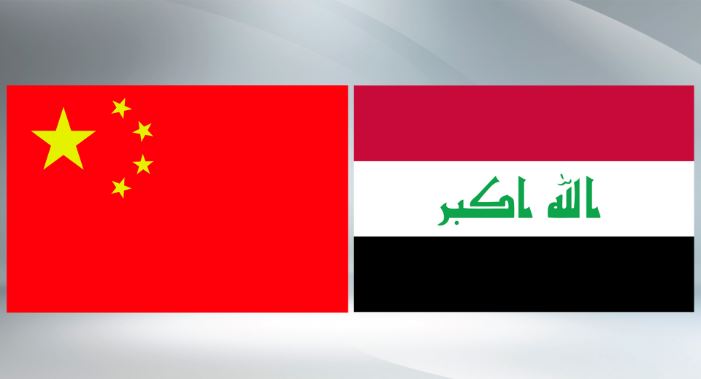 Taking the opportunity of the 60 year anniversary of the establishment of diplomatic relations between China and Iraq, Chinese President Xi Jinping said he is willing to work with the Iraqi president to deepen bilateral strategic partnership.
President Xi exchanged congratulatory words with Iraqi President Fuad Masoum on the 60 year anniversary of the establishment of diplomatic relations on Saturday.
In his congratulatory message, Xi pointed out since the establishment of diplomatic relations 60 years ago, bilateral relations have maintained a good momentum of development and cooperation in various fields has steadily advanced with the joint efforts of both sides.
He said the establishment of the strategic partnership in 2015 opened up a new chapter for China-Iraq friendship, which brought new opportunities for bilateral ties.
The Chinese president said he attaches great importance to the development of China-Iraq relations, adding that the two sides should synergize development strategies under the framework of jointly building the Belt and Road, carry out mutually beneficial cooperation, so as to bring more benefits to the two peoples.
While Masoum said Iraq-China relations have achieved remarkable development in recent years and economic and trade cooperation has made tremendous progress.
Iraq is willing to expand bilateral relations in an all round way to benefit people from the two sides and promote security, peace and development of the two countries, the Iraqi president added.
Chinese Premier Li Keqiang also exchanged congratulatory words with his Iraqi counterpart Haider al-Abadi on Saturday.
Closer ties
China plays a significant role in Iraq's reconstruction. According to the Chinese Foreign Ministry, Iraq was China's third largest Arab trade partner in 2017, with bilateral trade volume reaching $22.1 billion.
A significant number of Chinese companies are also seen investing in Iraq, especially given Iraq's geographical significance in the China-proposed Belt and Road Initiative. As Iraqi Ambassador to Beijing Ahmad Berwari said, about 60 percent of the electricity in the Iraqi capital Baghdad is produced by Chinese companies in Iraq.
Professor Zhou Rong from the Chongyang Finance Institute of Renmin University told CGTN, many Iraqi families and local governments are grateful to Chinese companies as local unemployment decreases and China continues supporting clean and green industries.