Inaugural peace forum underway in Paris
People's Daily app
1541978622000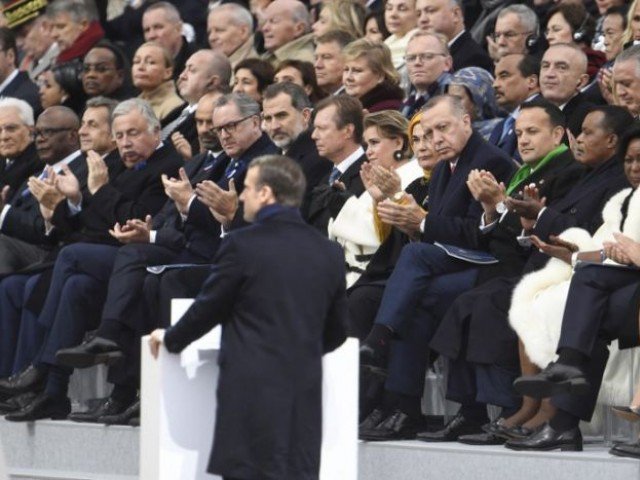 French President Emmanuel Macron gives an address during the opening ceremony at the Paris Peace Forum on November 11, 2018. (Photo: AFP)
Paris (People's Daily) – During the centennial celebration for the Armistice of WWI, the Paris Peace Forum also got underway as international leaders and respresentatives attended the opening ceremony at the Arc de Triomphe in Paris, France on Sunday.
French President Emmanuel Macron, German Prime Minister Angela Merkel and Secretary-General of the United Nations Antonio Guterres delivered speeches during the opening ceremony. During each address, they urged greater awareness on the rising tides of populism, extremism, and nationalism, while also calling for multilateral cooperation to achieve peace and progress.
Conceived as a platform to improve global governance, the forum focuses on peace and security, environmental issues, development, new technology, and maintaining an inclusive economy.
Representatives from 105 countries and over 60 heads of state and government officials will participate in various debates and roundtable discussions. Thousands are also expected to take part in various discussions during the three-day event.
120 projects from over 40 countries and 10 international organizations will be on display.
Highlights include "In the Space of Solutions," an exhibition for inventors, think-tanks, NGOs, associations, and enterprises. Among the solutions, China's "Belt and Road Initiative," is featured under the inclusive economy theme.
The forum, launched by Macron last year, aims to address current issues such as global warming, Internet destabilization, armed conflicts, and terrorist attacks. The forum is intended to serve as a yearly platform where innovative ideas and concrete action on global governance can merge and strengthen multilateralism and international cooperation.
Many have said the forum demonstrates not only Macron's vision for the world peace and stability but also his ability to gather distinguished leaders worldwide.
Since elected, Macron has taken an active part in international issues while reviving French Glory. The event serves as a highlight of his presidency amid waning popularity over the recent reshuffling of the French government.