Polish media head urges greater connection with China
People's Daily app
1513624707000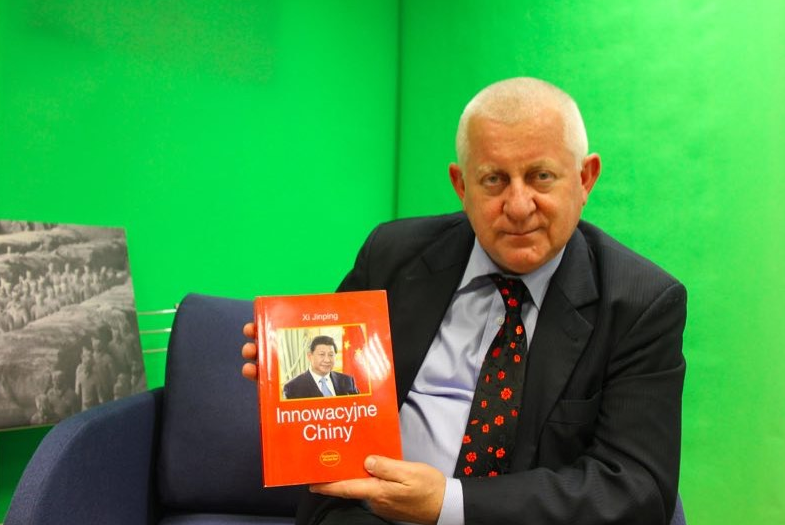 Chairman of the Polish Media Association, Marek Traczyk, with his copy of "Innovation China," the Polish version of President Xi Jinping's book. Photo: Ji Peijuan

Warsaw (People's Daily) — "Understanding China will meet the practical needs of Poland. I would like to encourage Polish journalists to closely follow China, so that Poles will pay more attention to the country and enhance cooperation in all fields between the two," said Polish Media Association Chairman Marek Traczyk, in an exclusive interview with People's Daily.

In October, Traczyk participated in the week-long All-China Journalists Association event, consisting of 33 international journalists from 28 countries throughout Asia, Europe, the Middle-East and North America. They were invited to cover the 19th National Congress of the Communist Party of China (CPC) in Beijing.
"I visited China as an official delegate 10 years ago, but now I can't recognize it. The streets and hotels are clean. I see new buildings almost everywhere. People are working 24-hours a day. It's really impressive. Maybe in another ten years, I won't even recognize Beijing, again," he said.
Traczyk saw President Xi Jinping open the 19th CPC National Congress at the Great Hall of the People on October 18.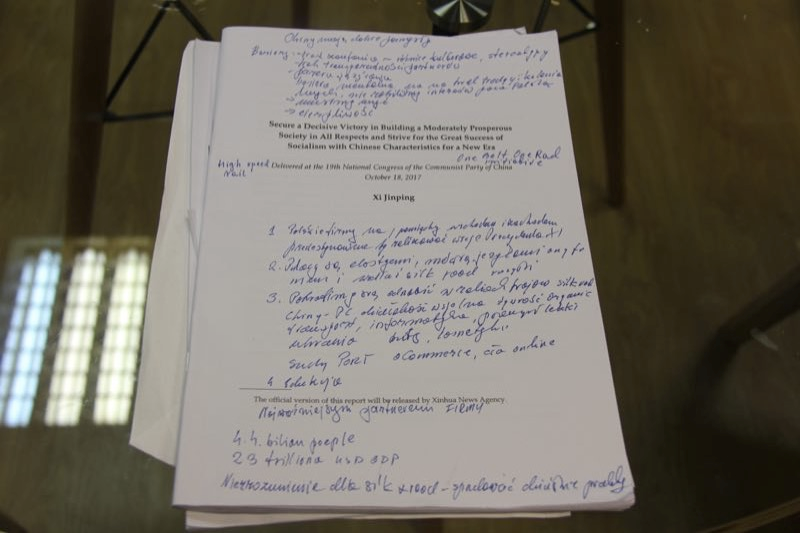 Marek Traczyk 's notes from the opening ceremony of the 19th National Congress of the Communist Party of China. Photo: Ji Peijuan
"I was able to see President Xi from where we were sitting. It was far, but still close enough for me. He is doing a good job. He has taught us how to cooperate. He teaches us not to be small, but to see things from all levels."
On Traczyk's desk at his office inside the Polish Media Association located in the center of Warsaw, sits a book with a red cover titled "Innovation China." It is the Polish language version of the international bestseller "Xi Jinping: The Governance of China."
"I read this book very carefully almost every day. It is a collection of his speeches. But I can't finish reading it. I'm reading it bit by bit and afterward digest and absorb its essence," said Traczyk.
President Xi has done a great job in improving employment and living conditions. "Chinese all love him from their hearts, and he has won people's respect all over the world," he said.
"Xi's thoughts on the Belt and Road initiative was written into the CPC Constitution. It will have quite a significant influence on China and the world's future," said Traczyk.

"Just look at how many countries have actively responded to the Belt and Road initiative, and how many infrastructure projects like highways will be promoted under this plan. We know this initiative will not only benefit China but also benefit participating countries."
During his China visit, Traczyk participated in several off-site interviews. He was impressed by what he saw at the International Horticultural Exhibition Beijing and the Sino-Singapore Tianjin Eco-city.
"Ecology is the future. The development of eco-cities is a trend of all countries in the world. People can't waste their natural resources anymore. They must work together to create a better life for people," said Traczyk.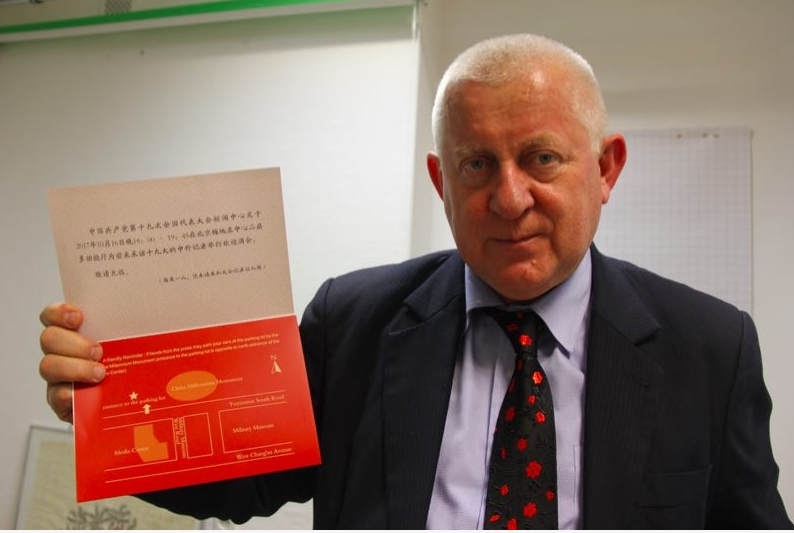 Marek Traczyk displays his invitation letter to the opening reception for Chinese and foreign journalists attending the 19th National Congress of the Communist Party of China. Photo: Ji Peijuan
At one STO Express branch, the visiting journalists witnessed parcels being quickly sorted on an assembly line.
"All the links are computerized and automated. It's amazing," he said, marveling at how innovative the Chinese are, "once they make a decision, you will see it come true very soon."
Traczyk admitted that Polish people are not familiar with China due to obstacles such language, geographic distance and different historical backgrounds between the two countries.
"World news, including international meetings, are not followed by Polish media. They think because it's too far away and it's not connected. But no, it is connected," Traczyk emphasized.
"We do not need to worry about China. What we need to worry about is Poland closing itself off from China. With its innovative knowledge and the products and services it needs, the opportunities exist for bilateral cooperation between the two countries. Today, China is not only exporting goods to Poland, but importing from Central and Eastern European countries at a greater rate," said Traczyk.
"The best way would be for Polish industries and companies open up more to the Chinese and public administration. Without cooperation, without opening our roads, we will not survive," Traczyk concluded.
Relevant video link: http://tv.people.com.cn/n1/2017/1208/c364580-29695725.html.