For Abe, water can carry a boat but also sink it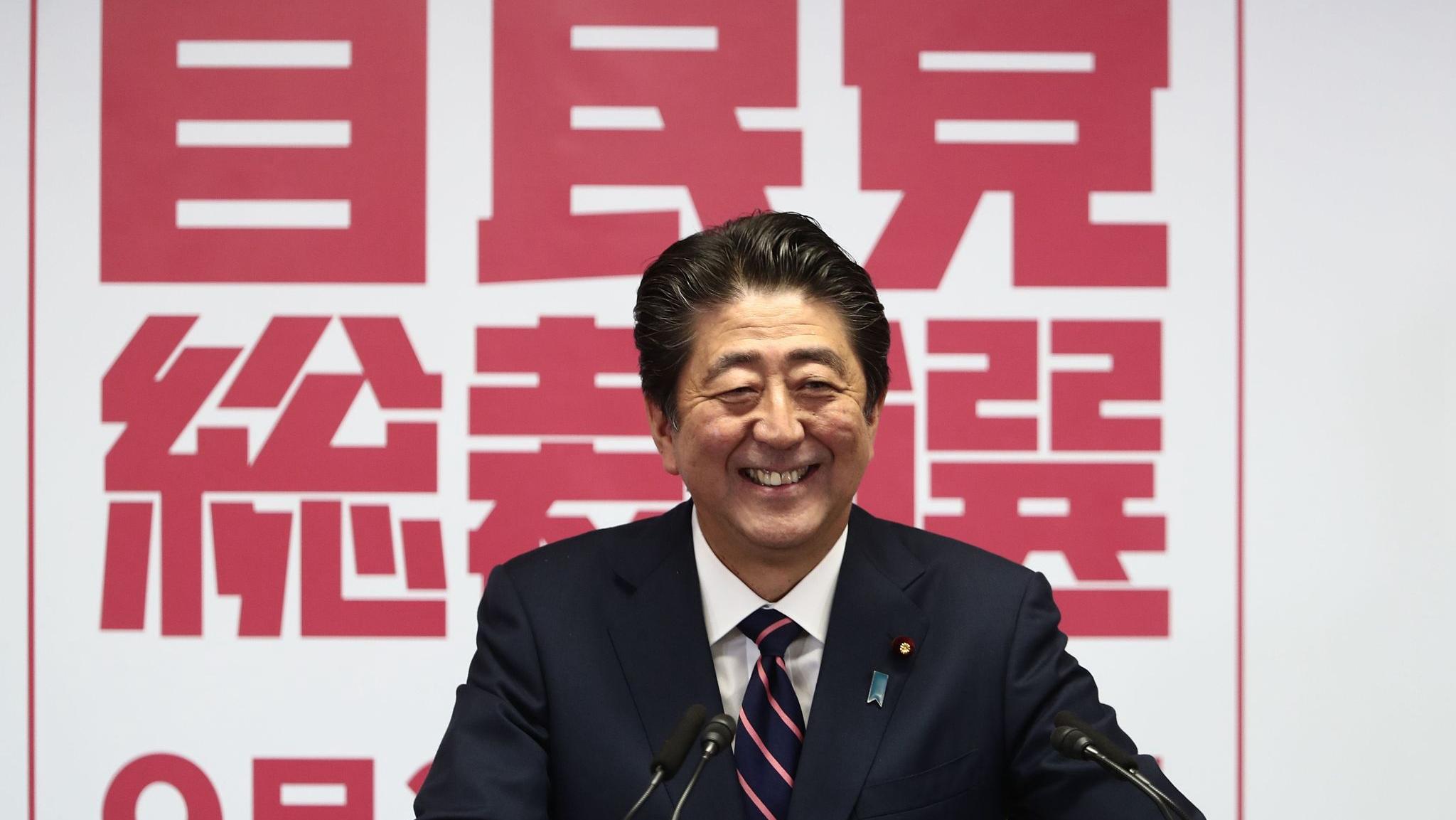 (Photo: VCG)
Winning reelection as head of Japan's ruling Liberal Democratic Party (LDP) has sent Shinzo Abe on the way to becoming the country's longest-serving prime minister. In a landslide victory on Thursday, the 63-year-old Abe secured up to three more years in office till August 2021.
His reelection is not surprising as he has gained massive support from Japanese conservatives for presiding over a steady economy and relatively mild diplomacy. It also reveals the Japanese people's desire to pursue domestic stability during a period of turbulent global geopolitics and economic unilateralism.
After years of reflection following a tumultuous year in office from 2006 to 2007, Abe wrested power again in 2012 with a strong LDP lineup and policies catering to public opinion. Back then, most Japanese voters were disappointed with the way the then governing Democratic Party dealt with the 3/11 disaster in 2011. The Japanese economy sputtered after a devastating earthquake and tsunami struck, followed by the nuclear crisis.
To revive the stagnant economy, Abe set sail an economic doctrine called Abenomics, also known as the "three-arrow" strategy, encompassing monetary easing, fiscal stimulus and structural reforms. Fighting deflation, reducing corporate tax cuts and loosening visa requirements for tourists partly account for Abe's success, according to Robert Feldman, a chief economist at Morgan Stanley MUFG Securities.
"The quantitative easing monetary policy has helped Japan attract international investments and shored up its stock markets," said Liu Qingbin, a research fellow at Yokohama National University in Japan. "The depreciation of the Japanese yen, another feature in Abenomics, has boosted Japanese exports. And the booming tourism has partly offset the weakening consumption power in a rapidly aging society."
Japan's economic rapprochement with China – its largest trading partner – also benefited the country due to the whopping Chinese market and its spillover effect, Liu told CGTN. In addition, the Japanese government has started embracing the Belt and Road Initiative after vehement resistance through which the world's second and third biggest economies can avoid vicious competition and foster healthy cooperation.
That's why the Japanese economy has experienced the strongest growth in over a decade. The country's nominal GDP has surged by 12.2 percent since 2012 and unemployment has sunk to a 25-year low, despite complaints from jobless youths.
In the political realm, Abe has only visited the controversial Yasukuni Shrine once since his swearing-in, in stark contrast to his predecessor Junichiro Koizumi who prayed there every year. Furthermore, Abe refrained from taking aggressive steps in his long-sought revision to the pacifist constitution in order to retain his public support.
Nevertheless, though water can carry a boat, it can also sink it. The factors pushing Abe to a third term can also undermine his political future.
Abe has set a plan to raise the country's GDP to 600 trillion yen (around 5.35 trillion US dollars), which some experts say is a near-to-impossible goal as Abenomics is unlikely to cure the chronic disease afflicting the Japanese economy. The six-year-old economic recipe was just given a rather humble score of 58 out of 100 points by 29 analysts.
"Actually, it was Abe's effort to postpone a consumption tax hike that played a key role in Japan's economic growth," said Liu. An unpopular increase in Japan's sales tax from 8 percent to 10 percent had previously been set to come into effect in the spring of 2017, but Abe managed to delay it till October 2019.
"So he has to face this conundrum next year, and by then he will probably find his makeshift Abenomics dead," Liu said during a phone interview with CGTN.
Once the 10-percent tax is in place, it will deal a heavy blow to consumer spending, which has already been battered by a rapidly aging population. By then, Abe's cabinet will also have to address the world's biggest debt burden – a consequence of Abenomics.
Seeking constitutional change might pose the gravest challenge for Abe's premiership. As a conservative committed to loosening the postwar fetters on Japan's self-defense forces, he has cemented his support from conservatives despite some public opposition.
Abe's continuous proposals to lift the ban on collective self-defense and subtle exaggerations of external threats have paved the way for his aim to revise the war-renouncing clause in the constitution. His reelection will undoubtedly embolden him to pursue the revision, but will he succeed?
Though he secured 80 percent of the votes of his parliamentary colleagues, he won merely 55 percent support among the rank and file. "This shows his influence upon local regions is very limited," said Liu, "so the hurdles remain high for him to legalize the self-defense forces." His support from ordinary party members may be further dragged down by the cronyism scandal in which his wife is embroiled.
Apart from domestic challenges, Abe has to worry about Japan's alliance with the US. Japan is on the list of countries on which Donald Trump has imposed steel and aluminum tariffs, and the US president recently threatened to impose tariffs of up to 25 percent on imported cars from Japan.
In the tariff salvo, Trump will likely bring Japan back to the 1980s when the Plaza Accord mired the country in a decade-long recession.
But as a coin has two sides, a looming trade war will bring Japan and China closer. Yet, given the structural contradiction between Beijing and Tokyo, how to cooperate sincerely with China becomes one of determining factors of Abe's political fate.