China medical team extends volunteer services to Sierra Leoneans
People's Daily Online
1575955865000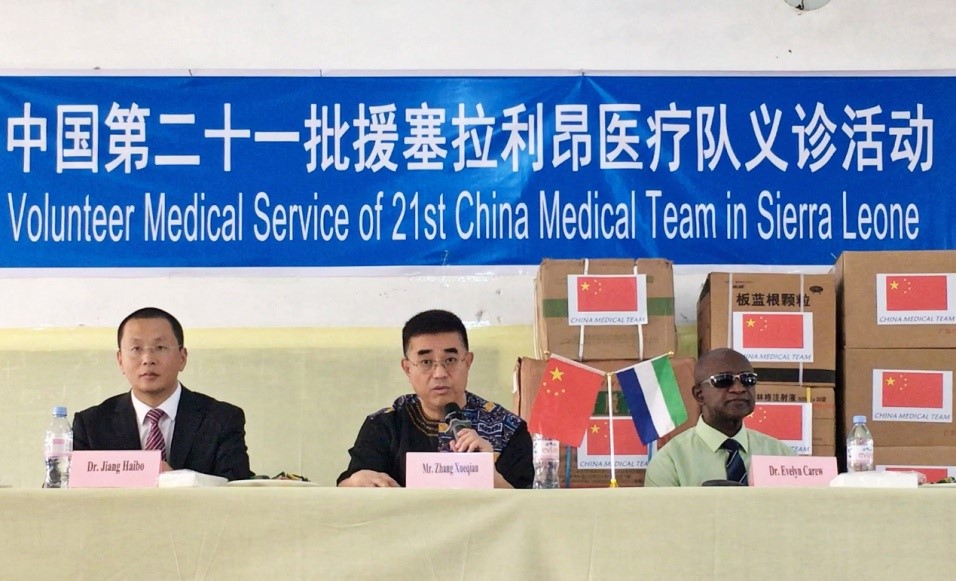 Counselor Zhang Xueqian makes a statement at the opening ceremony of the volunteer medical service event (Photo: People's Daily Online)
The 21st batch of the China Medical Team has provided support through voluntary medical services to Sierra Leoneans at an event held at the University of Sierra Leone in Freetown.
A total of 19 medical experts from different departments, including internal medicine, surgery, traditional Chinese medicine, infectious diseases, ophthalmology, emergency health inquiry, consulting and advising, came together to share their ideas and skills with over 100 teachers and students of the Fourah Bay College in Freetown, Sierra Leone's capital.
The Chinese medical experts shared their skills in the prevention of diseases like malaria, typhoid, AIDS, Lassa fever and first aid emergency treatment. They carried out physical checks, disease treatment, and health education.
The event was graced by Mr. Zhang Xueqian, Economic and Commercial Counselor of the Chinese Embassy in Sierra Leone, and the assistant to Deputy Vice-Chancellor of the University of Sierra Leone, Dr. Evelyn Carew.
In his statement, Counselor Zhang Xueqian stated that since 1973, the Chinese government has dispatch medical teams to Sierra Leone and nearly 500 Chinese doctors have been to Sierra Leone to contribute to the health of Sierra Leoneans. "I am proud of the contributions made by my colleagues from the China Medical Team. I consider them to be messengers of China-Sierra Leone friendship," he said.
He added that he was happy to see the China Medical Team partnering with the Confucius Institute of the University of Sierra Leone to provide volunteer medical services for college authorities.
Counselor Zhang described the event as one of the measures to implement the consensus reached by the two heads of state and the outcomes of the FOCAC Beijing Summit, which demonstrates China's determination to support the health system in Sierra Leone.
Assistant to Deputy Vice-Chancellor of the University of Sierra Leone, Dr. Evelyn Carew, expressed his sincere appreciation to the 21st China Medical Team on behalf of the Sierra Leonean university. He said that the relationship between the two countries and people has a long history, and he looked forward to a continued friendship.
Leader of the China Medical Team, Dr. Jiang Haibo, said his team had been devoted to promoting healthcare for the people of Sierra Leone. He noted that they are happy to bring together their medical resources to embark on the volunteer event for teachers and students of the University of Sierra Leone.
Teachers and students alike appreciated the event. They stated that the Chinese Medical Team provided them with support, like skills in health consultation, which could help them discover diseases earlier.