Feature: Ethiopia's Chinese-contracted industrial park ignites business, career optimism
A worker goes about her work at Bole Lemi Industrial Park in Addis Ababa, capital of Ethiopia. (Photo: Xinhua)
As the Chinese-built Dire Dawa Industrial Park is almost complete, businessmen in Ethiopia are hoping for a better environment for doing business and new opportunities. Meanwhile, the construction process for the park also provides employment for locals, especially the youth, who value the opportunity to work with a Chinese company.
DIRE DAWA, Ethiopia, Aug. 31 (Xinhua) -- Abdulkerim Yasin, a businessman based in Ethiopia's eastern Dire Dawa city, is hopeful that the imminent commissioning of the Chinese-built Dire Dawa Industrial Park would revive the business environment in Dire Dawa city and its surroundings.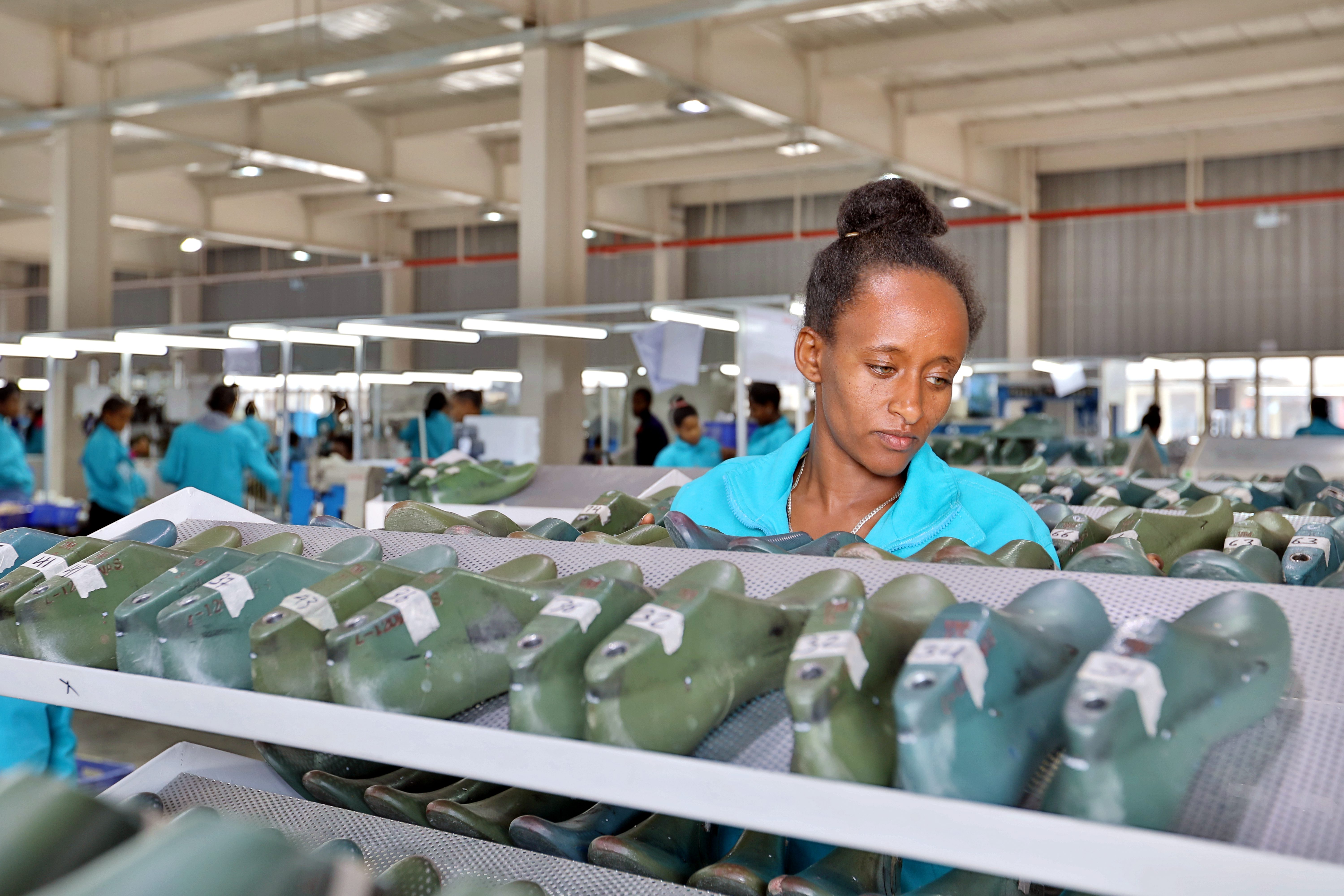 A shoemaker working on the production line at Huajian Light Industry City in Addis Ababa, Ethiopia, June 12, 2019. (Photo: Xinhua)
The Dire Dawa Industrial Park, which is under construction by the Chinese-construction giant China Civil Engineering Construction Corporation (CCECC), is now ready to host potential export-oriented investors as close to 97 percent of construction work is finalized, the Chinese contractor revealed.
Yasin, whose business largely focused on the import of goods via the Djibouti port, mainly expects the Dire Dawa industrial park to create new economic opportunities for his business.
"Presently, I'm much focused on the import sector," Yasin told Xinhua recently, adding "once the industrial park starts operations, I am planning to commit both in the import and export sector by forging partnerships from some of the factories that are set to start their production inside the park."
According to Yasin, the Dire Dawa industrial park, being the closest of all industrial parks to the Djibouti port, which presently handles about 90 percent of Ethiopia's overall export-import trade, would also benefit from the Ethiopia-Djibouti electrified railway that passed through the city.
The industry park, located with some 262km proximity from the port of Djibouti, "is a timely investment as it enables easy access to the port, and the global market," the businessman asserted.
Yasin is also full of hope that the industry park would create additional business opportunities as tens of thousands of professionals are expected to get employment opportunities once the park starts its operations.
"The industry park will not just bring international companies to Dire Dawa, it will also bring tens of thousands of professionals here," said Yasin, adding that "this would create abundant business opportunities for the business community."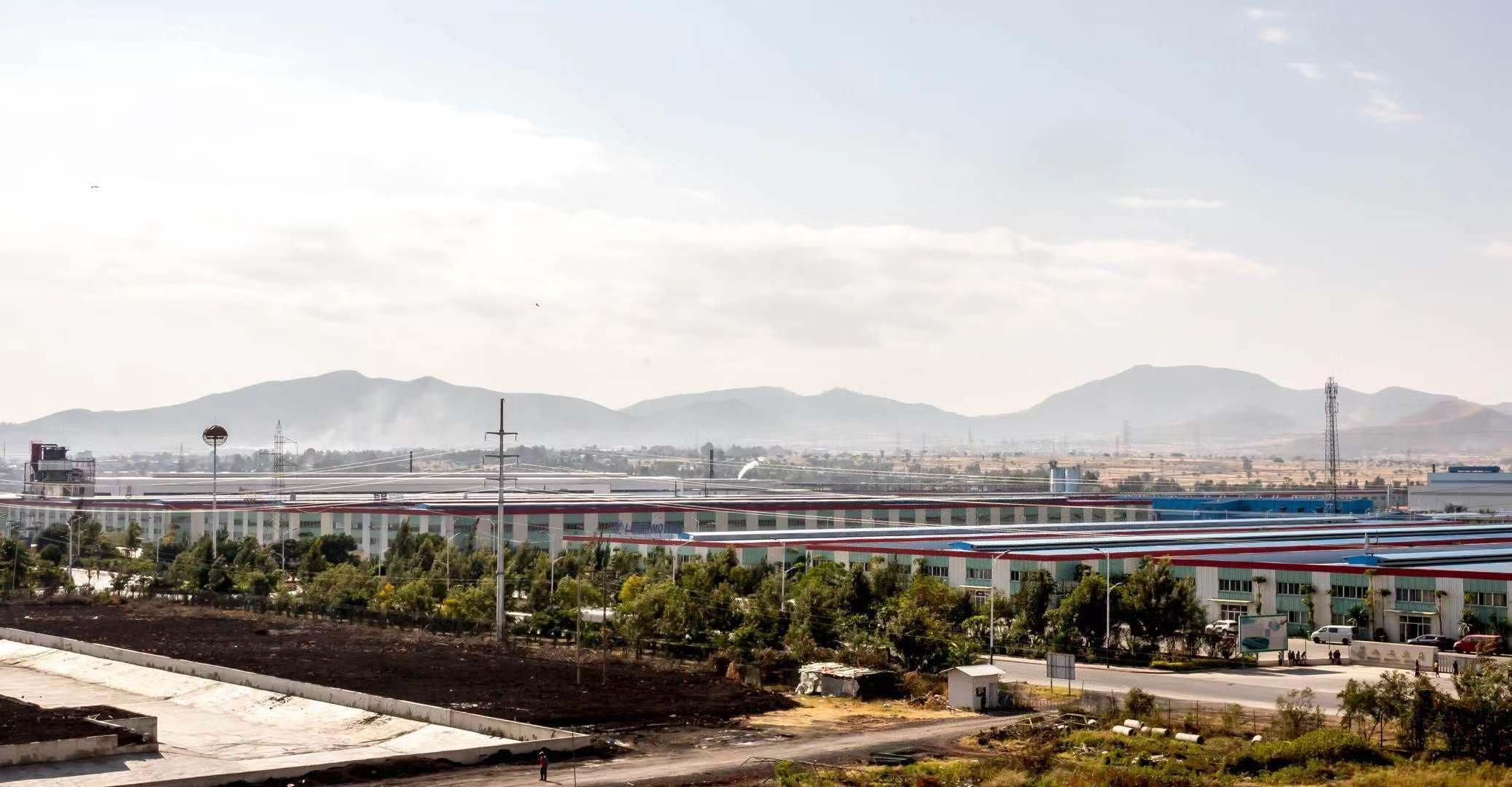 The factories inside the Eastern Industrial Zone (EIZ) in the south of Addis Ababa, Ethiopia. (Photo: Xinhua)
Wang Kun, Dire Dawa Industrial Park Project Manager at CCECC, told Xinhua recently that "works at the Dire Dawa Industrial Park are nearly finished. As it stands, close to 97 percent of the work has been completed, with only remaining water treatment and landscaping work."
The industrial park, once operational, will focus on investors from multiple sectors including heavy industries, textile and apparel, vehicles assembly and food processing, electronic, paper and allied products, chemicals, according to the Ethiopian Investment Commission.
The Dire Dawa industry park, which will be the latest of seven operational industry zones across the East African country, has been also commended by Ethiopian professionals who have been undertaking various activities during the industry park's construction stage, which will cover a total area of 4,086 ha.
Biruk Wogayehu, who is a civil engineer graduate from Ethiopia's Haramaya University, has been working at the Dire Dawa industry park alongside Chinese experts as quality and safety inspection expert.
Wogayehu, who joined the CCECC immediately after his graduation, said the past two years of his stay with Chinese colleagues gave him "abundant experience."
"I often say CCECC is my second university because I have learned a lot," Wogayehu told Xinhua.
Rahel Alemayehu, who is also a civil engineer and working as a site construction expert, also speaks highly of her engagements with Chinese professionals, as well as the Chinese technologies that are available on site.
"I have been working here for more than two years," Alemayehu said, adding "It has been a great experience to me as the majority of the machineries and techniques employed are by far not common in our country."
"Working here is much fun and learning," she stressed.