Northern white rhino eggs from Kenya successfully fertilized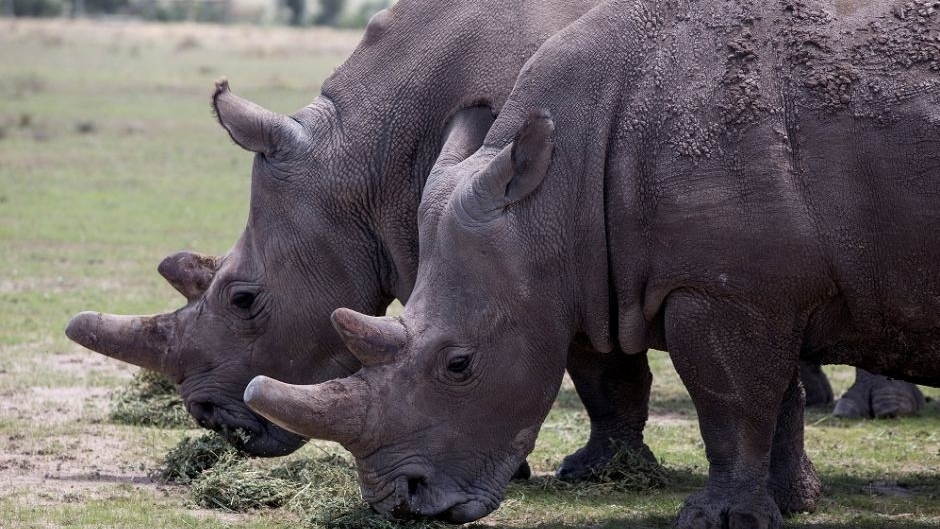 Najin and Fatu, the last two surviving northern white rhinos (Photo: KWS)
An international consortium of scientists and conservationists says that seven out of the ten eggs harvested from the two last surviving northern female white rhinos were successfully matured and artificially inseminated.
The eggs – four from Najin and three from Fatu were immediately flown to a laboratory in Italy to be fertilized with cryogenically frozen sperm, of which there are samples from four deceased males
This was achieved through ICSI (Intra Cytoplasm Sperm Injection) with sperm from two different northern white rhino bulls, Suni and Saut, on Sunday, August 25th. This is the next critical step in hopefully creating viable embryos that can be frozen and then later on transferred to southern white rhino surrogate mothers.
The resulting embryos will then be frozen until they can be transferred into a surrogate mother from the southern white rhino subspecies. The first such rhino embryos using in-vitro techniques were created last year.
The team working on the project also includes Italian biotech laboratory Avantea, Czech zoo Dvur Kralove and the Kenya Wildlife Service (KWS).
"We are delighted that this partnership gets us one step closer to prevent the extinction of the northern white rhinos. This is particularly touching given the heartbreaking death of Sudan, the last male, who died of old age last year in Kenya," said John Waweru, KWS director-general.
The results of possible embryo development are to be announced around September 10th.