Urbanization injecting new impetus for global trade and investment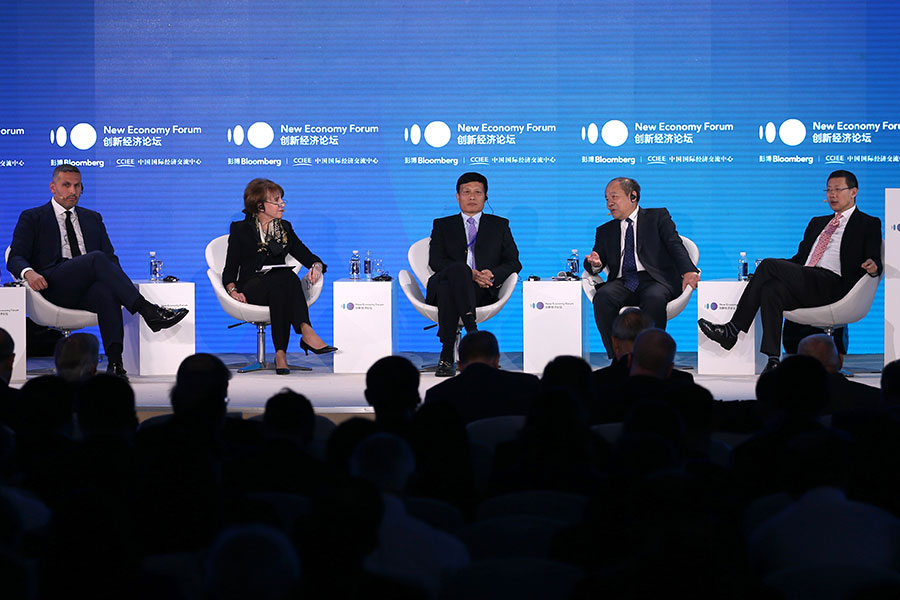 The New Economy Forum, which opened on Thursday, is co-organized by the China Center for International Economic Exchanges (CCIEE) and Bloomberg. (Photo: China Daily)
Urbanization is leading innovation, unleashing productive social forces, and injecting new impetus to global trade and investment, said experts and business leaders at a panel discussion of the New Economy Forum in Beijing.
The forum, which opened on Thursday, is co-organized by the China Center for International Economic Exchanges (CCIEE) and Bloomberg.
Huang Qifan, former mayor of Chongqing and vice-chairman of CCIEE, said that China's urbanization rate has risen to 65 percent from 18.6 percent in the past 40 years, with the urban population increasing from 260 million to 800 million in the same period.
"China's urbanization is related to rural dwellers' flocking into cities, the innovation of real estate market, as well as infrastructure construction, which has been an important driving force for China's urban development in the past 40 years," Huang said.
Huang said the country's reform and opening-up has brought about changes to the rural labor force. "They swarmed into the cities, where property developers are building stores, residential and office buildings."
Huang called for the household registration system reform, which will help eliminate concerns about inequity in social security and provide the same benefits to both rural workers and urban residents.
Urbanization in China started to speed up since 1978, an important year in China's economic development. The country has been actively promoting a new people-centric path to urbanization, which has greatly improved the level and quality of urbanization, and provided great opportunities for China's urban development and international capital flows.
Yu Liang, chairman of real estate developer Vanke, said that China's metropolis could learn the experience from Tokyo, the capital of Japan, and make efforts to develop the public rail transport system and enhance the land utilization ratio, in an attempt to solve issues in the path to urbanization.
In addition, Yu said the housing problems directly affect the influx of talents, and thus have an impact on the economic development and the innovation of big cities.
Egyptian Tourism Minister Rania Al-Mashat said that energy-saving technologies are crucial for the sustainable development of popular tourist destinations like Cairo, the Egyptian capital city.
According to a report from consultancy firm KPMG, nearly two-thirds of the world's population will reside in cities by 2030. Urbanization is creating significant opportunities for social and economic development and more sustainable living, but is also exerting pressure on infrastructure and resources, particularly energy.
While most urban growth will occur in developing countries, ensuring growing cities are properly managed will also be a priority for governments in developed countries as they strive to maintain competitiveness in the face of growing global competition, the report said.