Helping mainland firms expand in Africa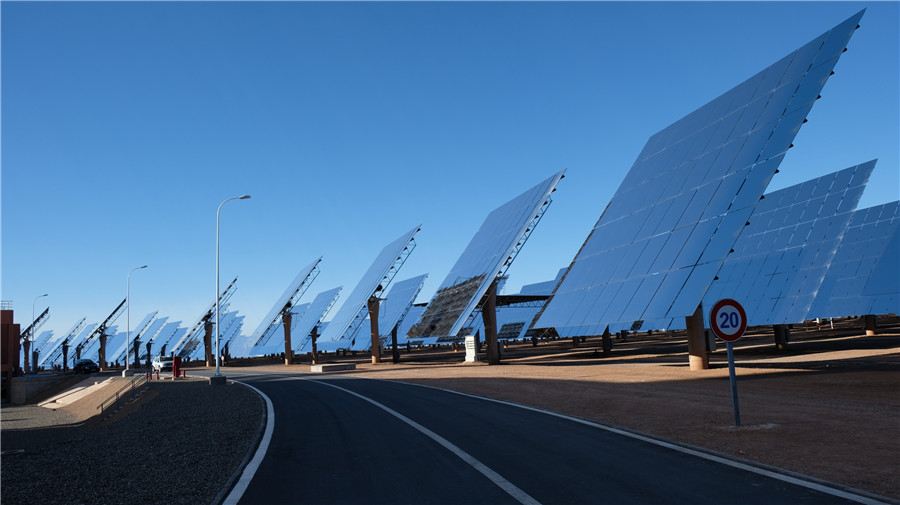 The solar thermal power station project, built by SEPCOIII Electric Power Construction Co Ltd, in Morocco, Africa. (Photo: Xinhua)
StanChart solutions strengthen BRI projects in the Middle East as well
Chinese companies and financial institutions are making remarkable contributions to fostering sustainable and eco-friendly economic growth in the Middle East and Africa, said Standard Chartered executives.
"We see an increasing level of awareness of sustainability and green development across the board in our region, and I would say that Chinese companies are playing a pivotal role in developing that," said Sarmad Lone, regional co-head of global banking in Africa and the Middle East at Standard Chartered, on the sidelines of a recent meeting with Chinese financial institutions and companies in Beijing.
As mandated lead arranger for the financing of a $4.3 billion, 950-megawatt hybrid concentrated solar power and photovoltaic power plant in Dubai, Standard Chartered joined hands with a consortium of seven other Chinese and regional lenders, such as Industrial and Commercial Bank of China Limited, the largest State-owned commercial lender by assets in China.
Participants in the project include ACWA Power, a Saudi Arabian developer and operator of power generation and water desalination plants, the EPC (engineering, procurement and construction) contractor Shanghai Electric Group Co Ltd, and the Spanish renewable energy company Abengoa.
They collaborated closely to create a high-quality project that meets environmental, social and sustainable development standards.
Supporting the Dubai Clean Energy Strategy that aims to provide 25 percent of Dubai's energy from clean energy sources by 2030 and 75 percent by 2050, the project will deliver clean energy to 320,000 residences and will reduce carbon emissions by 1.6 million metric tons a year.
Similarly, an independent water and power project in Bahrain has attracted a range of global investors and the Chinese contractor SEPCOIII Electric Power Construction Co Ltd.
Standard Chartered is the mandated lead arranger and documentation bank to a consortium to finance the project, which entails the development, financing, construction, operation and maintenance of a 1,500-MW power plant and a seawater reverse osmosis desalination plant with production capacity of 50 million imperial gallons per day.