China's BRI helps to create new mechanisms for int'l partnerships, expert says
TASHKENT, April 2 (Xinhua) -- China's Belt and Road Initiative (BRI) is an ambitious project of our times and develops partnerships between different regions of the world, an Uzbek expert has told Xinhua.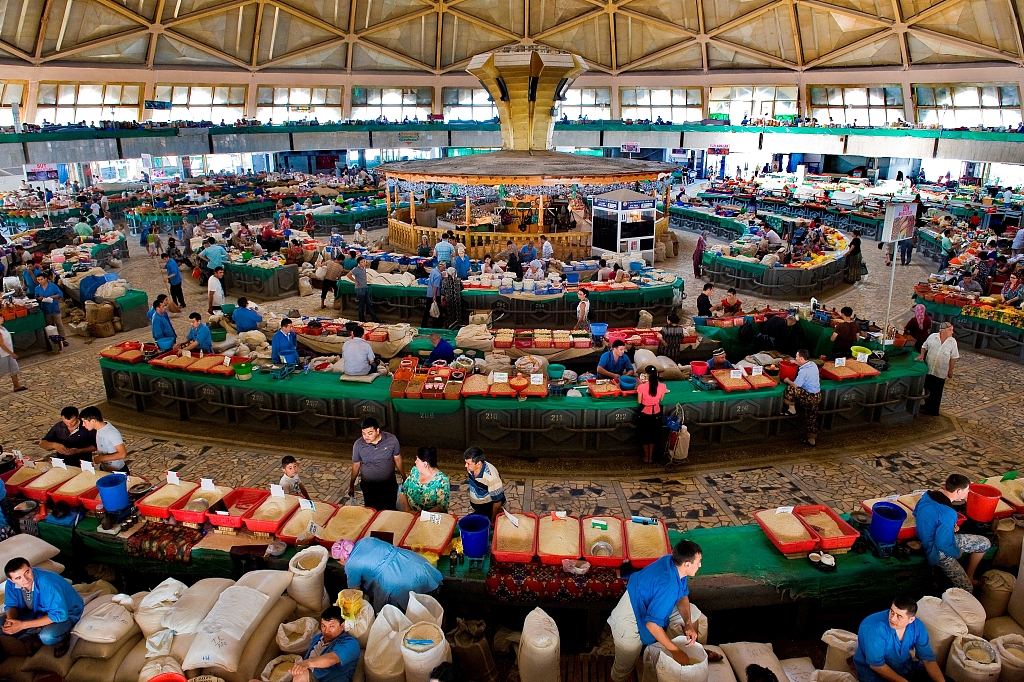 Chor Su Bazaar in Tashkent (File photo: VCG)
Mirzokhid Rakhimov, a professor and head of the Department of Contemporary History at the Academy of Sciences of Uzbekistan, said in a recent interview that the BRI helps to create new mechanisms for international economic and trade partnerships, the construction of highways, and the expansion and intensification of trans-regional cooperation in various fields.
"It is symbolic that the Belt and Road (Initiative) fully coincides with the philosophy of partnership and the positive interactions of the people (who lived) during the (times of the) Great Silk Road," he said.
Rakhimov said that the creation of new mechanisms for international partnerships has begun in a fairly short period of time, such as the Silk Road Fund that was founded in December 2014.
The Asian Infrastructure Investment Bank (AIIB) with an authorized capital of over 100 billion U.S. dollars was set up in 2016. Many countries, including Central Asian republics, acted as co-founders and partners of this bank, Rakhimov said.
"Expanding trans-regional cooperation in various areas is an important outcome of the Belt and Road Initiative," he added.
In order to achieve the sustainability of bilateral and multilateral relations, it is advisable to intensify joint efforts in the implementation of international and regional integration projects, Rakhimov said, while acknowledging that disagreements and problems between the partner countries exist.
Talking about the necessity and prospects of communication between think tanks within the framework of the BRI, Rakhimov thinks that academic partnerships, such as the cooperation between research centers and universities within the framework of the BRI, are very important.
"For example, in 2018-2019 with the participation of the Chinese Academy of Sciences, a number of joint laboratories and research centers were opened in Uzbekistan," Rakhimov said.
"It would also be useful to create a joint international 'Belt and Road magazine,'" the professor said.
Recalling the bright historical moments between the two countries, Rakhimov highlighted the establishment of a strategic partnership between China and Uzbekistan, and the signing of a solid package of agreements on the development of a wide range of interstate relations.
"China is one of the largest investors in Uzbekistan," the professor said. "Uzbek President Shavkat Mirziyoyev made his first official visit to China in May 2017, where he also took part in the Belt and Road Forum, held in Beijing."
In Rakhimov's opinion, the visits of the Uzbek leader to China in 2017 and 2018 have lifted the comprehensive strategic partnership between the two countries to a new level.
Rakhimov believed that it is also important for the two countries to strengthen cooperation in such areas as technological modernization, education, science and international tourism.