Matchmaking events strengthen connections
A pre-expo matchmaking session for exhibitors and buyers involved in the service and automobile industries to participate in the second China International Import Expo will be held in Shanghai today.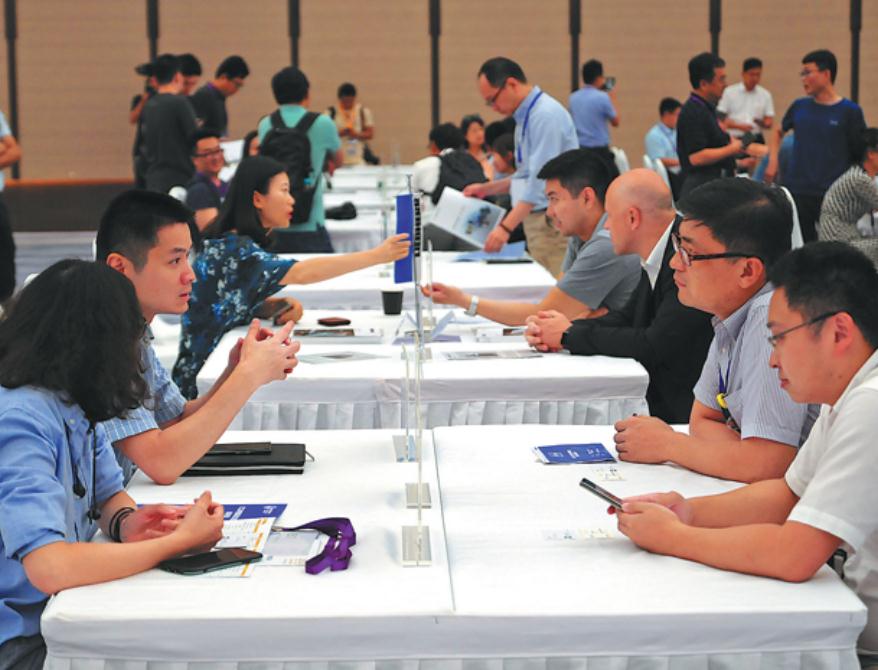 Participants hold discussions on Aug 8 at a matchmaking session for exhibitors and buyers ahead of the second China International Import Expo in Shanghai. (Photo by Xing Yi/China Daily)
This is the fourth in a series of matchmaking events held by the CIIE Bureau for businessmen to establish contacts and understand each other's needs and demands to facilitate transactions during the expo.
The sessions will cover the seven exhibition sectors of the expo, with previous ones focused on consumer goods, consumer electronics, manufacturing equipment, healthcare, food and agricultural products.
More than 700 companies attended the previous matchmaking sessions, during which many exhibitors gave previews of the products they will bring to the expo.
During the food product matchmaking conference held in July, Tang Xuehui, senior communications manager of Fonterra China, said: "We will introduce a new premium product Anmum maternal milk powder to the Chinese market, and our chefs will be on site to make lots of innovative food and beverages containing dairy."
The New Zealand multinational dairy company signed deals worth 12 billion yuan ($1.68 billion) during the first CIIE, and has booked an exhibition area twice the size of last year.
French yeast company Lesaffre will organize the Asia final of the Louis Lesaffre Cup Bakery Competition during the expo, according to Yu Zhiqiong, corporate communications manager of Lesaffre China.
"We hope to showcase the skills of the Asian bakery masters to the world through this grand expo," she said during the matchmaking session for food and agricultural companies on July 26.
During the equipment matchmaking meeting held on Aug 8, Bao Wenyan, head of marketing at Jungheinrich China, said the German warehousing logistics solution provider will bring a 25-meter-high automated miniload cart, and the expo will mark the product's debut in China.
"We have noticed that automation has become a trend in China as labor costs rise, so we will provide more automated solutions to meet the potential demand in the Chinese market," she said.
Chen Gang, chief representative of Ferretti Group in China, said the Italian shipbuilding company will introduce a new model of speedboat, which is aimed at the country's government purchase program.
"The boat is 19.5 meters long with a maximum speed of 55 knots (102 kilometers) per hour," Chen said. "It's an ideal ship for marine patrol."
Henry Chan, vice-chairman and executive president of King Wai Group, said: "The CIIE promotes trade by matching demands. It's great to see that the organizer arranged sector-specific conferences prior to the exhibition. This is a good warm-up session, allowing people to get to know each other before the event."
"We are looking forward to more high-quality business partners joining the exhibition. This will allow us to learn more about the sellers to continue improving and better serving our clients," he said.
Liu Fuxue, deputy director of the CIIE Bureau, said: "Purchasing is the cornerstone for the long-term development of an import-themed expo and also a key indicator to measure its effectiveness."
"We hope these sessions can help companies strengthen existing connections and discover new opportunities," Liu said.