Kids enjoy home from home at care center
Discover Shannxi
1600930096000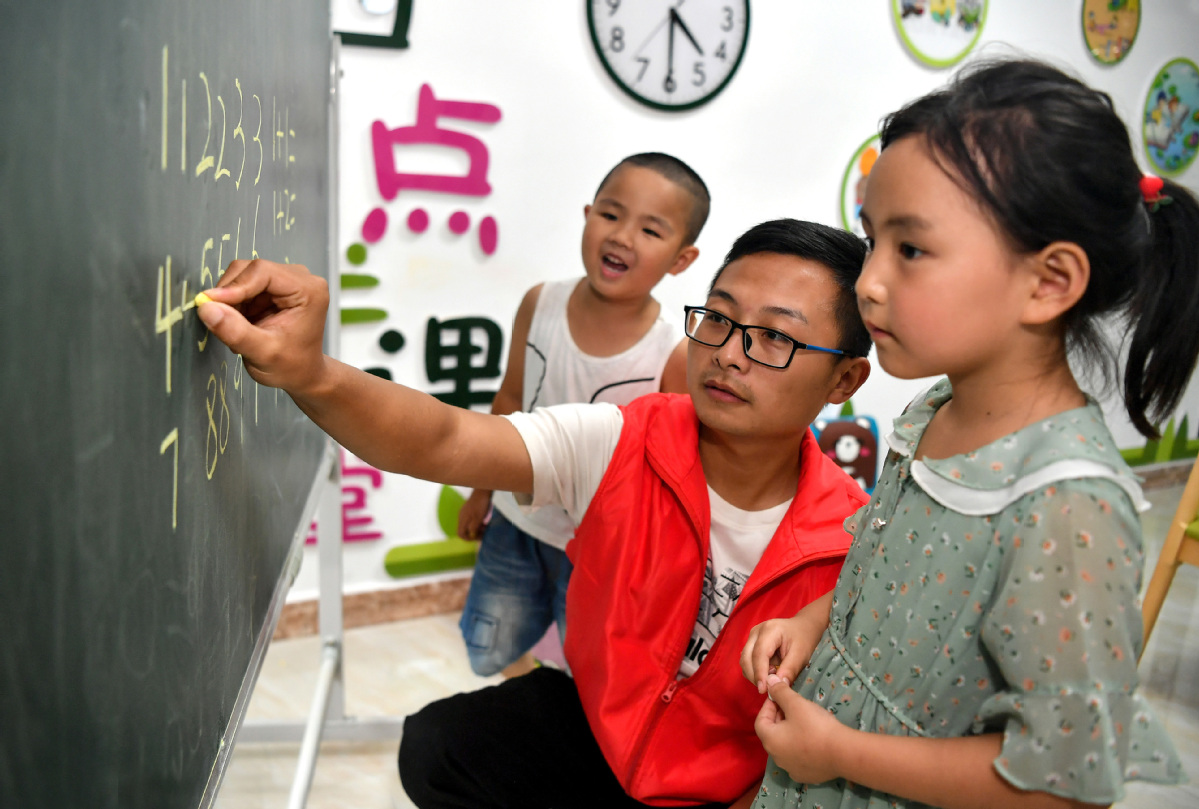 Volunteer Tang Yong teaches at the day care center last month. ZHAO XINYING/CHINA DAILY
A day care center in a residential community for relocated families in Shaanxi province is helping "left-behind" children, whose parents work away in large cities and towns.
In 2016, a child development center was established in the Xiyuan residential community, which is home to more than 180 poor families in Shiquan county.
The center cares for many children in the community, but especially those whose parents are working outside the county, said Lu Longjun, the community's Party chief.
"Many of our residents lived in underdeveloped parts of the county and led hard lives. In 2015, they were moved into our community with the help of the county government. Some are now working in other counties or cities to earn more money," he said.
"The center was set up to reduce their burden by looking after their children."
More than 60 children now attend the center, with about 80 percent classified as "left behind" and living with their grandparents.
During the summer holiday, the children are sent to the center in the mornings by their grandparents.
After studying, playing games and socializing, they return home in the afternoon.
On school days, they stay at the center after school and return home at dinnertime.
Lu said that more than 40 volunteers oversee the children to ensure their safety and help with their studies. Most of the volunteers are local residents, but a few are college students who volunteer to work there during the holidays.
Tang Yong, 35, is one of the volunteers. The former teacher in East China's Zhejiang province returned to Shiquan in 2016.
"My hometown was developing rapidly thanks to a number of helpful policies. Its further development requires the efforts of talented young people," he said.
During his shifts at the center, Tang teaches the children to read and write Mandarin. Sometimes, he talks with them, adopting the role of a parent.
"Although the kids can have video chats or telephone calls with their parents, they still miss them and thirst for parental care and love," he said, adding that he hopes to bring comfort to the lonely children.
Liu Yuxin started attending the center last year. The 8-year-old's mother works for a toy manufacturer in the county, while her father is a migrant worker in Ankang city, 60 kilometers away.
Yuxin said she likes the center because she is treated well there.
"What I enjoy most is doing my English homework under the teacher's guidance," she said.
"The teacher always encourages me, saying I've done a good job."
Sun Ruonan contributed to this story.