Members of News Cooperation Alliance Exchange Group visit Terra Cotta Warriors
People's Daily app
1569234239000
Members of the 'One Belt One Road' News Cooperation Alliance Exchange Group visited the Terracotta Warriors in Xi'an on September 21. The group included 50 senior journalists from Latin America and Africa.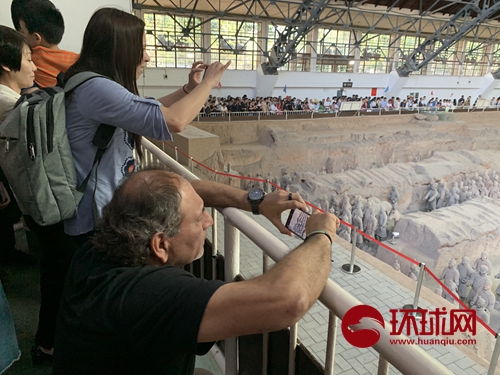 Photo: Global Times
Amando Melga, 56, executive editor of Costa Rica's Ethnic Daily, said, "I have realized my childhood dream here!" Melga said he knew of the Terracotta Warriors and horses from an early age. He still remembers the time when the relics were excavated last century. From then on, he imagined that one day he would come to China and see them. "I didn't expect this day would come." But Melga was also concerned. Because the opportunity was so rare, he was afraid his hometown would "envy and jealousy" him.
He said the introduction and photos of the Terracotta Warriors and Horses appeared in Costa Rica's primary school textbooks. Many students know the history and yearn for it. But Costa Rica is very far from China, with a time difference of 14 hours. Few people have the chance to come to China. He is a "lucky man". He especially cherishes this interview and is ready to write a detailed report on the relics. They impressed him with their facial expressions, each of which was realistic and unique.
The delegation showed great interest in the relics. Marcelo Cantermi, Director of the International Department of Argentina's Horn, asked museum staff about the relic's history, quantity and restoration and protection. He told reporters that he had read extensively before coming, but the relics were still beyond imagination. In the future, he said he hopes to have a deeper understanding of Chinese culture and bring a comprehensive and three-dimensional China back to Latin America.
(Compiled by Ma Luyao)