Turkish cherries to take up bigger share in China as shipping time is shortened
Global Times
1563280856000
Turkey is expected to boost cherry exports to China after the General Administration of Customs (GAC) adjusted the phytosanitary requirements on Turkish cherries on June 28.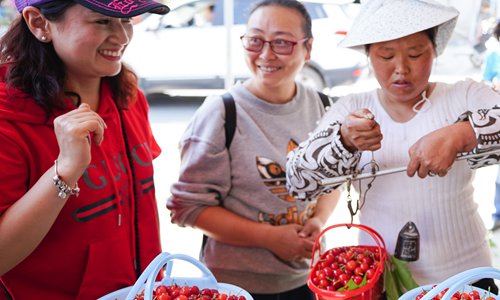 People buy cherries in Southwest China's Guizhou Province (File Photo: VCG)
According to a company representative, the new requirement can reduce shipping time from more than half a month to less than 10 hours, meaning Chinese customers will soon have a cheaper, fresher cherry option.
On June 28, the GAC announced that cherries from Turkey can now be fumigated for three hours instead of going through 16 days of low temperature storage to get rid of pests before being imported to China. Turkey first signed cherry export agreements with China in June 2016. However, the previous agreement required Turkish cherries to be stored in temperatures at or below 1 C for 16 days, putting off many importers' attempts.
The new agreement, which allows Turkish cherries to be fumigated for only three hours, can reduce the shipping time to Shanghai to as little as 10 hours, said Hannah Sun, a representative from Shanghai Fengyi Imports and Exports Co.
"We have our buyers based in cherry farms in Turkey, and cherries are usually shipped within two days after being picked," Sun told the Global Times. "After three hours of fumigation and a seven-hour direct flight, cherries can arrive in Chinese fruit shops within 10 hours."
Shanghai Fengyi is among the first group of importers of Turkish cherries in China, according to Sun.
"There is a huge market for imported cherries now in China, and we had already assigned our buyers in Turkey to look for suitable farms. As soon as the adjustment in import requirement was announced, we started importing," Sun said.
According to data from the GAC, 189,000 tons of cherries were imported last year, up 183 percent from 2017. The total value of imported cherries in 2018 reached $1.3 billion.
China's most popular cherries come from countries including Chile, the US, Australia and New Zealand. Pricewise, Turkish cherries are likely to be a more attractive option among Chinese customers.
According to a report by yicai.com, Turkish cherries are priced at about 50 to 60 yuan per kilogram in major wholesale markets in China. According to Sun, that is a price almost 30 percent cheaper than US cherries.
Shao Zhonglin, former assistant secretary-general of the China Express Association, told the Global Times that it can be expected Turkish cherries will quickly take up a bigger market share.